"Playing lifts you out of yourself into a delirious place."
– Jacqueline du Pré (1945-1987)
Arguably one of the best cellists in the 20th century, the brief career and short life of Jacqueline du Pré (1945-1987) are a tragic story: A child prodigy, du Pré gave her professional debut at Wigmore Hall at the age of 16 and it was an instant success. Her brilliant playing of Elgar's Cello Concerto in E minor captured the hearts of many. Suffering from multiple sclerosis, her promising career, however, was cut short and it ended at aged 28. During her last concert with Leonard Bernstein, du Pré recalled that she had lost the strength to open the cello case and lost the ability to locate where the C and G were on the string. Although du Pré was not able to continue performing, she taught and gave masterclass, and her husband, renowned conductor and pianist Daniel Barenboim, assisted her until her death.
"My mother carried me for 10 months. I asked her 'Mother, you had an extra month, why you didn't make me a beautiful face?' and mother told me, 'My son, I was busy making your beautiful hands and heart."
– Mstislav Leopoldovich "Slava" Rostropovich (1927-2007)
One of the finest cellists and conductors of the 20th century, Russian cellist Rostropovich was known for his brilliant interpretation and technique. Many composers, such as Sergei Prokofiev, Dmitri Shostakovich, and Benjamin Britten, dedicated their cello compositions to him.
Rostropovich was also known as a patriot, and was famous for his advocacy of human rights in Russia. His Russian citizenship had been taken away for over 15 years as a result of his outspoken opposition to the Communist leadership during the Stalin era. His citizenship was reinstated in 1990 and he moved back to Russia and spent his life there.
Rostropovich had a long-term friendship with Dmitri Shostakovich. Their friendship began when Rostropovich studied composition with Shostakovich during his years at Moscow Conservatory. However, when Shostakovich passed away in 1975, Rostropovich was not allowed to enter Russia to attend his funeral. Shostakovich dedicated this Cello Concerto No. 1 to Rostropovich.
"As Long as We Can Breathe, We Can Hope."
– Anita Lasker-Wallfisch (1925-)
A holocaust survivor, Anita Lasker-Wallfisch had an extraordinarily life as a cellist. Her life was saved by playing in the Auschwitz women's orchestra, led by Alma Rose (Gustav Mahler's niece). When the war was finally over, Lasker-Wallfisch settled in Britain where she met and married her husband, Peter Wallfisch. She was the founding member of British Chamber Orchestra and she toured internationally with the group. She refused to go to Germany until in 1994, when she decided to go there and give lectures to younger generations about her experience during the war. Her son, Raphael Wallfisch, is also a cellist and this video was the excerpt of BBC interview with Raphael Wallfisch's cello performance.
"I think one of the great things about being a musician is that you never stop learning."
– Yo-Yo Ma (1955-)
It goes without saying that Yo-Yo Ma is one of the world's most famous living musicians. As a child prodigy, Ma performed for presidents Dwight D. Eisenhower and John F. Kennedy when he was only seven years old. He has received 18 Grammy awards and in 2020, he was included among the 100 most influential people in Time magazine. His repertoire and collaborations show a wide variety of interests and styles. He founded the Silk-Road Ensemble to promote multi-cultural collaborations among musicians around the world.
"If you had lived for at least a month in Russia during the Soviet Empire's reign you would understand our character!"
– Natalia Gutman (1942-)
This quote is cited from her interview when she was asked about what the "Russian sound" was. A Russian cellist, Gutman was a student of Rostropovich at the Leningrad Conservatoire. An enthusiast of chamber music, she collaborated with many famous instrumentalists, including Martha Argerich, Elisso Virsaladze, Yuri Bashmet, Alexei Lubimov, Sviatoslav Richter and her husband, Oleg Kagan. She founded the Musikfest Kreuth with Oleg Kagan in 1990.
"Cello players, like other great athletes, must keep their fingers exercised."
– Julian Lloyd Webber (1951-)
The British cellist and conductor, Julian Lloyd Webber has been awarded for his contributions to music education and his support to new composers and their works. In 2014, he was forced to retire from public performance due to a herniated disc in his neck. However, the illness does not stop him from supporting music. In 2015, he was appointed the principal of Royal Birmingham Conservatoire. He is also the founder of the In Harmony music education program in England, providing music lessons for children who might otherwise not have access to instruction. Julian Lloyd Webber is the son of composer William Lloyd Webber and a younger brother of composer Andrew Lloyd Webber.
"I mainly change shirts because I perspire a lot as I play."
Mischa Maisky (1948-)
Mischa Maisky has changed the image of a classical musician. He has long hair and he rarely wears traditional concert attire in his performances. Not to mention he would change his outfit in the middle of concert! A student of Mstislav Rostropovich, Gregor Piatigorsky, and briefly Jacqueline du Pré, Maisky called himself the luckiest cellist in the world. Not only has he studied with legendary cellists, he has worked with many world-famous musicians throughout his career. He collaborated with such conductors as Leonard Bernstein, Vladimir Ashkenazy, Daniel Barenboim, and Gustavo Dudamel. Martha Argerich is his regular partner AND they have collaborated for over 40 years. Maisky has six children. Here is a recent performance with his daughter and concert pianist Lily.
"Don't play the notes. Play the meaning of the notes."
– Pablo Casals (1876-1973)
Known as one of the greatest cello players and composers of the twentieth century, Spanish-born Pablo Casals received his first cello (made by his carpenter father) at age eleven. Afterwards, many people, including composer Isaac Albéniz, were impressed by his playing. Albéniz later arranged for him to perform for the Queen Regent of Spain. After the end of Spanish Civil War in 1939, he left Spain for France to oppose the government of General Francisco Franco. He also refused to perform in countries that officially recognized the Franco government, except in 1961 he performed at the White House for U.S. President John F. Kennedy.
"Nuances are not in the notes. They come from the player."
– Aldo Parisot (1918 –2018)
Born in Brazil and later moved to the United States, cellist Aldo Parisot was a child prodigy who studied with his stepfather, Tomazzo Babini (an Italian cellist) when he was young. Parisot made his debut at age 12. He premiered many cello works and Villa-Lobos even dedicated his Cello Concerto No. 2 to Parisot. Parisot was a celebrated cello teacher and was the first cello faculty at the Julliard School of Music, Additionally, he served as the cello faculty at Yale School of Music for over 60 years.
"I'll stop teaching when I stop learning."
– Gregor Piatigorsky (1903-1976)
Not only a world-renowned virtuosic cellist, Gregor Piatigorsky was also a concertmaster, conductor, composer, collaborator throughout his career. Along with pianist Arthur Rubinstein and violinist Jascha Heifetz, Piatigorsky formed "The Million Dollar Trio." His colorful and expressive musical personality had won the hearts of many composers. Composers, including Sergei Prokofiev, Paul Hindemith, Mario Castelnuovo-Tedesco and Igor Stravinsky, wrote music for him.
"I try to not wait until I am too comfortable."
– Astrid Schween (1964-)
Currently a member of faculty at Julliard School of music and also the cellist at Julliard String Quartet, Astrid Schween lives a busy life of teaching and performing both as soloist and chamber musician. She was a student of Jacqueline du Pré and many other legendary cellists.
"There's a need to feel a great deal of confidence, but you have to be very sensitive to the inward, frightened, timid side of human nature."
– Lynn Harrell (1944-2020)
The sudden death of Lynn Harrell last year brought a great deal of sadness to the classical music world. One of the finest and most influential musicians of his generation, he performed as a soloist with almost all of the major orchestras in the U.S. and Europe. He collaborated with violinist Itzhak Perlman and pianist Vladimir Ashkenazy (two of their recordings won Grammy awards). He was also a beloved teacher and he taught at London's Royal Academy of Music, the Cleveland Institute of Music, Juilliard, the University of Southern California's Thornton School of Music, and Rice University's Shepherd School of Music.
"Don't hold a note just because you love it. Keep in mind what the composer intends."
– János Starker (1924-2013)
János Starker's sensitive and intensely expressive playing is the hallmark of his style, which led him to an extraordinary career as a soloist with the most prestigious orchestras around the world. A Survivor of Nazi concentration camp, Starker worked as an electrician and a sulfur miner before going to Paris to make his first recording, Kodály's Sonata for Unaccompanied Cello, which won France's Grand Prix du Disque in 1948.
Besides performing, Starker was also a renowned teacher. He joined the faculty of Indiana University Jacobs School of Music in 1958 and was titled a distinguished professor in 1962. He taught there until his death in 2013. A dedicated smoker and drinker, Starker once refused to rehearse due to the "no-smoking" policy backstage.
"If you worry about hitting notes, odds are you will miss a lot of them."
– Steven Isserlis (1958-)
Recognized as one of the most distinguished cellists in the world, British cellist Steven Isserlis is one of the two living cellists featured in Gramophone's Hall of Fame. Isserlis has a very diverse repertoire and he frequently performs with the period instrument orchestras, including the Orchestra of the Age of Enlightenment under Sir Simon Rattle. He frequently plays with other musicians and his major collaborators include Joshua Bell, Stephen Hough, Mikhail Pletnev, and András Schiff. An advocate of promoting music to younger generations, he dedicated two books for children on the lives of famous composers.
"Art can't follow the people's taste to the pleasure of the box office."
– Heinrich Schiff (1951-2016)
Heinrich Schiff had an established career as both cellist and conductor. Since his debut as a cellist in Vienna and London in 1971, he became a regular guest of leading orchestras of the world. In the mid 1980s, he embarked on his second career as conductor, and later he was appointed chief conductor of the Winterthur Musikkollegium in Switzerland, the Copenhagen Philharmonic Orchestra, and the chief conductor of the Vienna Chamber Orchestra.
"Great music is great music. It doesn't matter what genre it belongs."
– Stjepan Hauser (1986-)
Perhaps better known for his collaboration with Luka Šulic in 2Cellos, Hauser received recognition as soloist at a very young age. He received many awards such as PLG Young Artists Auditions, the Adam International Cello Festival and Competition, and the J & A Beare Solo Bach Competition. He was also the only cellist chosen to perform for the late Mstislav Rostropovich in 2006.
"We need to invite people IN to the world of classical music – not keep them out!"
– Dale Henderson (1976-)
A leader of the music movement 'Bach in the Subways', Dale Henderson wants to bring classical music to all people. Currently based in New York city, Henderson is a world-class cellist touring around the world and performing regularly as soloist and a chamber musician. His mentor Yo-Yo Ma described him as "a natural cellist."
"Keep returning to old pieces and find new things to discover about them–there is always something that has been overlooked!"
– Alisa Weilerstein (1982-)
Alisa Weilerstein is an American cellist who started playing the cello at a young age. She mentioned that her first cello was a cereal box with a chopstick for a bow! She made her debut at age 13 with the Cleveland Orchestra playing Tchaikovsky's Variations on a Rococo Theme. She is an advocate of contemporary music who performed regularly new works by Jewish composers Osvaldo Golijov and Lera Auerbach. The video is her performance at the White House in 2009.
"The cello is the most perfect instrument aside from the human voice."
– Zuill Bailey (1972-)
A successful soloist, chamber musician, recording artist, teacher, and artistic director, Zuill Bailey is an extremely active performer. He has performed with orchestras all over the world and won a Grammy Award for his live recording of Tales of Hemmingway in 2017. Bailey is not only a successful musician, he is also an actor who had a recurring role on HBO's Oz and NBC's Homicide.
"Trio life has the wonderful advantage of not being alone, the pleasure of having success with two other people and the solace when you don't have success."
– Bernard Greenhouse (1916-2011)
A founding member of the Beaux Arts Trio, Bernard Greenhouse served in the trio for more than 30 years. Besides performing, Greenhouse was also a devoted teacher. He taught for over 70 years and his passionate interpretation and healthy technique inspired his students, including Paul Katz and Eric Edberg.
For more of the best in classical music, sign up to our E-Newsletter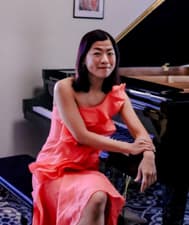 Born in Hong Kong, Fanny is currently pursuing a doctorate degree of Piano performance and pedagogy at the University of Kansas under the instruction of Dr. Scott McBride Smith. She received her master's degrees in Piano Performance and Musicology from the University of Missouri- Kansas City (UMKC). Fanny lives in Kansas City where she maintains a busy performance and teaching schedule. As a musicologist, she has presented her papers at the conferences of the College Music Society (2019), Britain and the World (2019), and the Midwest Music Research Collective (2018). She is the founder of the Scientific Piano Teacher where she provides pedagogical insights and resources for students and piano teachers.