Argentine-born Pianist Martha Argerich
Liszt: Funerailles
I've been fortunate to hear Argentine-born pianist Martha Argerich live in concert in London twice in recent years, first in Prokofiev's Third Piano Concerto and then in Schumann's Piano Concerto. On both occasions I came away from the concert lost for words. Her remarkable playing is impossible to describe.
Sergei Prokofiev: Piano Concerto No. 3 in C Major, Op. 26 – I. Andante – Allegro (Martha Argerich, piano; Orchestra della Svizzera Italiana; Charles Dutoit, cond.)

Robert Schumann: Piano Concerto in A Minor, Op. 54 – II. Intermezzo: Andantino grazioso (Martha Argerich, piano; Orchestra della Svizzera Italiana; Alexander Alexandrovich Vedernikov, cond.)

For all her international renown, the Argentine-Swiss classical concert pianist does not appear to be a natural virtuoso: Martha Argerich comes on stage a little shyly, dressed in a simple black top and full patterned skirt, a thick mass of grey hair clouding her face, she bows as if to say "Oh, so you'd like me to play the piano?", sits at the piano, shakes back her hair… And then she plays…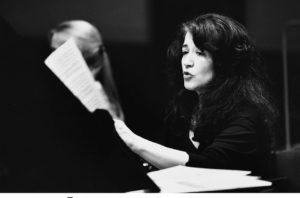 A formidable, legendary pianist, there is an air of mystery surrounding Martha Argerich, in part due to her reluctance to give interviews and the rarity of her concert appearances (her concert sell out in minutes). She has never sought to cultivate the image of the superstar virtuoso. A prodigious, ferocious talent, Argerich is blessed with a photographic memory, enabling her to reproduce music after a single hearing. Her bravura technique is beyond comparison: she has a "thing for octaves" and can make the rapid octave passages in Tchaikovsky's first piano concerto or Schumann's Toccata, one of the most challenging works in the entire repertoire, look like child's play. Behind that technical assuredness, is an artistry which makes you feel as if you are hearing familiar, well-known repertoire anew. That's a remarkable skill in any pianist, but for someone in their late-70s who's been performing for over half a century, it's extraordinary.
"Only the greatest artists are able to maintain the freshness of discovery with the depth of thoughtfulness. Martha Argerich is one of them."
Daniel Barenboim
In the 2012 film "Bloody Daughter" made by her youngest daughter, Stéphanie Argerich (Stephen Kovacevich's daughter), the Argentine-born pianist Martha Argerich's chaotic home life is revealed with honesty and affection. She likes to sleep beyond midday, spends time watching television or chatting to friends, and might practice the piano late in the evening. One senses a rebellion against the restrictive, highly-organised lifestyle of the international concert artist.
Born in Buenos Aires, Argentina in 1941, Martha Argerich came to international attention when she won the International Chopin Piano Competition at the age of 24. Prior to that she had received support from Argentina's President Peron who posted her diplomat father to Vienna so that she could study there. Despite her long and acclaimed career, she is prey to artistic insecurity, but sees this as an asset rather than a handicap, regarding it as a mark of a true artist who has not rested complacently on the laurels of their success. In the 1980s she decided to limit her solo work, stating that she found the on stage loneliness unbearable, and she much prefers to perform with others. Those 'others' being the world's greatest orchestras and musicians, including her long-time friend Daniel Barenboim, cellist Mischa Maisky, Nelson Freire, violinist Gidon Kremer and conductor Claudio Abbado. Her repertoire is broad and varied; her performances and recordings of the concertos of Schumann, Liszt, Tchaikovsky and Prokofiev are especially wondrous.
And what of her playing? It's quixotic, rhapsodic, exciting and mercurial. There's something ineffable about her musical understanding and sensitivity, an acute awareness of pacing and rubato (which in other hands would sound contrived) and a glorious range of sound. Martha Argerich brings music to life with an unmatched colour and vibrancy, and an amazing naturalness which speaks of a life spent immersed in the repertoire. She combines power and grace, unafraid to take risks to the point that sometimes her playing seems on the verge of being slightly out of control, which makes it doubly thrilling, yet her playing is impressively precise. She also seems to genuinely enjoy herself when playing – you catch her smiling to herself, to the conductor. Her concerts are milestones, the experience forever etched into the memory to become the benchmark against which other performances are measured.
For more of the best in classical music, sign up to our E-Newsletter
Martha Argerich Plays Prokofiev Piano Concerto No.3