"Do not find yourself in the music, but find the music in yourself."
– HEINRICH NEUHAUS (1888-1964)
An outstanding Ukrainian pianist and pedagogue in the early 20th century, Neuhaus was born in a musical family whose parents were both music teachers. His uncle, Felix Blumenfeld, was a conductor and a professor at St. Petersburg Conservatory and he influenced the early Neuhaus a lot. He advised Neuhaus to study with Leopold Godowsky. He became a concert pianist when he was only 17. Neuhaus taught at the Moscow Conservatory, his pupils included Emil Gilels, Sviatoslav Richter, Nina Svetlanova, Alexei Lubimov and Radu Lupu. His published pedagogical work, The Art of Piano Playing, is one of the most influential pedagogical writings in the 20th century.
"The piano as a medium for expression is a whole world by itself."
– LEOPOLD GODOWSKY (1870-1938)
Nicknamed "The Brahma of the Keyboard" by a philanthropist Leon Saxe, Leopold Godowsky (1870-1938) was an influential pianist, teacher, and composer in the early 20th century. Even though he did not receive formal piano training until when he was teens, he gave his first public piano performance as early as 9 years old. This Lithuania-born pianist spent most of his life in the United States, teaching and giving performances. He also composed and transcribed many piano works that remain remarkable today. Among his compositions, the Studies on Chopin's Etudes (54 altogether were published), the four Symphonic Metamorphoses on Themes of Johann Strauss, and his original composition such as 24 Walzermasken, and the Java Suite, are most notable.
"Before I was a genius, I was a drudge."
– IGNACY JAN PADEREWSKI (1860-1941)
Paderewski was considered one of the best pianists in the early 20th century. This Polish pianist was not only influential in the piano world, he also contributed to the Polish political history. He was the Prime Minister of Poland from 1919 to 1922 and he made remarkable improvement to the country after the first World War. As a pianist, he had performed world-wide throughout his life. His last public concert was given when he was 79 years old in New York.
Beethoven: Piano Sonata No. 14 in C-Sharp Minor, Op. 27, No. 2, "Moonlight" (Ignacy Jan Paderewski, piano)


"The worth of my music will never be guessed or its value to mankind felt until the approach to it is consciously undertaken as a pilgrimage to sorrows."
-PERCY GRAINGER (1882-1961)
An Australian pianist and composer, Percy Grainger was famous for his collection of folk music. He began to perform in public at 10 and when he turned 19 years old, his reputation as a concert pianist was recognized in London. He was particularly interested in British folk songs. He collected them and rearranged the music for solo instrument and music ensembles.
"One may search the melancholy and feverishly passionate works of the singer elect of sorrows, in vain, for a more tragically significant page than this, which contains, in the space of a few bars, one of the most thrilling images of despair ever immortalized in music."
-ALFRED CORTOT (1877-1962)
from "Do Infant Prodigies Become Great Musicians?", Music & Letters (Apr., 1935)
One of the most renowned classical musicians of the 20th century, Alfred Cortot was famous for his poetic playing. He was one of the best interpreters of Chopin, Schumann, Liszt, Saint-Saëns and Franck. His edition of piano works of Chopin, Schumann and Debussy are still particularly important to pianists and educators today. He was also one of the most influential teachers in the 20th century, his pupils include Dinu Lipatti, Gina Bachauer, and Samson François.
Chopin: 24 Preludes, Op. 28 (Alfred Cortot, piano)


"Any artist worth his salt thinks music far more than he practices."
– BENNO MOISEIWITSCH (1890-1963)
from Playing in the Grand Style (1950)
Ukrainian born British pianist, Moiseiwitsch was particularly famous for his interpretations of late Romantic music. As a child prodigy, he won the Anton Rubinstein Prize when he was only nine years old. He toured all over the world and during the second World War, he was appointed a Commander of the Order of the British Empire (CBE) to provide music performance for servicemen and charities.
"I know two kinds of audiences only – one coughing, and one not coughing."
-ARTUR SCHNABEL (1882-1951)
One of the best interpreters of Beethoven's works, Schnabel lived a prolific life as a pianist, a composer, and a pedagogue. A student of Leschetizky, he was always praised for his flawless technique. His son, Karl Ulrich Schnabel (1909-2001), was also a significant pianist in the 20th century.
Schubert: Allegretto in C Minor, D. 915 (Artur Schnabel, piano)


"My dear hands…. Farewell, my poor hands."
-SERGEI RACHMANINOFF (1873-1943)
One of the most influential composer and pianist of the 20th century, Rachmaninoff's playing and compositions connect the romanticism of the 19th century and the "modernism" in the early 20th century. As a pianist, he was famous for his expressive playing. His massive hands, which can cover an interval of a thirteenth, has remained the biggest hands among many famous pianists throughout the history. However, he suffered from a lot of pain and stiffness on his hands by overusing them. This quote was noted when he diagnosed with cancer.
"Music is painted upon a canvas of silence."
– JOSEF LHEVINNE (1874-1944)
from Basic Principles in Pianoforte Playing
Considered to be one of the leading pianists of the first half of the 20th century, this Russian-born Jewish pianist Josef Lhevinne is perhaps more well-known of his teaching at the Juilliard School of Music. He studied with Sergei Rachmaninoff and Alexander Scriabin in the Moscow Conservatory. He was the winner of the Second Anton Rubinstein Competition in Berlin. He and his wife, Rosina, performed as piano-duo together frequently during his lifetime.
Cui: A Argenteau, Op. 40: No. 6. Causerie (Josef Lhevinne, piano)

"Everything depends on how one practices. One student may spend five hours at the piano and will not accomplish as much or progress as fast as one who spends one hour at work, but concentrates his whole mind on the task before him. The first is a mechanical machine, the second uses his mental powers."
-ERNST VON DOHNÁNYI (1877-1960)
Ernst Von Dohnányi was not only famous pianist of his time, he was also a composer whose first published work was approved and promoted by Johannes Brahms. He studied piano with Liszt's disciples István Thomán and Eugen d'Albert. During the outbreak of the Second World War, he resigned his position at the Budapest Academy of Music to protest the anti-Jewish legislation. He saved many Jewish lives, including many musicians by assisting them to emigrate to the United States. After the war, Dohnányi resided to Florida, the United States, and he taught for ten years at the Florida State University School of Music. In 1960, Dohnányi died of pneumonia ten days after his final performance in New York city.
"Students think if they play a dozen etudes of Czerny, they have acquired all he has said; but they have not. There is a great deal more to Czerny than that. It is the same with many other technical masters who have contributed to the literature for acquiring mechanical perfection."
-IGNAZ FRIEDMAN (1882-1948)
One of the greatest pianists in the early 20th century, Ignaz Friedman was famous for his poetic interpretation of Chopin's music, especially his mazurkas. He lived in Berlin and Copenhagen before the outbreak of the Second World War. He relocated to Australia due to the war.
Chopin: Ballade No. 3 in A-Flat Major, Op. 47 (Ignaz Friedman, piano)

"Without false modesty, I feel that, when I'm on the stage, I'm the king, the boss of the situation."
– VLADIMIR HOROWITZ (1903-1989)
Called "the greatest pianist of the 20th century" by Sergei Rachmaninoff, the Ukrainian-born pianist Vladimir Horowitz began his performing journey at 16. His extraordinary personality and skill captivated audiences for over 60 years. He took two long breaks; not giving public performances due to depression and he even refused to leave the house for over 2 years. His wife, Wanda (Arturo Toscanini's daughter), remained by his side, despite persistent rumors of his homosexuality.
Schumann: Nachtstucke, Op. 23 – No. 3. Mit grosser Lebhaftigkeit (Nachtliches Gelage) (Vladimir Horowitz, piano)


"An interpreter must give his blood to the work interpreted."
– CLAUDIO ARRAU (1903-1991)
Claudio Arrau, a famous Chilean representative to the piano world, was a child prodigy who was granted to study with Martin Krause, Liszt's disciple, for fifteen years. He was widely known as one of the greatest pianists in the 20th century and his diverse and massive concert repertoire ranges from early baroque to the music of composers who were his peers and contemporaries.
"A truly great piano is one that enables you to convey deep emotion."
― SVIATOSLAV RICHTER (1915-1997)
A legendary pianist, Sviatoslav Richter was a pupil of Heinrich Neuhaus. He performed extensively in public throughout his lifetime and interestingly, he liked to perform in a dark hall. In the book Sviatoslav Richter: Notebooks and Conversations written by Bruno Monsaingeon, it mentions Richter preferred audience to focus on the music rather than the performer and the dark hall was perfect was achieving this.
"Music is like painting in sound. You take it into your inner heart and never lose it. It's eternally mysterious."
-VAN CLIBURN (1934-2013)
A winner of International Tchaikovsky Competition in Moscow in 1958 during the Cold War between Russia and the United States, American pianist Van Cliburn was a very influential figure in the piano world. He performed widely and played for every American president since his victory of the competition until his death. He also established the Van Cliburn International Piano Competition, a very prestigious piano competition which is held every four years.
Beethoven: Piano Sonata No. 26 in E-Flat Major, Op. 81a, "Les adieux" (Van Cliburn, piano)


"My moods are inversely related to the clarity of the sky."
– GLENN GOULD (1932-1982)
Known as one of the best interpreters of J.S. Bach's keyboard music, Canadian pianist Glenn Gould is famous for his unique interpretations. The majority of his performances were recorded in a recording studio since he did not enjoy performing in concert hall so much. He did not enjoy playing in front of a big crowd, instead he preferred to appear on television and radio. He was also a producer and one of his notable productions is The Idea of North.
C.P.E. Bach: Keyboard Sonata in A Minor, Wq. 49/1, H. 30, "Wurttemberg Sonata No. 1" – I. Moderato (Glenn Gould, piano)

"Bad music disturbs me, but wonderful music disturbs me even more."
-ARTURO BENEDETTI MICHELANGELI (1920-1995)
Italian pianist Arturo Benedetti Michelangeli was well-known for his interpretations of Beethoven and Brahms. Called "a new Liszt" by Alfred Cortot, Michelangeli won the Geneva International Competition in 1939. As a perfectionist, only few official recordings were released during his lifetime and his repertoire was considered to be less varied than his colleagues. He did not particularly enjoy making public performance and he once said, "You see, so much applause, so much public. Then, in half an hour, you feel alone more than before." As a teacher, his legacy continues with some famous pianists today. Pietro Maranca, Maurizio Pollini, Martha Argerich, Ivan Moravec, Paul Stewart, and Garth Becket were all his students once.
"You cannot play the piano well unless you are singing within you."
-ARTHUR RUBINSTEIN (1887-1982)
One of the best pianists in the 20th century, Arthur Rubinstein was famous for his Chopin's interpretation. He performed and toured extensively throughout his life, even when he was going blind. He was proud of his Jewish heritage and he supported the new state of Israel by giving performance, master classes there and this video was his last performance in Israel at 88 years old.
"I don't play this work as a tour de force, as a dazzling display of technique–I play it as a life experience."
-ROSALYN TURECK (1914-2003)
American pianist Rosalyn Tureck was well-known for her interpretation of J.S. Bach's works. She performed Bach's work not only on piano, but also on harpsichord, clavichord and even on the Moog Synthesizer! A Bach's admirer, she was the founder of the International Bach Society in New York City (1966), the Tureck Bach Institute (1981, later renamed as the Tureck Bach Research Institute in 2001), the Tureck Bach Research Foundation (1993) to promote academic research and performance of Bach's music. Tureck International Bach Competition for Young Pianists, an international competition, was named after and also supported by her.
"(Responding to a sneeze from the audience) Who exploded?"
-VICTOR BORGE (1909-2000)
Known as a pianist-comedian, Danish-born Victor Borge grew up in a professional musical family. Originally named Børge Rosenbaum, he changed his name when he moved to the United States in 1941. He began studying in the Royal Danish Academy of Music at 9 years old and his teachers included Frederic Lamond and Egon Petri, who were the students of Liszt and Busoni respectively. When he arrived to the United States in the 1940s, he didn't speak any English but he quickly learned it and adapted his jokes to the audience in the States. His Broadway show "Comedy in Music" remained the highest record for a one-man performance. The show was lasted for three years (1953-1956) with 849 performances.
"Growing as a pianist gets more difficult every day."
– LEON FLEISHER (1928-2020)
One of the most prolific pianists, Leon Fleisher just passed away this year in August. His piano career almost stopped when he was diagnosed with focal dystonia in his right hand at 36 years old. However, he didn't give up music. He focused on playing left-hand repertoire, teaching and conducting. He started adding repertoire for both hands in the 1990s and he released an album playing piano with 10 fingers in 2004, 41 years after the previous album using both hands.
Bach: Herz und Mund und Tat und Leben, BWV 147: Jesu bleibet meine Freude (Jesu Joy of Man's Desiring) (arr. M. Hess) (Leon Fleisher, piano)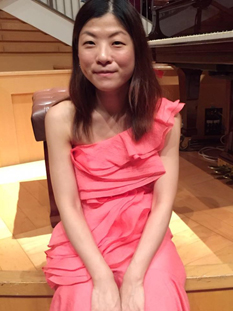 Born in Hong Kong, Fanny is currently pursuing a doctorate degree of Piano performance and pedagogy at the University of Kansas under the instruction of Dr. Scott McBride Smith. She received her master degrees in Piano Performance and Musicology from the University of Missouri- Kansas City (UMKC). Fanny lives in Kansas City where she maintains a busy performance and teaching schedule. As a musicologist, she has presented her papers at the conferences of the College Music Society (2019), Britain and the World (2019), and the Midwest Music Research Collective (2018).