Celebrating the 125th Anniversary of his Birth
Sergei Prokofiev (1891-1953)
"There are still so many beautiful things to be said in C major"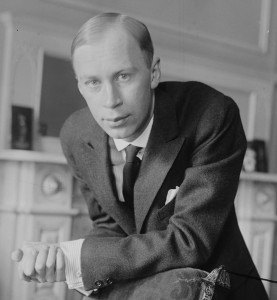 Sergei Prokofiev's death on March 5, 1953, only hours before the passing of Josef Stalin, went almost unnoticed in the press. While millions of Soviet citizens paid their last respects to one of the most notorious mass murderers of all times, only ten individuals, including Kabalevsky, Shostakovich, and Khachaturian, were present at a memorial service on March 7. Although frequently at odds with Soviet leadership, Prokofiev's career nevertheless mirrored the social and musical developments of his time. Establishing a clearly distinct profile of genuinely Russian music in the first half of the twentieth century, the popularity of his music covering the range of his entire career was rivaled by few composers of his generation.

Sergei Prokofiev: Piano Concerto No. 2, Op. 13
Prokofiev initially made his name as a composer-pianist, shocking audiences with a series of fiendishly difficult works for the instrument. The second piano concerto caused a veritable scandal in 1913, with critics suggesting, "To hell with this futuristic music! The cats on the roof make better music." Prokofiev was rather indifferent to criticism, as he had started to compose at age five, completed his first opera at 9, and was working on a symphony by age 11. After receiving composition lessons from Reinhold Glière, he enrolled at the St. Petersburg Conservatory at age 13. He quickly developed a reputation as a musical rebel, and following his graduation appeared in performances in Russia and in Western Europe. A steady flow of orchestral works, concertos, and operas extensively experimented with adventuresome harmonies and polytonality, and his ballet collaborations with Sergei Diaghilev were hugely successful in Paris and established his reputation back home in Russia.

Prokofiev spent the years immediately after the Revolution in the United States. He did receive the commission for The Love for Three Oranges from the Chicago Opera in 1919, but his overall American reception was disappointing. As such he returned to Europe in April 1920, and married the Spanish singer Carolina Codina, who appeared under the stage name of Lina Llubera, in 1923. His first concert tour of the Soviet Union in 1927 was hugely successful, and under the influence of the teachings of Christian Science his compositional style acquired a new simplicity. In great demand as a pianist, Prokofiev extensively toured Europe and the United States, and by 1936 he permanently settled in the Soviet Union with his wife and two sons. Adjusting to the political atmosphere, Prokofiev collaborated with the movie director Eisenstein on the historical epic Alexander Nevsky, and his setting of Peter and the Wolf became one of his most popular works. However, it was the 1936 ballet score to Romeo and Juliet that firmly entrenched Prokofiev's international success and reputation.

Subjected to hostility from cultural ideologues, Prokofiev focused on producing propaganda music, including his War Sonatas for piano, the Second String Quartet and the opera War and Peace after Leo Tolstoy's epic novel. Regardless, he endured scathing criticism for a musical language that sought to present structural refinement and formal clarity. Allegedly, his musical style did not celebrate the revolutionary ideology of Soviet heroes. Prokofiev vigorously and eloquently defended his compositional voice. "I have never questioned the importance of melody. I love melody, and I regard it as the most important element in music. To find a melody instantly understandable even to the uninitiated listener, and at the same time an original one, is the most difficult task for a composer." Nevertheless, with the 1948 resolution that denounced Shostakovich, Khachaturian, Myaskovsky and Prokofiev, a number of his works were banned from performance. With his health rapidly declining, his last creative efforts saw the creation of the Cello Sonata for Rostropovich and his Seventh Symphony. Prokofiev died of a cerebral hemorrhage, and he is not only one of the truly original musical voices of the twentieth century, he has also become one of the century's most popular composers.