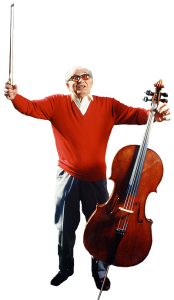 "The master classes are extraordinary – Aldo Parisot has that enormous, rare gift of translating musical feeling into solid information about what to do with a set of fingers and a bow… as a teacher, he is an object of pilgrimage." – Alan Rich, New York Magazine.

Exuding Fogo or fire, Brazilian cellist Aldo Parisot continues to be an immense musical force with a busy schedule at the Yale School of Music. He teaches thirteen students and conducts the Yale Cellos. One of the greatest cellists of all time, he has performed in chamber music, in recital, and as soloist with the elite orchestras of the world and eminent maestros including Leonard Bernstein, Sir John Barbirolli, Zubin Mehta, Pierre Monteux and composers Paul Hindemith and Hector Villa-Lobos. Parisot has premiered numerous cello works including Villa-Lobos Cello Concert No. 2, which was written for him. Parisot played the work with the New York Philharmonic in 1955, Parisot's first performance in America, and Villa-Lobos was present. In addition to his teaching at Yale he was on the faculty of the Mannes, Peabody and Juilliard Schools.

Aldo Parisot plays Villa-Lobos Concerto No. 2, 1962 recording
Parisot is a man of contrasts. Soft-spoken with a wicked sense of humor, he owns a red sports car with the license plate "Fogo," wears dark glasses, a cigarette constantly dangles from his bow hand, and his support of his students is unwavering. I had the privilege of seeing him in action. "These are not master classes," he declared, "they are mastery classes." Recently, we had a conversation.


Who was the greatest influence on you?
My stepfather Thomàzo Babini, a phenomenal cellist and teacher from Bologna taught me
everything
. My father had died when I was four and my mother re-married. Every day I heard him play and I loved the sound of the cello. His idea of teaching was like schooling in the old days and he started me when I was four or five with two years of solfége, which is just not done anymore. By the time I was ten years old I was performing—Babini traveled with me—but I only played works written by cellists: Davidoff, Popper, Goltermann…If you can play those, covering every possible scale on the cello, you can play anything else. I'm grateful to my stepfather who gave me such thorough training, which enabled me to play all over the world with the greatest conductors.
Janos Starker is quoted as saying, "Parisot is a top-notch performer. I consider Aldo the best cello teacher of our time. He is among those few who are responsible for the incredible progress in cello playing and appreciation for our instrument". Tell us about when you and Starker met.
Starker and I had the same manager, Wilfrid von Wyck the legendary British impresario, but our paths had never crossed. I really wanted to meet Janos. Finally, in 1957, when I was to perform in London at Wigmore Hall, Wilfrid said, you know who's coming to the concert? Starker. He's coming." There was no time to talk after the performance and I was scheduled to leave for Holland the next morning. Starker asked me if I could postpone my rehearsal. I said I would try. The next morning as we walked together, Starker asked me, "Why do you play Bach so
free
?" I answered, "Why do
you
play Bach so
square
?" and we became lifelong friends—no more talk about music!
Tell us about coming to this country and acquiring your cello.
We were very poor and still living in Brazil. I was thrilled that I had a scholarship to study with Feuerman at The Curtis Institute but three months before I was to start, in 1942, Feuerman died unexpectedly. In 1946, I was offered a scholarship to Yale to study theory and chamber music. When I came to America I had a lousy instrument but later I acquired a Guadanini. It was too small for me. The dealer in Philadelphia, Moennig, had Piatigorsky's Montagna, which was my next instrument but it was too big for me. Then I found out that a businessman who lived in New Jersey, a former student of Feuerman, owned the Strad that had belonged to Feuerman. Someone took me there and I was allowed to play on the cello. "Thank you so much," I said, "if you ever sell the cello please let me know." The businessman assured me that he would never sell the instrument. Six months later he called! "After I heard you play", he said, "I decided that I wanted the cello to go to a concert artist. You are a concert artist."
Can you discuss how cello playing standards have changed over the years?
I have had wonderful students for many years from all over the world: Korea, Israel, China, France. Today there is an explosion of terrific talents. Take for example our Yale Cellos ensemble. I conduct these marvelous cellists. We have performed many concerts and made award-winning recordings, arrangements for cello ensemble by the cellist Laszlo Varga, like the Bach Brandenburg Concerto No. 3 for seventeen cellos.
Parisot conducts the Yale Cellos: Bach Brandenburg Concerto No.3 arranged for 17 cellos!
You are a painter too, and have been exhibited all over the world in concert halls and galleries. They exude fire!

I know nothing about painting. I paint by ear! At Yale we have a summer school of art and music. One summer I saw an exhibition of student paintings. I thought why couldn't I do that? Every week the school featured a guest artist who taught painting. I bought everything necessary to paint and I never missed a class. I love texture and color and I paint for myself. My paintings number at least 5,000 works, which I give away.

To what do you owe your exuberance for life?

I have a great deal of fun. My wife Elizabeth is a terrific pianist and partner and I'm as busy as I've always been. Time does not exist. You are as old as you want to be.

We hope Parisot's impeccable technique, exquisite tone and infectious wisdom continue to inspire musicians for years to come.

Official Website