The 1866 opera by Ambroise Thomas, Mignon, was an outstanding success in Paris. It was given its premiere in November 1866 at the Opéra-Comique and over the next 50 years had nearly 1,500 performances in the house.
The story comes from the source of so many operas, Goethe, and his novel Wilhelm Meisters Lehrjahre. When it had its premiere, the opera had a happy ending, as was the norm with operas at the Opéra-Comique. When it was translated into German, the German audiences were unhappy at the change in ending and so Thomas wrote a finale that follows the tragic ending of the Goethe original, where Mignon falls dead into the arms of Wilhelm.
Wilhelm Meister's Apprenticeship (Wilhelm Meisters Lehrjahre), written between 1777 and 1785 follows Wilhelm Meister in his journey of self-realization. Attempting to escape his inevitable empty bourgeois life as a businessman, Wilhelm explores the world around him, examining ideas of philosophy, literature, and politics. Wilhelm tries the theatre before looking towards a mysterious society for enlightenment.
Thomas picks up his opera story in Book II, Chapter 4, where Wilhelm and his friend Laerte are traveling and have arrived at an inn. Gypsies are summoned to entertain them and the wandering minstrel Lothario plays. Laerte leaves with Philine and Wilhelm purchases Mignon's freedom from the gypsies, who stole her as a child.
As the two couples travel on, Mignon becomes jealous of Philine, both for her acting abilities and that she is also after Wilhelm and Philine is jealous of Mignon for her beauty and the love she has from Wilhelm. A fire breaks out in the conservatory of the castle where they are staying and Mignon gets caught in the blaze.
As Mignon recovers in yet another castle, now in Italy, Wilhelm decides to buy the castle for Mignon. As she awakes, she notes the building is strangely familiar. She and Wilhelm confess their love and Wilhelm sets Philine aside. Lothario enters to declare that this, in fact, is his castle and in returning there, his sanity has been restored. With his new wits, he recognizes Mignon as his long-lost daughter Sperata and all ends happily (or until the new German ending gets added).
The music has a sweetness and certain folk-like character that seems to be capturing the character of Mignon. This story of abduction and mistaken identity is common with many 19th century operas but few were as popular as this one was at its time.
Ambroise Thomas: Mignon Overture
This 1954 recording with the Orchestre des Concerts Lamoureux, under the direction of Jean Fournet, brings to life this beloved 19th-century opera. Founded in 1881 by Charles Lamoureux, the Orchestre Lamoureux has been important in the premieres of many important modern French works, including Emmanuel Chabrier's España (1883), Gabriel Fauré's Pavane (1888), Claude Debussy's Nocturnes (1900 and 1901) and La mer (1905), Maurice Ravel's Menuet antique (1930) and his Piano Concerto in G major (1932).
Jean Fournet (1913-2008) was a French flutist and conductor at the Opéra-Comique from 1944-1957.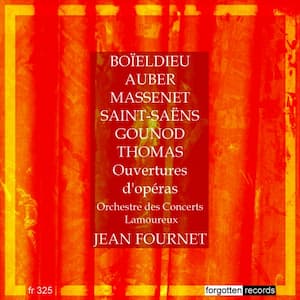 Performed by

Jean Fournet
Orchestre des Concerts Lamoureux

Recorded in 1954

Official Website
For more of the best in classical music, sign up to our E-Newsletter