"Study as much repertoire as you can and then find the pieces that you feel most passionate about"
To coincide with the release of his debut album, we caught up with Israeli-Belgian pianist Tal Walker who shares his influences and inspirations and explains why he decided to record a disc of lesser-known French miniatures by Fauré, Poulenc and Messiaen. (Read the review "An Impressive Debut Recording" here)
Who or what inspired you to pursue a career in music and who or what have been the most important influences on your musical life and career?
The decision to become a pianist was very much intrinsic. At the age of 5 I received a small toy keyboard and started instinctively playing melodies from the radio. I vividly remember being a young teenager tearing to recordings of Chopin's Ballades (Evgeny Kissin) and Études (Vladimir Ashkenazy). But it wasn't until I was seventeen that I decided to pursue it as a career. I heard a piano professor claiming that "if a student has any doubt whether to become a musician or not, they shouldn't do it. This profession requires a lot of sacrifice and full dedication, one must have no doubt that they want it". I have never doubted my musical path since.
The most important influence on me as a musician was my teachers along the way. They believed in me and exposed me to the great tradition of piano playing. Avi Schönfeld quoted his teachers Arthur Rubinstein and Vlado Perlemuter and has completely elevated my piano technique. Françoise Thinat passed on the tradition of Yvonne Léfebure, Marguerite Long, and Alfred Cortot, and transformed the way in which I approach music and piano playing. Philippe Entremont and other great French pianists with whom I've taken classes and master classes, left a great impact on the way I approach French music with precision, finger brilliance, colours and detailed nuances.
What have been the greatest challenges of your career so far?
I sometimes feel that my values of inclusivity, acceptance and being non-judgmental did not always go hand in hand with the sometimes conservative and competitive landscape of classical music. However, I've been lucky to work with many kind and generous musicians who were always eager to nurture my passion for music. Nowadays, I am happy to see a better awareness for diversity and inclusion, mental wellbeing and overall, a call for a more sensitive and supporting environment for young musicians. This gives me great hope for a positive change.
Which performances/recordings are you most proud of?
I am very proud of my recent album Fauré, Poulenc, Messiaen: Préludes & Nocturnes. These are lesser-known miniature pieces of early twentieth century composers. They allow the composer, and me as an interpreter, to show a great diversity of styles, moods, and different sound qualities.
Tal Walker Plays 8 Nocturnes: No. 1 in C Major
Another recording I am very proud of, is that of Miroirs and Images (Ravel and Debussy) which I made at the Banff Centre for Arts and Creativity. Practising, performing, and recording these pieces in the icy Canadian landscape was an experience and a feeling I will never forget.
Tal Walker Plays Ravel – Noctuelles (Miroirs)
Which particular works/composers do you think you perform best?
Despite my love for Mozart, Beethoven, Chopin, and Schumann, I have found myself drawn to the French repertoire. Something in the floating melodies and enchanting harmonies, together with extra-musical inspirations and organ inspired polyphony completely captured me. Most obviously Debussy and Ravel will remain an integral part of my repertoire.
However, Gabriel Fauré and César Franck were my greatest discoveries during my studies in Paris. Even though my very first chamber music pieces were of Fauré (Elegy for piano and cello) and Poulenc (Clarinet Sonata), I have never given them too much attention and rather enjoyed listening to the Germans (Brahms, Wagner, Mahler, Strauss, and early Schönberg). At some point something changed, and I started to be more interested in the aesthetic of French music, which is rooted in the sounds of nature, antiquity and inspirations from other arts. I have been fortunate to be able to study in Paris and curate a concert series called "Monsieur Croche" revolving around French music, which has allowed me to perform this repertoire side by side pianists such as Sodi Braide, Eliane Rodrigues and Delphine Bardin. I am now proud to present such pieces in my debut album featuring hidden gems by Fauré, Poulenc and Messiaen.
What do you do off stage that provides inspiration on stage?
Nature and art.
Nature has a huge impact on my interpretation. The Scottish Lochs, the Swiss Alps, and the Japanese bamboo groves have all left an enormous impression on me. Together with visual art, poetry, literature, and dance, these contributed to my understanding of music on a conscious level but perhaps also subconsciously. For example, last summer (2022) I collaborated with visual artist Sue Dray in an artist's residency in Italy "Villa Lena". During our residency, we visited the Uffizi Gallery in Florence – the depiction of the wind, "Zephyr", in Botticelli's "Primavera" and "The Birth of Venus", together with experiencing a midsummer Tuscan thunderstorm completely transformed my understanding of Messiean's "Un Reflet dans le vent" and Debussy's "Le vent dans la plaine" and "Ce qu'a vu le vent d'ouest". The wind that could sometimes be caressing and pleasant, could also be violent and destructive.
How do you make your repertoire choices from season to season?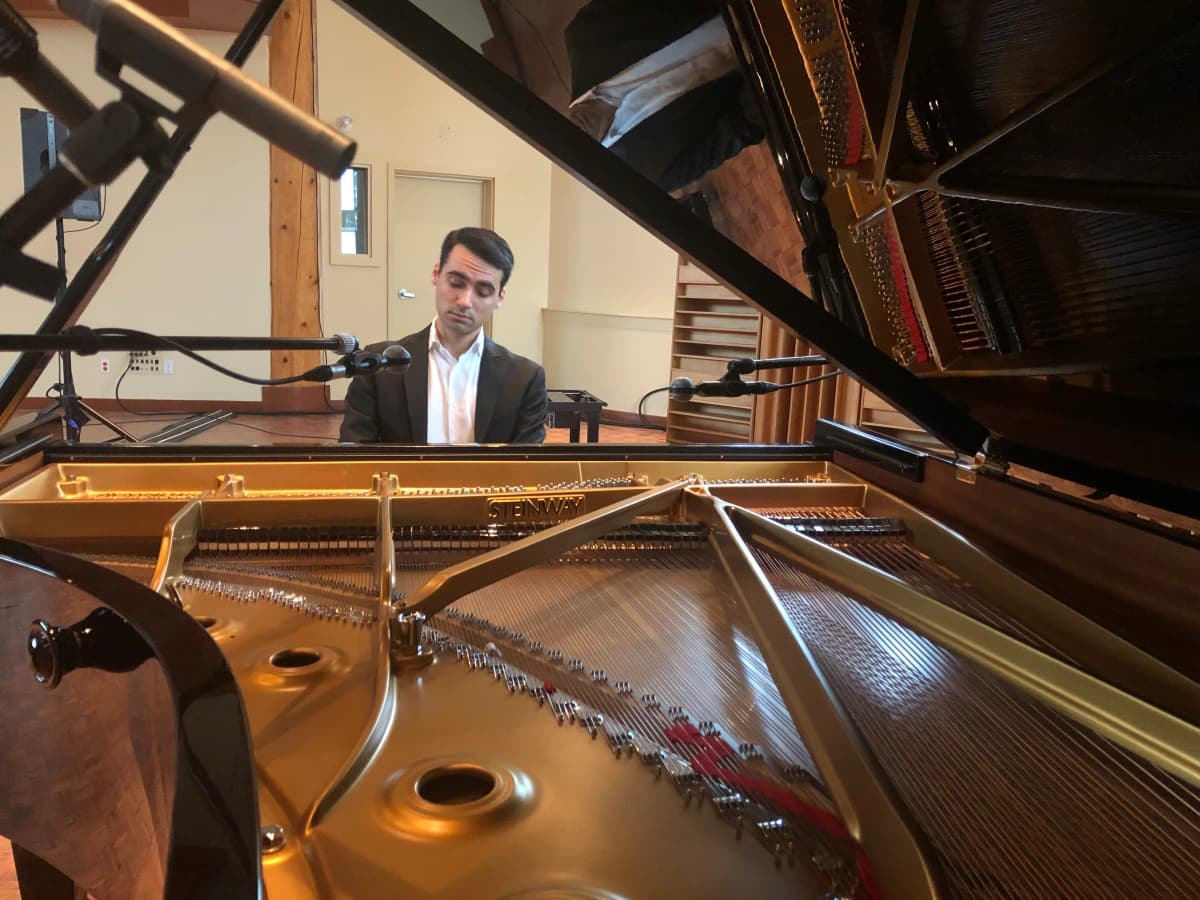 I have a long list of canonical masterpieces that I would still want to perform. Nonetheless, I love combining these with lesser-known pieces and composers. My new album features the almost unknown Préludes by Fauré and Nocturnes by Poulenc together with the slightly more known Préludes by Messiaen. I am now experimenting in curating these together with very known pieces such as Debussy's Préludes and Ravel's Gaspard de la nuit. Besides, every season I play many chamber-music pieces. This year (2022) was the centenary of César Franck, and so I have been lucky to perform his solo pieces and his magnificent piano Quintet with talented Desguin Quartet and will be performing his Violin Sonata with Anna Ovsyannikova in the UK and Belgium. Additionally, I am aiming to expand my repertoire of Women Composers – high on my radar are the pieces of Lili Boulanger, Cécile Chaminade, Mélanie Bonis, and Germaine Tailleferre.
Do you have a favourite concert venue to perform in and why?
Performing in prestigious concert halls such as Salle Cortot and Steinway Hall is always satisfying and gives me a sense of pride and honour. Next to these performing in nonconventional concert venues such as museums and art galleries is a great passion of mine. Being close to the audience in an interdisciplinary environment, results in an intimate and unique artistic experience. I try to explore these venues through my concert series Monsieur Croche.
What do you feel needs to be done to grow classical music's audiences?
I feel that making classical music accessible and approachable through diverse programming (of both performers as well as composers) is a good starting point. I found that narrated and/or interdisciplinary performances often help the audience to better connect with the music. Any other creative initiatives (such as performing in non-conventional venues) is always helpful to de-associate classical music with the status symbol elitist image it sometimes possesses and make it relevant and exciting for younger audiences.
What is your most memorable concert experience?
Performing Mozart and Schumann Concertos gave me the greatest pleasure. But if I needed to pinpoint one memorable concert experience, I would say a chamber music concert in the Apuan Alps in Italy. I performed Cello sonatas by Beethoven, Chopin and Debussy with cellist Pieter Jan De Smet as part of our tour in Italy. The air was fresh, and the light was special. We performed after the sunset in a small old church in the completely isolated village of Pruno. The view was spectacular, surrounded by mountains, rivers and forests, and the atmosphere was so unique.
As a musician, what is your definition of success?
For me the greatest success would be to be able (mentally, physically, and financially) to continue doing what I'm doing today – performing solo, chamber music and with orchestras, recording, teaching, directing my concert series, participating in artistic projects, and collaborating with other musicians and artists.
What advice would you give to young/aspiring musicians?
Trust yourself, your values, and your ideas. But at the same time, find people around you who you can trust to be honest with you and that genuinely want to help you with your development – listen to their advice. Study as much repertoire as you can and then find the pieces that you feel most passionate about.
What's the one thing in the music industry we're not talking about which you think we should be?
I think that there is a very strong focus in the classical music scene on competitions. I won't quote Béla Bartók, but I see his point. I myself have been grateful to win a prize in Osaka's Music Competition, and these competitions do indeed give a platform for talented musicians to be discovered. However, I believe that the foundation of art is based on emotions, aesthetics, intellectual ideas, and creative visions. Competitions should be an optional platform for musicians who wish to test the limits of their potential, but not the primary factor in ranking talent.
What is your idea of perfect happiness?
I felt perfect happiness while performing Mozart's Concerto in D minor with an orchestra in Italy. I was engulfed by the sounds of the orchestra of which overtones were in perfect harmony with the piano solo. It was a real outer body experience that I cannot describe.
Tal Walker's debut disc Fauré, Poulenc, Messiaen: Préludes & Nocturnes is released on the Collection Cabinet de curiosités label and is also available on Spotify.
For more of the best in classical music, sign up to our E-Newsletter