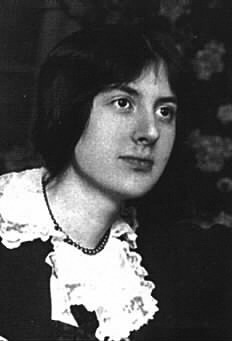 One of the most treasured composers in France is the younger sister of Nadia Boulanger, Lili Boulanger (1893 – 1918). While the older sister lived a long and fruitful life as one of the most important pedagogues, bearing her influence upon musicians from Aaron Copland to Astor Piazzolla to Daniel Baremboim, Lili's short life is remembered only by her surviving works.

Six years younger than Nadia, Lili was a child prodigy and accompanied her sister to her classes at the Paris Conservatoire. Studying with prominent French composer and organist, Louis Vierne, Lili could play the piano, violin, cello and harp. Accordingly to Nadia, Gabriel Fauré used to bring his latest songs and read them together with Lili. Though illness since young had kept her from rigorous practice, she was a keen musician whose curiosity brought her to the latest works of Debussy and compositional classes with the greatest teachers of the time. At the age of nineteen, in 1913, Lili made history as the first woman winner of the Prix de Rome; she later visited Rome and wrote some of her best works at the Villa Medici.
The Prix de Rome was one of the most prestigious prizes at that time, offering scholarship through fierce competition in various fields. The Music Composition prize was awarded almost yearly from 1803 to 1968, often gracing such famous names as Hector Berlioz, Charles Gounod, Claude Debussy, Florent Schmitt, et cetera, and the list goes on. Lili's winning work in 1913 was her cantata Faust et Helene (she had 31 votes out of 36 jurors), of which many recordings have been made in recent years.
Her stay stopped short by the war, she returned to France and continued her work. In the midst of the difficult times, she managed to compose a great deal of music while caring for wounded soldiers. Completing as many works as she could, she finally succumbed her fight with Crohn's Disease, an intestinal inflammation and died at the tender age of 24. She dictated her last work Pie Jesu to her sister during her last days.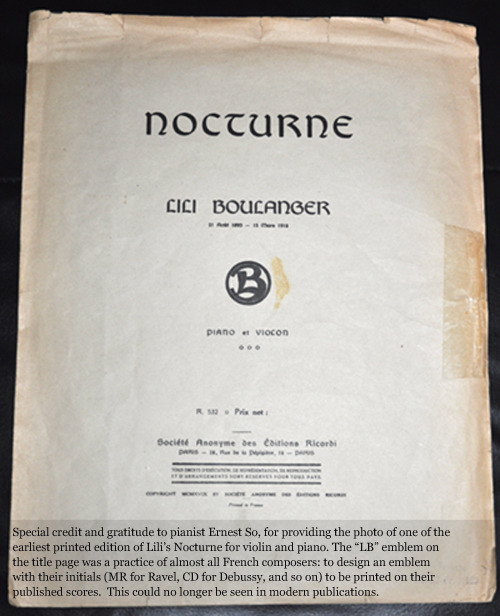 Lili's knowledge of the prevailing style of that time gave her a wide and varied vocabulary to express her musical ideas. Her command in choral writing ranked as one of the best, while her instrumental works add a unique colour and elegance to the repertoire. Her writing was mature beyond her age, with instrumentation and treatment of voices that resemble Debussy and Massanet.
Still widely known in France, there are no shortages of recordings of Lili's works. The Faust et Helene, among other choral works, are still being performed and recorded. Her works for violin and piano are in print and widely distributed, while a foundation set up by recent scholars have kept alive the memory of Lili and her sister Nadia. A manuscript of an unfinished Theme and Variation has recently been discovered, completed and recorded by French scholar and pianist Emile Naoumoff.
Recommended works:
Faust et Hélène, for mezzo-soprano, tenor, baritone, and orchestra
Psaume 24, for tenor, choir, organ, and orchestra
Psaume 130, for alto, tenor, choir, organ, and orchestra
4 Melodies for soprano, tenor and piano
3 Pieces for piano
Nocturne for violin and piano
Related videos:
Nocturne for violin and piano

Psaume 24

Trio Estampe: Un matin de Printemps

Biography written by pianist Ernest so.
Photo credit: en.wikipedia.org