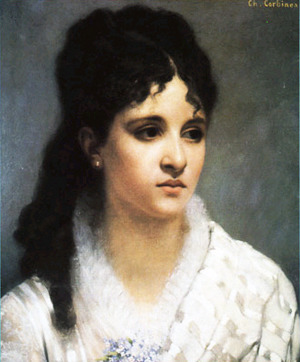 Fantaisie, Op.72 "Septuor" (1906)
Mélanie "Mel" Bonis (1858 – 1937) was a prolific French composer who wrote more than three hundred pieces, including works for piano solo and four hands, chamber and choral music, mélodies, and works for orchestra.
Born in a modest Parisian family, Mélanie was a lively and strong-willed child, and started teaching herself the piano since an early age. However, her parents refused to give little Mélanie musical education until she was 12.

Jacques Maury, a professor at Paris Conservatoire, seeing the natural talent of the girl, presented her to César Franck, who accepted Mélanie as a student of piano accompaniment and composition. There Mélanie met Amédée Hettich, and fell quickly in love with the singing classmate and poet. Unfortunately, their romance could never blossom as the parents of Mélanie opposed their marriage, and in 1882, she was even forced to resign from the "dangerous artistic world" of the Conservatoire.
In 1883, Mélanie was arranged by her family to marry Albert Domange, a twice-widowed businessman, who had no interest in music and did not share her spiritual ideals. A few years later, Mélanie met Hettich again, who encouraged her to compose and publish under the pseudonym Mel Bonis. Working together, Mélanie frequently set Hettich's poems to music, while the poet introduced her to great Parisian publishers. Nevertheless, this secret courtship brought Mélanie a painful struggle between her personal feelings and her religious convictions. Under such a great combat, she tried to sublimate the pain by musical creation, and became a member of Société des compositeurs de musique, which organized composition competitions that attracted the most renowned composers. Mélanie won prizes twice, notably with Suite pour harpe chromatique et quatre instruments à vents.
During the later years of her lifetime, Mélanie's music was often performed in the most renowned concert halls. Her most famous works include Soir et matin, a wonderful piece for violin, cello and piano, played by Trio Chaigneau; the Cello Sonata was premiered at Salle Berlioz by Louis Fournier and Ricardo Viñes; and the Fantaisie was presented at Théâtre du Chatelet by Orchestre Colonne, under the baton of Gabriel Pierné. In general, the post-Romantic style of Mélanie's compositions varied from dramatic to comedic, often vigorous and sensual, with twists of scenery and impressionism, but all of them were well written with great sensitivity.
Gai Printemps

Photo credit: fr.wikipedia.org