Seraphic Father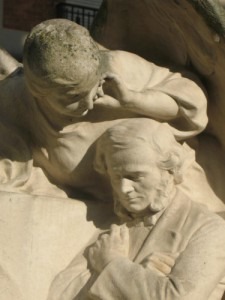 Belgian-born César Franck (1822-1890) lived and worked in Paris for most of his life. An imaginative and influential composer in the realms of symphonic, chamber, organ and piano music, Franck nevertheless remained an outsider in a city primarily interested in opera. A man of strong religious convictions and gentle character—who was known to his students as "Pater seraphicus"—Franck served as organist at the newly built Saint Clotilde Basilica in Paris for over 30 years. Appointed professor of organ at the Conservatoire in 1872, Franck led a group of young composers, among them d'Indy, Duparc, and Dukas towards symphonic and chamber music, eventually breaking the stranglehold of opera over French music. Indebted to the musical styles of Liszt and Wagner, Franck composed in a rich and luxurious post-Romantic idiom, featuring innovative harmonies and skilled counterpoint. Within his expansive cyclical structures Franck uniquely combined seemingly discordant elements, "as moments of peace and serenity barely conceal in undercurrent of disquiet."

Franck started his musical career as a keyboard player of extraordinary ability in his hometown of Liège. His father strongly believed that his son was destined to become a virtuoso pianist and famous composer who would bring recognition and wealth to his family. Frank studied at the Royal Conservatory of Liège, and by 1838 he won his first prize as a pianist. Studies at the Parisian Conservatoire soon followed, and his first compositions were warmly received by audiences and critics alike. However, Parisian music journals and newspapers took strong exception to the highly aggressive promotional efforts of his father, and as a composer, young Franck was primarily ignored. After a brief and professionally unsuccessful tour through Belgian, Franck was back in Paris teaching piano and giving family concerts. He made the acquaintance of Franz Liszt, who later wrote to a friend, "He will find the road steeper and more rocky than others may, for, as I have told you, he made the fundamental error of being christened César-Auguste, and, in addition, I fancy he is lacking in that convenient social sense that opens all doors before him." Nevertheless, Franck privately premiered his Oratorio Ruth before Liszt and Meyerbeer and received reasonable feedback and constructive criticism.

César Franck: String Quartet in D Major
Liszt's letter suggests that Franck was never fully comfortable under the glaring lights of the virtuoso stage. In fact, Franck had always aspired to become an organist, and with his appointment at Sainte-Clotilde his dream became reality. A master of improvisation, his organ compositions stand at the apex of the Romantic organ repertoire. In addition, his devotional works based on biblical texts and other church sources rapidly gained popularity and his name was proposed for an appointment at the Paris Conservatoire. After becoming a naturalized French citizen, the appointment was granted on 1 February 1872. Besides teaching, Franck was now in a position to devote more time to composition. His oratorio Rédemption, the secular cantatas Les Éolides and Les Béatitudes and the Piano Quintet saw successful performances. However, the symphonic poems Le Chasseur maudit and Les Djinns, the Symphonic Variations and the opera Hulda and particularly his Symphony in D-minor bewildered critics and elicited "ice-cold reactions from audiences." However, the massive String Quartet, completed and performed in April 1890 became a rousing success. Franck exerted a significant influence on music. His efforts on behalf of chamber music and cyclic form were taken over by Claude Debussy and Maurice Ravel, and he was undoubtedly the undisputed master of nineteenth-century French organ compositions.