Paris has always provided the fertile soil for specialized music societies. Some have focused on early music, individual composers or single genres. Others were born from political division, or attempts to bridge them. A good many societies were based on "aesthetic beliefs, which made the city an ideological battlefield among those seeking to shape the future." Among numerous initiatives advocating various approaches to musical progress, the Société Nationale de Musique (1871–1939) played a highly significant role. On the heels of France's defeat in the Franco-Prussian War of 1870-71, nationalist feelings were washing over the country. On the initiative of Camille Saint-Saëns and Romain Bussine—professor of voice at the Paris Conservatoire—the National Music Society was created on 25 February 1871. The executive committee featured Bussine as president, Ernest Reyer as vice-president, Alexis Castillon serve as secretary and Jules Garcin as assistant secretary. Founding member also included Théodore Dubois, Henri Duparc, Gabriel Fauré, César Franck, Ernest Guiraud, Jules Massenet, and Paul Taffanel. A historian writes, "They were determined to unite in their efforts to spread the gospel of French music and to make known the works of living French composers."
César Franck: Trio Concertante No. 2 in B-flat Major, Op. 1, No. 2 "Trio de salon" (Trio Portici)


The constitution of the Société Nationale de Musique was drafted by Alexis Castillon and reads: "The proposed purpose of the Society is to aid the production and popularization of all serious works, whether published or not, by French composers. To encourage and bring to light, as far as lies within its power, all musical attempts, whatever their form, on condition that they give evidence of lofty artistic aspirations on the part of their author. Fraternally, with entire forgetfulness of self, with the firm resolve to aid each other with all their capacity, the members will unite their efforts, each in his own sphere of action, to the study and performance of the works which they shall be called upon to select and interpret." An additional clause demanded that "no one can be part of the Society as an active member, unless he is French," and the Latin motto "Ars Gallica" was unanimously adopted. The first concert of the society took place on 17 November 1871 at the Salle Pleyel. It featured the Trio in B-flat Major by Franck, two songs by Dubois, Five Pieces in Ancient Style by Castillon, a reduction of the Violin Concerto by Garcin, an Improvisation for tenor by Massenet, and the Caprice héroïque for two pianos by Saint-Saëns, played by the composer and Fauré.
Camille Saint-Saëns: Caprice héroïque, Op. 106 (Christian Ivaldi, piano; Noël Lee, piano)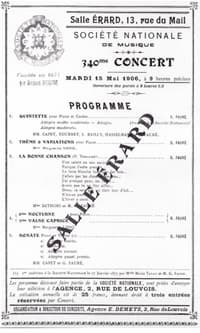 Francis Poulenc described the music of Emmanuel Chabrier as an "inexhaustible treasure." One of the most individual composers of the French school between Berlioz and Debussy, he was a great admirer of Wagner and he had even made a pilgrimage to Bayreuth. This kind of admiration for Wagner did not sit well with the Society, but Paul Dukas defended him suggesting, "Fortunately he has shown himself capable of preserving his native originality." Chabrier was described as the "most astonishing, eccentric and prodigious pianist one could ever encounter," and Vincent d'Indy added, "despite over-fat fingers and a certain awkwardness in his bearing, he was capable of reaching heights of finesse and a maximum of expression which very few pianist—I should barely except Liszt and Rubinstein—have surpassed." His Ten Pièces pittoresques date from 1880, and Marie Poitevin premiered a selection at the Société Nationale de Musique on 9 April 1881. After the premiere, César Franck is reported to have exclaimed "We have just heard something extraordinary: music which links our time with that of Couperin and Rameau." Chabrier's detractors did find stylistic improprieties, and Debussy, with reference to the subtitle "pittoresques" sarcastically wrote, "it categorizes things which have nothing to do with what the word represents exactly."
Emmanuel Chabrier: 10 Pièces pittoresques (Aldo Ciccolini, piano)


The society was immensely popular from the very beginning. Soon after its establishment it attracted roughly 150 members, with Georges Bizet, Edouard Lalo, and Charles-Marie Widor among them. Initially, the society had hoped to present orchestral concerts, but lacking funds, they steered towards piano and chamber music. A historian explains, "Composers came to meetings prepared to offer their own compositions or to accompany singers who performed their mélodies, and that this set the society's concerts apart from routine concerts." Concerts were for members only during the early years, but tickets were later made available to the general public. Since the society was unwilling to engage with opera, it quickly attracted young composers. Gabriel Fauré recalled, "The truth is that before 1870 I would never have dreamt of composing a sonata or a quartet. At that period there was no chance of a composer getting a hearing with works like that. I was given the incentive when Saint-Saëns founded the Société Nationale de Musique in 1871 with the primary aim of putting on works by young composers."
Gabriel Fauré: Violin Sonata No. 1
Gabriel Fauré premiered his 1st violin sonata at the society in 1877, and Camille Saint-Saëns commented, "a magic floats above everything." Saint-Saëns had always been a great supporter of the young Fauré, and during his time as professor at the École Niedermeyer he introduced him to Schumann, Liszt and Wagner. He also helped Fauré to find a number of organist jobs, and he introduced him to the uncontested grand diva of the nineteenth century, Pauline Viardot. Fauré was soon a regular at Viardot's salons and his 1st violin sonata is dedicated to her. He did have trouble getting it published, however, as publishers could not get a grip on his peculiar blend of ancient and modern music. However, it perfectly expressed the aesthetic aims of the society. Fauré stayed intimately connected to the society, and he heavily leaned on his friends when a prestigious commission for an opera could not be realized. In fact, he left France for a stay in Venice, and as a guest of Winnaretta Singer, he worked on setting to a handful poems by Verlaine. Once he had returned from Italy he completed his Cinq mélodies de Venise and the complete cycle was premiered on 2 April 1892 at the Société Nationale de Musique.
Gabriel Fauré: Cinq mélodies de Venise (Jean-Francois Lapointe, baritone; Louise-Andree Baril, piano)


By the 1880s, the society had abandoned its purely French direction and allowed foreign composers and works to participate. By that time, Belgium-born César Franck had long secured his naturalization papers. Born in Liège into the family of a Walloon father and mother of German descent, he was sent to Paris to study with Anton Reicha. In 1836 he applied to enter the conservatory, but was initially refused on grounds of his nationality. He had to wait for an entire year for his citizenship papers to be approved, and he eventually enrolled at the Conservatoire on 4 October 1837. Almost 50 years later, Franck composed his Symphonic Variations for piano and orchestra. It was written for the French pianist Louis Diémer, who had given the Parisian première of Les Djinns. "You played splendidly," Franck told him. "I will write you a special little piece and dedicate it to you." Diémer did give the première at a society concert on 1 May 1886 with the composer conducting. However, under the presidency of Vincent d'Indy the society had become increasingly conservative, and Franck's compositions did not gain favor with the greater public.
César Franck: Symphonic Variations (Bertrand Chamayou, piano; Royal Scottish National Orchestra; Stéphane Denève, cond.)

Claude Debussy joined the society in 1888. At that time Vincent d'Indy, Ernest Chausson and members of the César Franck circle, who idolized the symphonies and quartets of Beethoven, controlled it. Debussy offered his string quartet to the society, and especially to his good friend Chausson as "a token of reassurance of good faith and solidarity". Years earlier, d'Indy had warmly supported Debussy, and the "Debussy quartet is an act, on the one hand, by which he seeks to return respect for the ideas of those who have shown him and his work respect; and, on the other hand, by which he aspires to a certain legitimacy in the eyes of those who have set the price of legitimacy." Debussy had returned from his two-year Prix de Rome residency a couple years earlier, and he was eager to compose in a distinctly French musical style. The quartet premiered on 29 December 1893, but it was met with a bewildered reception.
Debussy: String Quartet
By 1910, a group of young composers led by Mauric Ravel set up the rival Société Musicale Indépendante, and they secured Fauré as their president. They were able to attract composers like Béla Bartók, Manuel de Falla, Arnold Schoenberg, Igor Stravinsky and Anton Webern. Initially, there was an attempt to bring the old and new societies together, but they could not come to terms. In the years between the Wars the Société Nationale did present avant-garde works by composers including Arthur Honegger, Francis Poulenc, Bohuslav Martinů, Henri Lutz, Marcel Pollet, Marcel Lubey and Déodat de Séverac. However, the days of the society were numbered and it closed its doors for good in 1939. The writer Romain Rolland summarized the importance of this exceptional organization as follows, "It is with respect that we must speak of the Société Nationale, which was truly the cradle and sanctuary of French art. Everything that was great in French music, from 1870 to 1900, came through it. Without the Société Nationale, most of the works that are the honour of our music not only would not have been performed, but perhaps would not even have been written. It had the rare merit of always being ten or fifteen years ahead of public opinion, which it formed, and which it compelled to honour those whom it was the first to recognise as great."
For more of the best in classical music, sign up to our E-Newsletter
Debussy: Pour le piano