Compulsion to Compose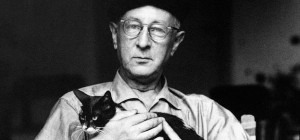 Early twentieth-century modernists in music eagerly explored various ways of breaking with the Romantic tradition. For Bohuslav Martinů (1890-1959), born in a church tower above the Czech-Moravian Highlands, the initial point of departure was grounded in the debates about Czech national music. A highly talented but hopeless student at the Prague Conservatory, Martinů initially contributed the widely acclaimed patriotic cantata Czech Rhapsody in 1918. However, he simultaneously explored and appropriated the stylistic orientation of French modernisms, beginning with Debussy and Roussel, and culminating in his unabashed worship of Stravinsky. Martinů's entire compositional oeuvre pays close attention to this duality of avant-garde cosmopolitan developments and his position as a composer of Czech national music. In addition, his deliberate sense of objectivity stems, according to the composer, from "growing up in a church tower where I only saw people and places from afar."

Martinů was never comfortable in the highly conservative musical environment of Prague. As such, he packed his bags in 1923 and sought more satisfying artistic pastures in Paris. He joined the Czech artistic community living there at the time, and assimilated multiple musical styles including jazz, neoclassicism, and surrealism. Profoundly influenced by Stravinsky's Russian ballets and the Parisian cabaret, Martinů produced a string of compositions that mirrored the eclectic artistic environment of the French capital. Yet, he simultaneously continued to compose for the Czech Theater in Prague throughout the 1930's, culminating in the surrealist opera Julietta and the Double Concerto for Two String Orchestras, Piano and Timpani. With the ominous rise of fascist and communist regimes, Martinů visited his homeland for the last time in the summer of 1938. And when he composed his patriotic cantata The Field Mass for the Czech Army Band in France in 1939, the Gestapo immediately blacklisted him. Martinů and his wife Charlotte spent the next six months in hiding, until they finally obtained the necessary paperwork to immigrate to the United States.

As with other artist who arrived in similar circumstances, life in New York was initially rather difficult. However, Martinů found supportive and enthusiastic patronage from conductor Serge Koussevitsky, and major East-Coast orchestras premiered a number of his symphonies, which characteristically include prominent parts for the piano. Additionally, his chamber music was published and regularly performed, and he secured teaching positions at Mannes College of Music, Yale and Princeton Universities, and the Berkshire Music Center at Tanglewood. A newly developed neoclassical style, featuring continuous asymmetrical phrasing derived from 17th-century polyphonic genres, found favor with the listening public. The same might be said of a more rhapsodic musical style, with refined focus on neo-impressionistic features, which Martinů had developed by the 1950's. In 1946, Martinů suffered a near-fatal fall from an unprotected terrace that resulted in partial deafness in one ear for the rest of his life.

Bohuslav Martinů: Symphony No. 1, H. 289
Sensing his own mortality, Martinů returned to his European roots in 1953. Classified as an emigrant traitor by the communist government in his native Czechoslovakia, Martinů resettled in the south of France. The Czechoslovakian government had not only banned the man from returning to his home, it had virtually banned his music as well. However, it was the folk cantata The Opening of the Wells, with its nostalgic and idealized yearning for the past that led to widespread acceptance of his music in the Czech community. The work was published in Czechoslovakia in 1955 and performed in schools throughout the country. Martinů's musical legacy consists of almost 400 compositions, ranging from choral works and operas to symphonies and a great deal of chamber music. "The artist is always searching for the meaning of life, his own and that of mankind, searching for the truth," he once wrote. "A system of uncertainty has entered our daily life. The pressures of mechanization and uniformity to which it is subject calls for protest and the artist has only one means of expressing this, by music." The Paul Sacher Estate in Switzerland became his final residence, and Martinů died of stomach cancer in 1959.