Interlude
article, Oliver Pashley introduced us to the prestigious Conservatoire de Paris. This venerable institution has been an integral part of French musical life, and annually trains a significant number of high-profile national and international musicians. And we all know that the Conservatoire de Paris has given voice to composers ranging from Berlioz to Boulez, from Ravel to Debussy and from Fauré to Messiaen. Yet for every famous composer there are literally hundreds of aspiring voices that history has long forgotten, but that probably deserves to be heard again. Take for example Gabriel-Marie (1852-1928), a devout Wagnerian who rose to musical prominence in Parisian musical life after completing his studies at the Conservatoire. Gabriel-Marie did not compose serious operas or music dramas, but focused his attention on the lighter side of music. Working for musical theatres in Paris and Marseille his lasting yet hidden claim to fame rests on a set of delightful dances.
Gabriel-Marie: La Cinquantaine (The Golden Wedding)
Like any world-famous musical institution, the Conservatoire de Paris has always attracted students from all corners of the globe. Among them was the highly talented Spaniard Juan Crisóstomo Arriaga (1806–1826), who composed his 2-act opera
Los esclavos felices
(The Happy Slaves) at age 11. It was premiered in Bilbao in 1820 to great acclaim, and Arriaga was sent to Paris to refine his compositional voice. He studied counterpoint with Fetis and violin with Pierre Baillot and his works artfully straddle the gap between Mozart and the emerging early Romanticism of Beethoven, Schubert and Rossini. Arriaga died of a pulmonary infection at age 19, yet nevertheless left behind 3 string quartets published in Paris in 1824, 3 Etudes for solo piano, stage music for
Agar dans le desert
, and a Symphony in D.
Juan Crisóstomo Arriaga: String Quartet No. 3 in E-flat Major
A classmate and lifelong friend of Claude Debussy, Isidore Philipp (1863–1958) won First Prize in piano performance at the Conservatoire de Paris in 1883. After graduation he quickly embarked on a career as a professional concert pianist. However, he found his lasting satisfaction in teaching and educating young musical talents and returned to the Conservatoire as of the youngest professors appointed at that institution. As a composer, Philipp is probably best known for a number of devilishly difficult technical exercises and various arrangements and transcriptions. But he also published articles on music in various music magazines, wrote a number of short educational books and compiled an anthology of French music from the 17th to the 19th century.
Isidore Philipp: Puck, Op. 23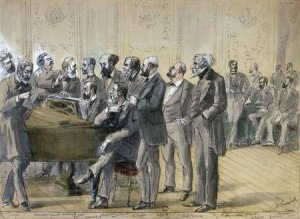 A distinguished graduate of the Conservatoire de Paris, Paul Bonneau (1918-1995) composed music for 51 major French films and numerous shorter features. He received first prize in harmony, first prize in counterpoint, and first prize in composition. His musical career took shape over the airwaves as he was appointed symphonic conductor at RDF Radio. During his almost 30 year tenure, he composed a number of light orchestral suites, various operettas and ballets, and fashioned a large number of orchestral arrangements and vocal accompaniments for variety shows. However, he also dabbled in serious composition, famously dedicating this Orchestral Rhapsody

A French in New York

to the memory of George Gershwin.

Paul Bonneau: Piece concertante dans l'esprit jazz

In a recent