"A Vision of Eternity"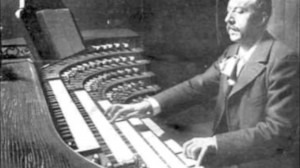 Such was the enormous musical talent of Charles-Marie Widor (1844–1937) that he successfully competed for the job of organist at the lycée in his hometown of Lyons at the tender age of 11! Having received his initial musical instructions from his father—a well-known organ-builder and amateur performer—the young prodigy continued his education with the organist Jacques-Nicolas Lemmens in Brussels. Lemmens was a highly respected teacher at the Brussels Conservatory, and his teacher had studied with a student of Johann Sebastian Bach. Upon his return to Paris, the organ builder Aristide Cavaillé-Coll—a close family friend—aggressively promoted the young virtuoso and introduced him to Liszt, Rossini and Saint-Saëns. Already one of the most formidable organists of his time, Widor participated in the inaugurations of the organs at Notre-Dame and La Trinité, and in 1869 he became Saint-Saëns's assistant at the Madeleine. A year later, with support by recommendations from Gounod and Cavaillé-Coll, Widor was appointed Lefébure-Wély's successor as titulaire of Saint-Sulpice, a position he held for the next 64 years!

At the age of 25, Widor held the most prominent and most powerful organist position in all of France. What is more, the organ at St-Sulpice was Cavaillé-Coll's masterwork and stood at the forefront of the revival in French organ music. His essentially symphonic instrument had a much warmer sound and a vast array of stops that extended the timbre of the instrument. This new style of organ, with a truly orchestral range of voicing and unprecedented abilities for smooth crescendos and diminuendos, encouraged Widor to composed 10 powerful symphonies for organ. Especially the Symphonie Gothique (1895) and the Symphonie Romaine (1900), in which the "composer's knowledge of plainchant, and his penchant for delicate contrapuntal textures come to the fore in a most rewarding way." Sadly, his name became so closely associated with music for the organ that the rest of his many compositions—including orchestral and chamber music, stage works and songs—have been neglected. Following the death of César Franck in 1890, Widor took over the organ class at the Paris Conservatoire, and by 1896 he became professor of composition at the same institution. Among his most illustrious organ and composition students we find Marcel Dupré, Louis Vierne, Charles Tournemire, Darius Milhaud, Alexander Schreiner, Albert Schweitzer, Edgard Varèse, and the Canadian Henri Gagnon. And as one of the leading recital organists and improvisers of his time, he extensively concertized throughout Europe.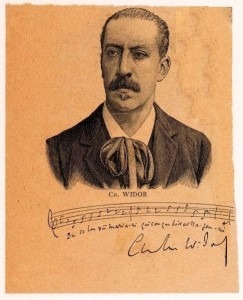 The 1893 issue of the Musical Courier published the following description of Widor. "His coloring is brown. It is a long face, the features regularly divided, even with an unusually high brow, and a strong, straight nose. The head is pleasingly shaped; the hair upon it slight and fine and brown. The eyes are large, round, brown, clear and inquiring, full of a changing expression that is very interesting to watch. The slender fingers have that slight turn upward at the point indicating the musician, and he has a very slight lisp." Widor was widely known as a man of great culture and learning, and he founded the American Conservatory at Fontainebleau in 1921. He served as its director until 1934 and was succeeded by none other than Maurice Ravel. At the tender age of 76, Widor married Mathilde de Montesquiou-Fézensac, a member of one of the oldest and most prominent families of Europe; I'll tell you more about that in our next Love Episode! Widor suffered a stroke in 1933 and was forced to retire from his position at Saint-Sulpice. He died in Paris on 12 March 1937 at the age of 93.

Charles-Marie Widor: "Allegro" Organ Symphony No. 6