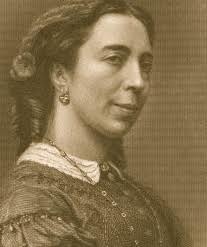 Pauline Viardot (1821-1910) was one of the most celebrated mezzo-sopranos of her time! During a remarkable career spanning almost a quarter of a century, she performed on the most prestigious stages around the world, and her distinguished interpretations decisively shaped the history of opera in France. At one point or another, Viardot resided in France, London, or Germany. But regardless of geographic location, Pauline would have a Thursday night soirée and a Sunday afternoon matinée in her home. Her Salon was not only used for casual entertainment but became an outlet for performances of the works of upcoming composers, as well as her students. In fact, this vibrant cultural and artistic meeting place is rightfully credited with launching the careers of Camille Saint-Säens, Jules Massenet, Gabriel Fauré, and Charles Gounod.
Gabriel Fauré: Trois Mélodies, Op. 7, "Après un rêve"
Pauline was introduced to Parisian society at the Salon of Madame Caroline Jaubert, known for hosting evenings of artistic and intellectual conversations among distinguished friends. There she met the poet Alfred de Musset, who was "deeply moved and impressed by her performance, but was surprised to find that her conversation was almost as outstanding as her singing. He drew her out on all sorts of themes, and found that this girl of not yet 17 was as well up in everything as an old professor." This engrained tradition of being associated with, or hosting a Salon continued throughout her life. Located in the Seine-et-Marne region of France, the Viardot's had a summer residence, the Chateau de Cortavenel. Her husband Louis Viardot had purchased the castle-like structure in April of 1844. Parts of the house dated back to the 16th century, and included towers, a moat and even a drawbridge. Pauline converted the attic into a small theater, and the entire family would put on weekly performances. Admission was one potato, which gave the theater its earthy name, "Théatre des Pommes de Terre." The Viardot's also had a Salon in Baden-Baden, and counted Clara and Robert Schumann, as well as Johannes Brahms as close personal friends. In fact, Schumann composed his Liederkreis, Op. 24, and Brahms his Alto Rhapsody specifically for Pauline!
Charles Gounod: Sapho, "O ma lyre immortelle"
Upon her return to Paris, Viardot established her music salon at 48, rue de Douai. Her Thursday evening soirées attracted some of the most prominent and aspiring composers and performers of the day. Charles Gounod referred to Pauline Viardot as "The godmother of his career." Gounod played some of his pieces for her, and "she was captivated by the powerful and elegant music, with its striking personality and the unmistakable inspiration of a highly emotional soul." Pauline secured Gounod's future by working out a contract for his opera Sappho to be performed at the Opera. Jules Massenet reports, "I was invited to dine at the house of Mme. Pauline Viardot, the sublime lyric tragedienne. In the course of the evening I was asked to play a little music. I was taken unawares and I began to sing a bit from my sacred drama Marie Magdeleine. Mme. Viardot leaned over the keyboard and said with an accent of emotion never to be forgotten, "What is that?" "Marie Magdeleine," I told her, 'a work of my youth which I never even hope to put on." Eager to hear the entire work, Pauline put together a full cast for a private reading of Mary Magdaleine shortly thereafter.
Jules Massenet: Marie Magdeleine, "O mes soeurs"
Camille Saint-Säens met Pauline Viardot in May of 1849, and they quickly developed a true and lasting friendship. He accompanied Pauline at her Thursday evening soirées, and wrote his opera Samson and Delilah for her. Although she had retired from the stage, she took an active part in securing its production. Saint-Säens introduced Gabriel Fauré to Viardot in 1872. "He felt a great acceptance, warmth, and artistic understanding from Pauline," and composed at least one composition for most members of the Viardot family. Unlike the Thursday night soirées at the Viardot home, the Sunday gatherings were much more informal and were reserved for her closest acquaintances. It was here that the entertainment was much more casual, consisting of charades and operatic parodies. Saint-Säens' high singing voice made him a particularly popular performer as the female lead in operatic parodies. Dressed in bonnet and false hair plaits, the bearded Saint-Säens performed hilarious impersonation that emphatically stated that music did not have to be a deadly serious affair!
For more of the best in classical music, sign up to our E-Newsletter
Camille Saint-Säens: Samson and Delilah, "Mon coeur s'ouvre à ta voix"