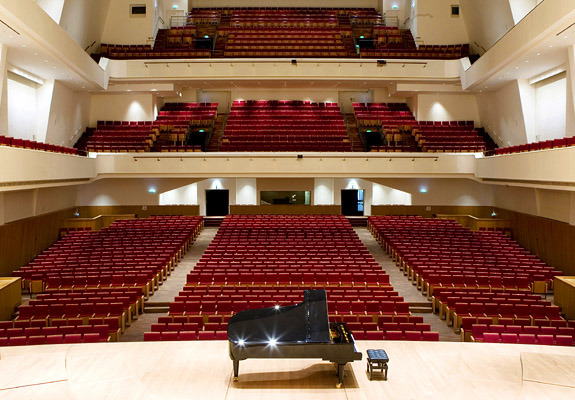 Once upon a time, the life of a traveling piano virtuoso was a veritable nightmare. Performers traveled long days and dark nights in rickety horse-drawn coaches over slippery roads and muddy fields. If they could afford the luxury, they spent a few short hours in run-down country motels and ate foods that defied easy identification. Worse of all, they were generally forced to play on whatever instrument the concert organizer's had provided. At the turn of the 19th century, that usually meant wooden boxes that could not be heard above the whispers in the audience, nor could they hold their tuning for more than a nanosecond. These rather depressing realities of concert life inspired the Austrian-born French composer and performer—he had studied with Joseph Haydn in his youth—Ignace Joseph Pleyel (1757-1831) to establish a piano-manufacturing firm in Paris in 1807.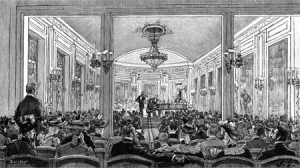 His biggest contribution to the development of the piano was the use of metal frames on which to string heavier wires. This led to increased volume in public halls, and at the same time resulted in more reliability in tuning so attractive to amateurs and professionals alike. In 1815, his son Camille — an outstanding and much respected virtuoso — joined Ignace as a business partner. In order to showcase the excellent instruments of "Pleyel et Cie," a dedicated performance venue was desperately needed.
The first official "Salle Pleyel" opened in 1830, and was merely a living room seating 150 guests. However, it immediately hosted the greatest pianists of its day, including Frédéric Chopin in 1832 and Franz Liszt in 1833. As Chopin wrote to his family, "Pleyel's pianos are non plus ultra. The sound has a special satisfying quality, the upper register bright and silvery, the middle penetrating and intense, the bass clear and vigorous. The striking of the hammers has been designed to give a sound that is pure, clear, even, and intense."

The original living room soon proofed hopelessly confining, and an official second venue with 550 seats opened near the piano factory in December 1839. Camille Pleyel gifted Chopin the newest piano model in 1839, an instrument you can still admire at the National Museum of Warsaw, and Chopin in return gave his last concert at the Salle Pleyel in 1848. Camille Saint-Saëns and Anton Rubinstein played their initial public debuts at the Salle Pleyel, as did the eleven-year old César Franck in 1846. This venerable concert hall also saw the premières of the second and fifth piano concertos by Saint-Saëns in 1868 and 1896, respectively. Several works of Maurice Ravel first saw the light of day at this second Salle Pleyel, including the Habanera (1898), Pavane pour une infante défunte and Jeux d'eau (1902) and the Sonata for Violin and Cello (1922).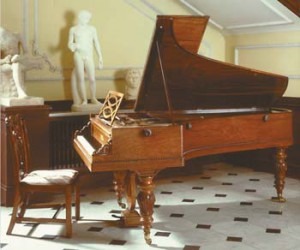 In 1927 the Conservatory Concert Society inaugurated a replacement hall, designed by Gustave Lyon that features a 3000 seats great hall, the Debussy room with a capacity of 150 guests, and a Chopin room used exclusively for chamber music — with a concert conducted by Igor Stravinsky and Maurice Ravel. This new Salle Pleyel was severely ravaged by fire in 1928 but quickly rebuilt to host the greatest musicians and ensembles of the 20th and 21st centuries. Ignace Pleyel would have been proud!

Frederic Chopin: Two Nocturnes played on 1836 Pleyel piano