"Be yourself, because everyone else is taken"
"The glory of Édouard Lalo (1823-1892)," wrote a scholar in 1925, "was that he cast a shaft of sunlight into French music, expressing joy, life, and chaste tenderness free of sentimentality, and burning passion without any unwholesome eroticism."
Working outside the musical mainstream, Lalo's musical style is certainly robust and forceful, and like all progressive composers of his time, he was accused of imitating Wagner. His fame in France rested almost entirely on his opera Le roi d'Ys, while the rest of Europe couldn't get enough of his Symphonie espagnole. This violin concerto in five movements using Spanish idioms has remained his most popular work. As a scholar wrote, "the freshness of its melodic and orchestral language is imperishable."
Édouard Lalo: Symphonie espagnole, Op. 21
Lalo was born 200 years ago, on 27 January 1823 in Lille. His family had roots in Spain and a decidedly military background. At first, his parents encouraged musical studies, and Lalo took violin and cello lessons at the Lille Conservatoire. However, his decision to attempt a career as a professional musician was sternly opposed by his father. In the event, Lalo ran away from home at the age of 16, and without money or contacts, headed for Paris. He studied in Habeneck's violin class at the Paris Conservatoire for a brief period and took private composition lessons from Julius Schulhoff and J.-E. Crèvecoeur. He made his living as a violinist and teacher, and in the late 1840's he "published some romances in the manner of the day and some violin pieces; his inclination was, unfashionably." Lalo tellingly wrote, "Although I don't know what I am, I am well aware of what I am not; I do not belong to any school; I don't want to become part of any system."
Édouard Lalo: Fantaisie originale, Op. 1 (Luigi Alberto Bianchi, violin; Dubra Kovacevich, piano)


During the early stages of his career, Lalo is credited with reviving interest in chamber music in France. Initially, he composed two piano trios, a genre that was almost entirely neglected in France. Looking to introduce the music of Haydn, Mozart, Beethoven, and also Mendelssohn, and Schumann to the French public, Lalo became a founding member of the Armingaud Quartet. Jules Armingaud (1820-1900) was a noted violinist, reputed to have been the first to introduce the late Beethoven Quartets to audiences in Paris. Joseph Mas, Léon Jacquard, and Édouard Lalo, who played the viola and second violin in the quartet, joined Armingaud in this famous French ensemble.
Édouard Lalo: Piano Trio No. 1 in C minor, Op. 7
According to contemporary witnesses, Lalo was slight in stature and of "distinguished appearance. Fastidious in dress, with a good deal of color in his cheeks, and bright eyes, which gave him the appearance of an Austrian diplomat." Lalo married Julie Besnier de Maligny, a contralto from Brittany, in 1865. A good many songs were written for his wife's voice, and they form a more sentimental and lyrical part of his output. Sadly, the song projects were not well received, but the artistic partnership aroused Lalo's early interest in opera and led him to compose works for the stage.
Édouard Lalo: 6 Romances populaires (Tassis Christoyannis, baritone; Jeff Cohen, piano)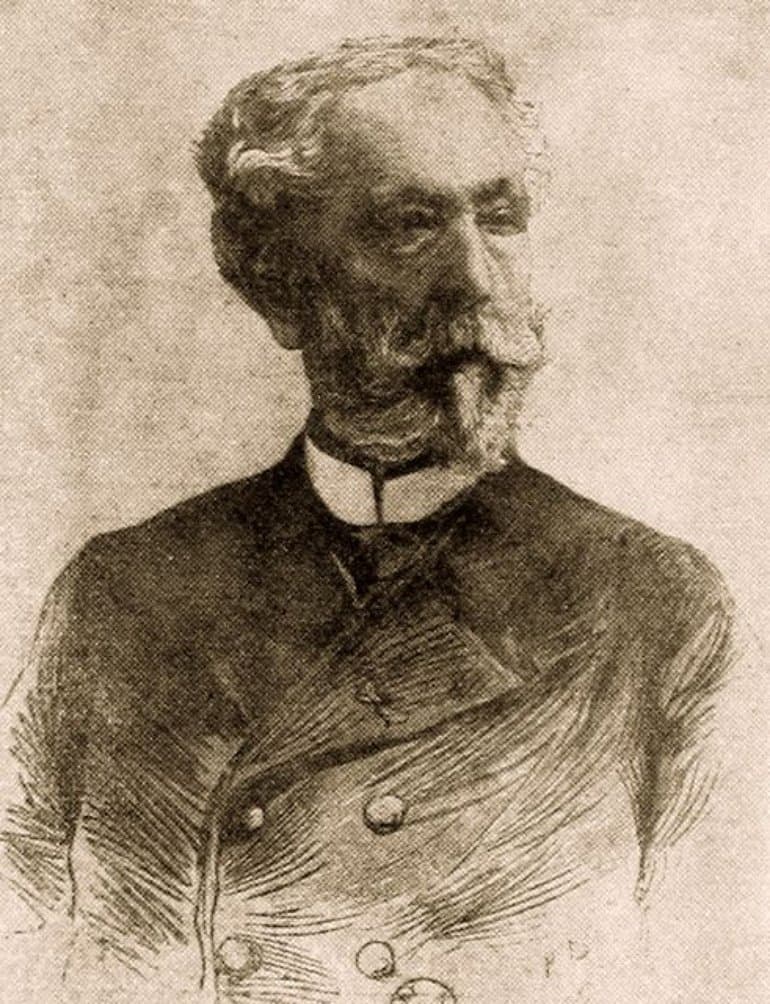 Lalo was already in his 40s, and his career had been a path of many disappointments. Heartbreak continued to follow Lalo when the minister of state announced an opera competition in 1866. Charles Beauquier wrote the libretto after the Schiller play "Fiesco," and Lalo responded with a grand opera in three acts titled Fiesque. The prize was awarded to Philippot for a one-act piece, and despite interest shown by both the Paris Opéra and the Théâtre de la Monnaie in Brussels, Fiesque was never performed. Decidedly unhappy, Lalo had the vocal score published at his own expense, and excerpts and fragments were played in concerts. Lalo valued the work highly and drew on it for numerous later compositions, including the scherzo of the Symphony in G minor, the two Aubades for small orchestra, the Divertissement, "Néron" and other works.
Édouard Lalo: Fiesque (Roberto Alagna, tenor; Michelle Canniccioni, soprano; Béatrice Uria-Monzon, mezzo-soprano; Franck Ferrari, baritone; Jean-Sébastiene Bou, baritone; Armando Gabba, baritone; Vladimir Stojanovic, bass; Ronan Nedelec, baritone; Alexandre Swan, tenor; Gundars Dziļums, bass; Martins Zvigulis, tenor; Latvian Radio Choir; Opéra Orchestre national Montpellier; Alain Altinoglu, cond.)

Following the Fiesque disappointment, Lalo's style became more original, bolder, and more individual. The formation of the "Société Nationale," and with support from several important friends, such as Pasdeloup, Lamoureux, Colonne, Sarasate, and others, Lalo embarked on a quest to compose orchestral music in the German tradition. He wrote his violin concerto Op. 20 for Sarasate, producing a remarkable work in modern style and supreme elegance. It was first given on 18 January 1874, and Lalo followed up with his Symphonie espagnole a year later. His cello concerto premiered with Adolphe Fischer in 1877, the Fantaisie norvégienne in 1878, and the Concerto russe for violin first sounded in 1879.
Édouard Lalo: Cello Concerto in D minor
Lalo had finally achieved a substantial level of success, but he was still looking for success in the theatre. In 1875 he began work on a libretto by Edouard Blau based on a Breton legend, "Le roi d'Ys." Although it was essentially completed in 1878, getting the opera staged proved difficult. The Théâtre Lyrique turned it down in 1878, followed by a rejection from the Opéra de Paris in 1879. However, excerpts from the opera were heard in a concert with Lalo's wife Julie as "Margaret." When the manager of the Opéra looked over the score, he did recognize Lalo's dramatic talent, but unwilling to go ahead with the opera, he ordered a ballet on a story in the memoirs of Casanova. Namouna was produced on 6 March 1882, with critics attacking the music, accusing it of lacking melodies and suggesting that Lalo should stick to writing symphonies and not ballets.
Édouard Lalo: Namouna Suite No. 1 (Detroit Symphony Orchestra; Paul Paray, cond.)


To spite his critics, Lalo packaged music from his ballet score into three dedicated suites. Discerning critics appreciated its freshness and originality, and Debussy, then a student at the Conservatoire, remained an enthusiastic admirer of the score. Lalo followed up with his Symphony in G minor, and it first played to a large, attentive, curious, and sympathetic audience in 1887. Lalo's last major work is the Piano Concerto in F minor, composed in five months in 1888. Lalo was very clear about what he expected from a concerto. "I believe that if you have a soloist on stage, you have to give him the leading role rather than treating him merely as another instrument in the orchestra. If a composer does not like the concertante genre, he should write symphonies or something else for orchestra alone, rather than troubling himself with solo passages constantly interrupted by the orchestra – and of course much less interesting than what the orchestra has just played." The first public performance took place on 1 December with the dedicatee, Louis Diémer, as the soloist.
Édouard Lalo: Piano Concerto in F minor (Marylène Dosse, piano; Stuttgart Philharmonic Orchestra; Matthias Kuntzsch, cond.)

At long last, Lalo found a publisher for his opera Le roi d'Ys. Even more surprisingly, perhaps, a production was finally mounted at the Opéra-Comique on 7 May 1888. The success was overwhelming, and the government felt vindicated in making Lalo an officer of the Legion of Honor several years earlier. A critic writes, "the opera is a conscientious, sincere work, firmly knit, eminently serious, free from any affections, and homogeneous, original, and individual in style."
Within a year of its premiere, Le roi d'Ys had reached its 100th performance in Paris, and it also enjoyed considerable success in Europe, with first performances in Geneva, Amsterdam, Antwerp, Brussels, and Rome between 1888 and 1890. The libretto was translated into Dutch, German, Italian, Czech, Russian, and Romanian, and Lalo finally enjoyed the general acclaim he had sought for so long.
Édouard Lalo: Le Roi d'Ys, "Vainement, ma bien aimee"
Although Lalo worked on two more stage works, his productive life was essentially over. He died in Paris in 1892, leaving several unfinished works, including his opera La Jacquerie, completed by Arthur Coquard. He was interred at the Père Lachaise Cemetery, and nearly all the French musicians of renown were present at his funeral. Lalo's temperament was "naturally tuned to the styles of Mendelssohn and Schumann on which he superimposed a variety of colors, sometimes drawn from folk idioms of Scandinavia, Russia, Brittany or Spain." However, all his music has "a vigor and energy that place it in striking contrast to the music of Franck's pupils on the one hand and the impressionists on the other." Lalo had an unfavorable opinion of much of the music that was heard in the opera house, and his judgment of contemporary musicians was witty, and in the case of Brahms, malicious. Hostile to any concession, compromise, or scheming, Édouard Lalo knew his strengths and limitations, and he followed his convictions with great determination and passion.
For more of the best in classical music, sign up to our E-Newsletter
Édouard Lalo: Fantaisie norvégienne