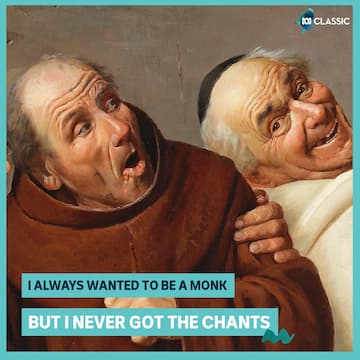 Musicians and music lovers enjoy musical puns. Who doesn't need a laugh these days? I thought why not expand on some of the puns colleagues have shared with me, of course omitting the ubiquitous viola jokes! (Special thanks to prolific writer and cellist David Johnstone.)
I was going to tell an Alban Berg joke but I have to go to the loo, Lou!
I have a Wagner joke but it would take 110 musicians and more than four days to tell…
I have a Debussy joke, but it's hard to follow. More of an impression really…
There is a Hungarian joke to tell over a pint of beer, but Bartók can't happen at the moment due to the pandemic. They're all closed.
I considered telling a joke about an orchestral suite of Handel but thought it might not go off with a bang especially if it was all wet.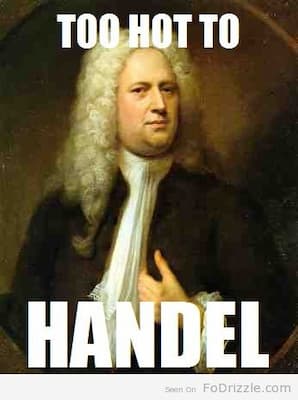 George Frideric Handel: Music for the Royal Fireworks, HWV 351 – IV. La rejouissance (Prague Chamber Soloists; Andrew Mogrelia, cond.)

When I spoke to Queen Elizabeth about featuring Scandinavian twentieth century music, she simply said, "Kneel son."
Carl Nielsen: Symphony No. 3, Op. 27, FS 60, "Sinfonia espansiva" – I. Allegro espansivo (Royal Liverpool Philharmonic Orchestra; Douglas Bostock, cond.)

I figured out why Bach had so many children. He didn't have a stop on his organ!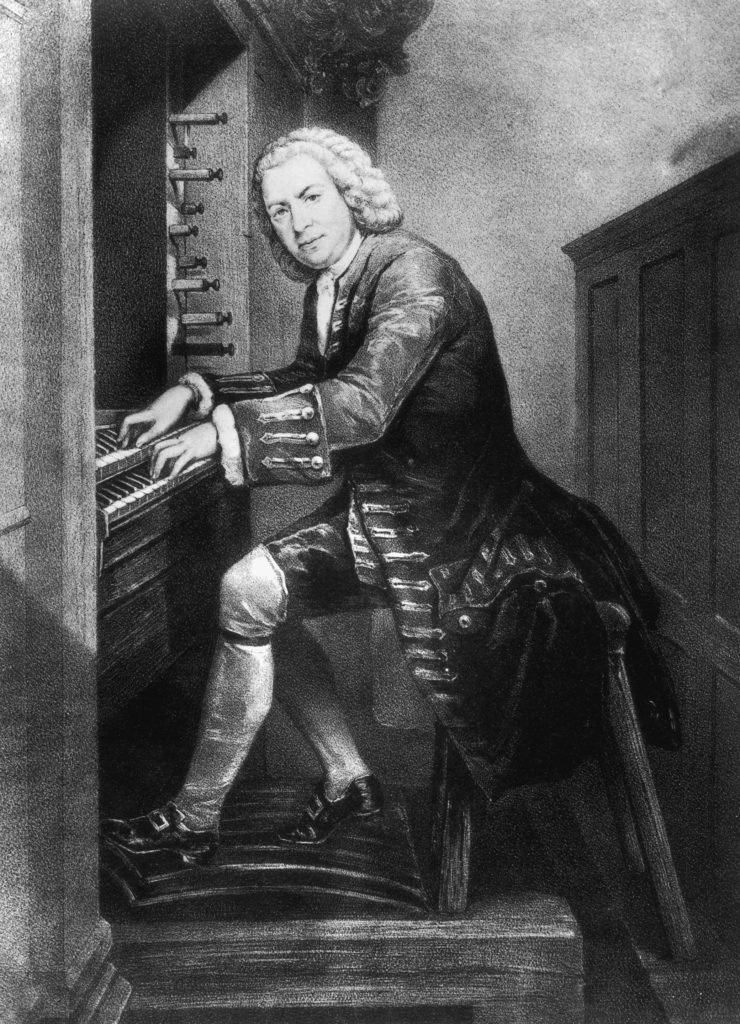 I have a Haydn joke but I can't tell you now. It's a Surprise.
When I began a class about the development of the famous piece Bolero my students told me it was too difficult to un-Ravel.
OK. Who left the Ring in the bath?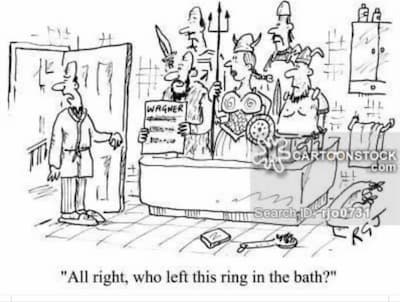 I'd tell you a Tchaikovsky joke but it's rather Pathétique.
There's a humorous story about Messiaen, but in the end, I don't have Time.
Olivier Messiaen: Quatour pour la fin du temps (Quartet for the End of Time) – IV. Intermede (Interlude) (Mats Rondin, cello; Hakan Rosengren, clarinet; Per Enoksson, violin)

Do you know the joke about Schubert? But it's un…
I related an opera joke to my friend Bill but could William Tell?
My Philip Glass joke; My Philip Glass joke; My Philip Glass; My Philip Glass joke…
Philip Glass: Glassworks – Floe (Philip Glass Ensemble; Michael Riesman, cond.)

I have a Reger joke. Ha-ha. Tricked you. There's obviously no such thing!
I could tell a John Cage joke, but I don't have 4 minutes and 33 seconds and it's too loud here.
Did you hear about the composer who committed suicide? He didn't even leave a note.
I have a joke about American music but it's too late now. Ives gotta go to bed.
There are children in the room so I won't tell an off-color Baroque joke. I don't think they can Handel it.
Joan Towered over me as she referred to my very petite stature.
I was going to tell the joke about The Trout, but my wife said, "shoo, Bert!"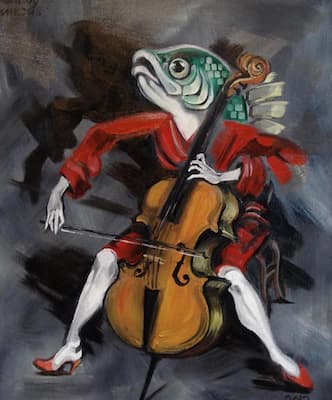 Franz Schubert: Piano Quintet in A Major, Op. 114, D. 667, "Die Forelle" (The Trout) – IV. Tema con variazioni (Schubert Ensemble)

Want to hear the joke about the staccato in Mozart? Never mind it's too short.
Did you hear the one about Arnold Schoenberg? When he walked into a bar he asked for a gin without the tonic.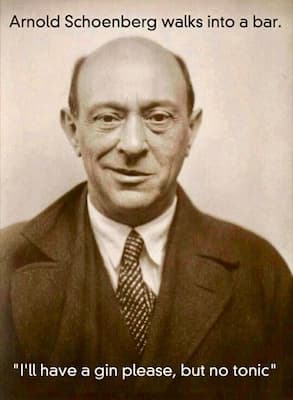 What a Florence Price to pay for that evening. Amy felt totally de-Beeched by the atmosphere.
Florence Price: Elfentanz (Dawn Dongeun Wohn, violin; Esther Park, piano)

Amy Beach: Romance, Op. 23 (Dawn Dongeun Wohn, violin; Esther Park, piano)

Did you know Mozart was a child prodigy? He was A sharp minor.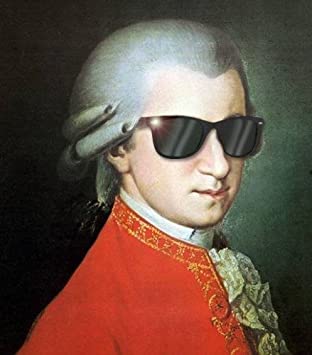 I wanted to tell you the joke about Carmen but I'm too Bizet at the moment.
I was going to tell you about the trout who practiced her scales in Schubert's quintet. It was tough to listen to…over and over…"Da capo al fin."
I don't understand why you're complaining about these jokes. You can't Telemann anything these days.
Georg Philipp Telemann: Concerto for 2 Flutes, Violin and Cello in D Major, TWV 54:D1 – II. Siciliana (Barthold Kuijken, flute; Leela Breithaupt, flute; Allison Nyquist, violin; Stephanie Vial, cello; Indianapolis Baroque Orchestra; Barthold Kuijken, cond.)

For anyone who didn't "get" some of these here is a key, and with deepest regrets to:
Alban Berg and his opera Lulu
Richard Wagner's Der Ring des Nibelungen (The Ring of the Nibelung) or The Ring consists of four operas all very long: Das Rheingold, Die Walküre, Siegfried, Götterdämmerung.
Claude Debussy was considered an impressionist composer.
Béla Bartók was one of the giants of 20th century music from Hungary.
Two of George Frideric Handel's works includes his Music for the Royal Fireworks and Water Music
Carl Nielsen was a Danish composer, conductor, and violinist.
J.S. Bach had two wives and an astounding 20 children.
Joseph Haydn's Symphony No. 94 in G major is nicknamed "Surprise."
One of Maurice Ravel's most well-known pieces is his Bolero.
Pyotr Ilyich Tchaikovsky Symphony No. 6 in B Minor Op. 74 is entitled the Pathétique.
Olivier Messiaen Quartet for the End of Time, written for clarinet, violin, cello and piano was written in 1941 when the composer was a prisoner-of-war in Germany.
Franz Schubert's Symphony No 8 in B Minor was left unfinished and has only 2 movements.
William Tell is an Opera by Gioachino Rossini. The overture is one of the most famous overtures in the repertoire and is frequently performed in concert.
Many accuse Philip Glass' music of being repetitive. It's tough for that reason to play, but I love listening to it! Mesmerizing.
Max Reger, a German composer, pianist, organist conductor and pedagogue. His music was serious, especially his many works for organ.
John Cage was thrust into the public eye by his work 4' 33" a piece which the performer remains silent on stage for that length of time.
American composer Charles Ives.
American composer Joan Tower.
Franz Schubert's Piano Quintet in A Major D 677 is named The Trout due to a song he uses in the fourth movement, which is a set of variations on his famous song, "Die Forelle" (The Trout.) Stunning.
Wolfgang Amadeus Mozart.
Arguably Georges Bizet's best-known work is his opera Carmen.
Arnold Schoenberg was the first to introduce the 12-tone system of composition and rarely was there a "key" or a tonic note.
Florence Price, an American composer, pianist, organist, and teacher, was the first African-
American woman to be recognized as a symphonic composer.
The Boston Symphony premiered American composer and pianist Amy Beach's Symphony in 1896—the first symphony composed and published by an American woman.
German baroque composer George Philipp Telemann, a self-taught musician, played several
instruments and was a prolific composer.
For more of the best in classical music, sign up to our E-Newsletter