Becoming a musician takes years of serious practice, discipline, motivation, concentration, and dedication. We spend countless hours alone to perfect our playing. When we get together it always helps to laugh a little. Musicians are the first to admit they relish coming up with crazy musical puns and letting the jokes fly.
The quips seem to fit into themes, there are viola and conductor jokes, performance anxiety and nightmare jokes, plays on the titles of pieces jokes as I've shown in previous punny articles ( see the links below). You don't really think I've exhausted them all, do you?
I'd like to take a moment to draw your attention to the clever food-themed jokes I've come across. The play on composer's names is especially ingenious.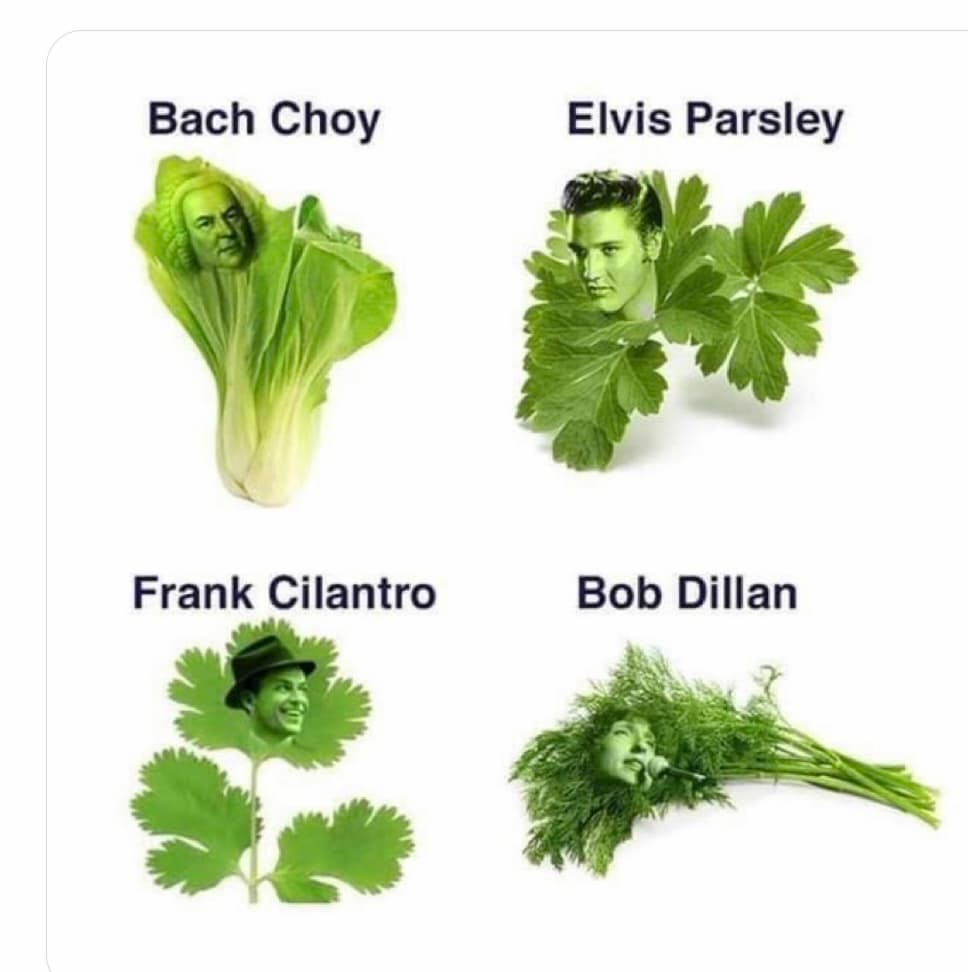 It is Thyme to begin with herbs and spices before we turn on the Beeth-oven.
Beethoven: Symphony No. 7 | Bernard Haitink & the Royal Concertgebouw Orchestra (2009)
We should add these from popular music:
Frank Cilantro, Bob Dillan, Elvis Parsley, Herb Alpert, Scarlet Chives, and Rosemary Clooney.
And from contemporary music:
John Sage
Count on conductors to always add spice:
Herbert von Caraway, and Sage-y-Ozawa
Tchaikovsky Symphony No.6 《Pathétique》Seiji Ozawa & Berliner Philharmoniker
Our dish of course would include fruits and vegetables as well as a little Florence Rice. But if you're making a Risotto alla Milanese a pinch of Lalo Saffron would be yummy.
Consider some Bach choy, Peter Pears, or even more fresh, Arvo Pear-t (Okay that's a stretch!) or substitute an Amy Peach.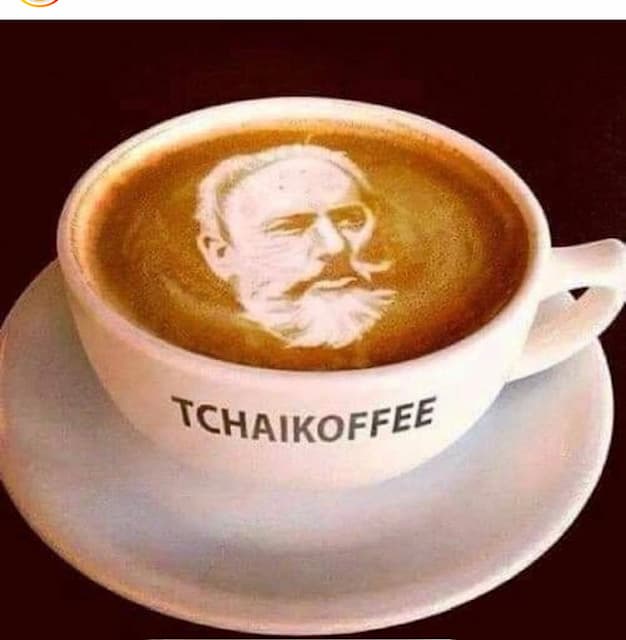 It's lovely to sip a favorite beverage such as Chai-Koffee and to have a slice of pizza-cato while you wait.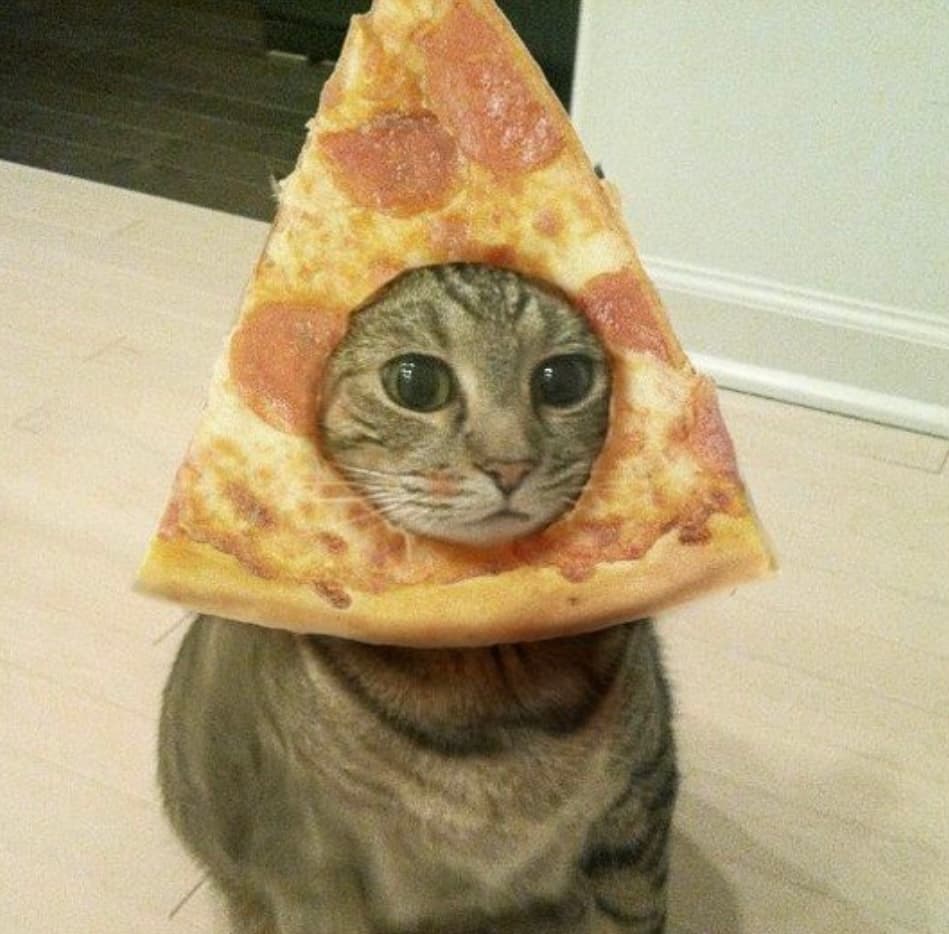 And don't forget to water your Ralph frond-Williams while you set the table with a bouquet of Joan Flower.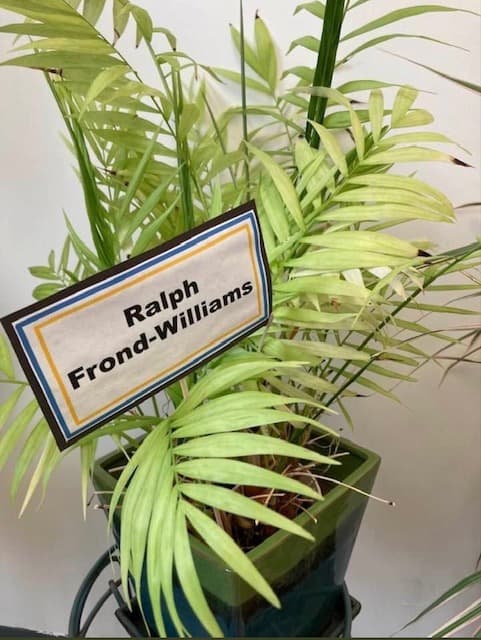 We musicians do love to get together to play some chamber music but don't forget to call the piano tuna.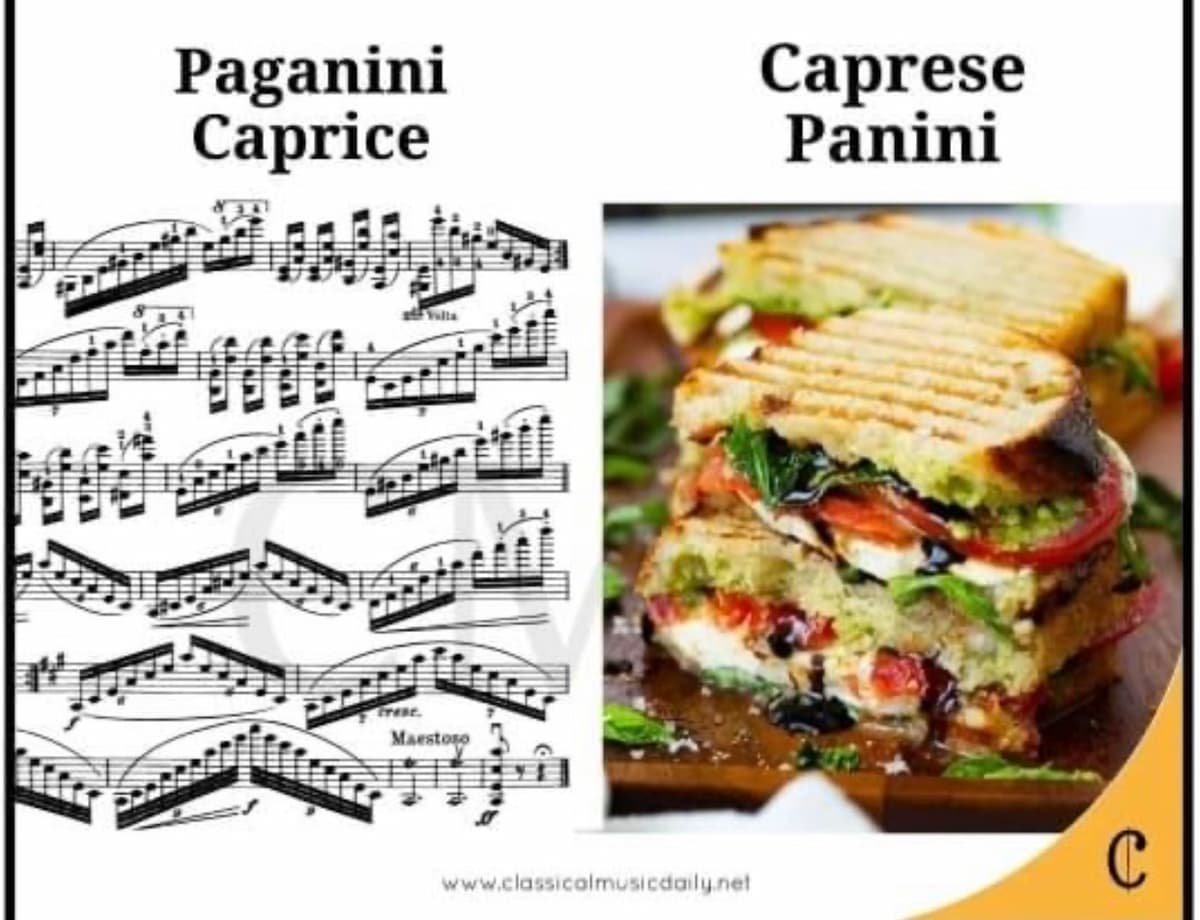 During a break, serve some lovely foods for the occasion but beware of mistaking a Paganini Caprice for a Caprese Panini. For dessert, serve Bachlava. Groan…
Augustin Hadelich plays Paganini Caprice no. 9 (2021)
I'll leave you with one important thought. Whether you end up a dead-beat and baroque, or your life's a symphony, be in tune with the fact that without music life would B-flat.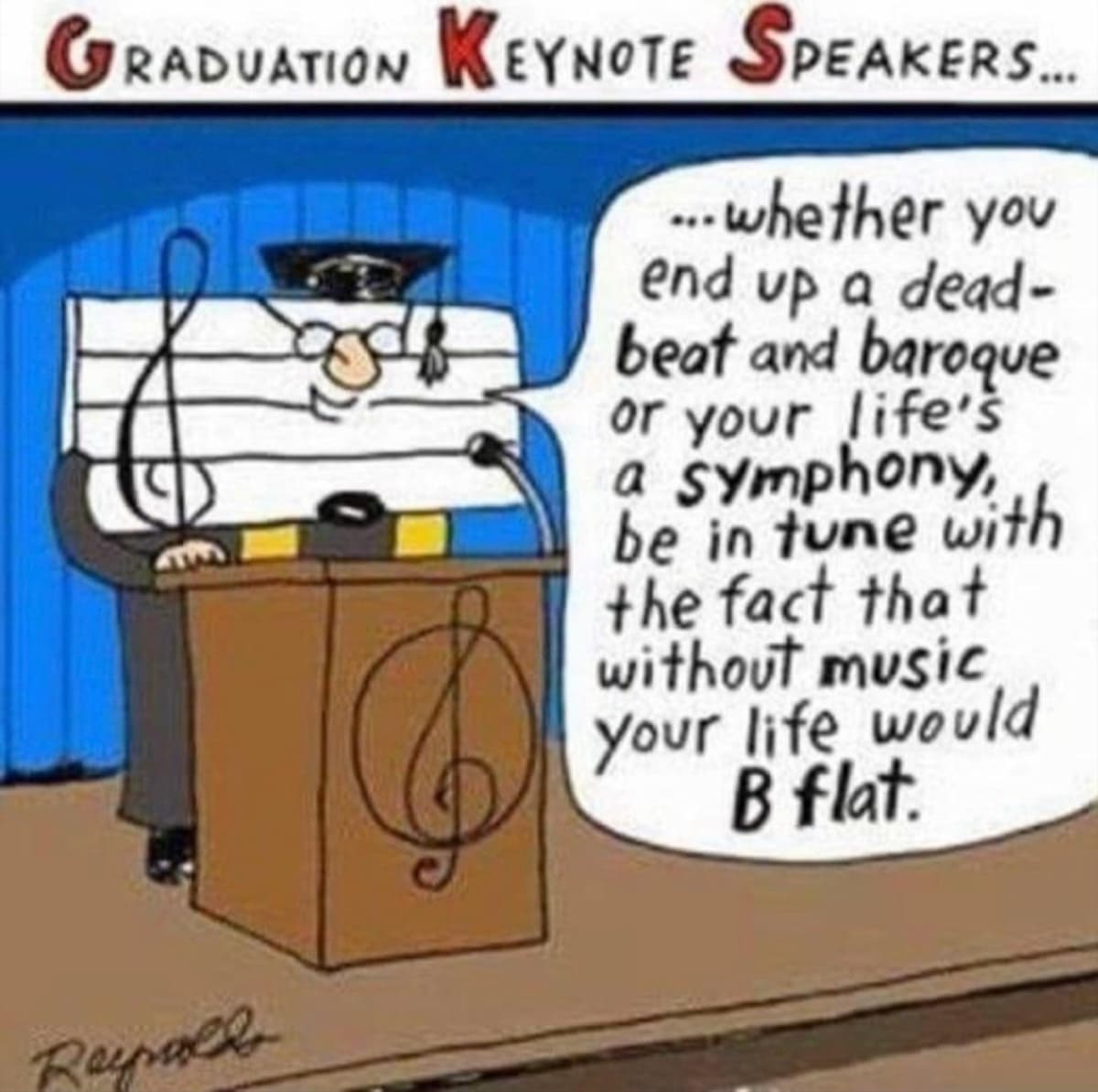 For those of you who didn't "get" some of these plays on words, here is the key!
Frank Sinatra: American singer and actor, one of the most popular entertainers of the mid-20th century who sold 150 million records.
Bob Dylan: American singer-songwriter regarded as one of the greatest ever. Recipient of the Presidential Medal of Freedom and the 2016 Nobel Prize in Literature.
Elvis Presley: "Elvis" Cultural icon, American Singer and actor, "King of Rock and Roll", and one of rock's dominant performers.
Herb Alpert: American creator, innovator, producer, and philanthropist, he is a trumpeter who led the band Herb Alpert & the Tijuana Brass in the 1960s.
Scarlet Chives: the Danish pop group who make soundscapes. Their debut album was in 2011.
Rosemary Clooney: Singer and actress prominent in the 1950s and her name just works! (She is the aunt of George Clooney the actor).
John Cage: American composer and music theorist. A pioneer in experimentation, the avant-garde, and the non-standard use of musical instruments or objects instead of musical instruments, well-known for his 4' 33" work of all silence.
Herbert von Karajan: Austrian-born symphonic and opera conductor, maestro of the Berlin Philharmonic for 34 years, and a leading musical figure of the 20th century.
Seiji Ozawa: The Japanese conductor known for his advocacy of modern composers and his work with the San Francisco Symphony, the Toronto Symphony, and the Boston Symphony.
Boris "Lalo" Schifrin: The Argentine pianist, composer, arranger, and conductor who has a large body of film and TV scores and incorporates jazz and Latin American elements.
Florence Price: American classical composer, pianist, organist, and music teacher, the first black woman to have a symphony performed by a major American orchestra in 1933.
J. S. Bach: Johann Sebastian Bach a German composer of the Baroque period known for his outstanding ability as a harpsichordist, organist, and organ builder, and is regarded as one of the greatest composers of all time.
Sir Peter Pears: An English tenor whose career was closely associated with composer Benjamin Britten, his professional partner for 40 years. He founded the Aldeburgh Festival in 1948 and was the festival's artistic director.
Arvo Pärt: Estonian composer of contemporary music in the minimalist style and inspired by Gregorian chant.
Tchaikovsky: Pyotr Ilyich was a Russian composer during the Romantic period. His works include extremely popular works such as the 1812 Overture, the Nutcracker, and Swan Lake ballets, and his piano and violin concertos.
Pizzicato: The Italian term to indicate plucking the string.
Ralph Vaughan Williams: English composer of operas, ballets, chamber music, secular and religious vocal pieces, and orchestral works.
Joan Tower: American composer, concert pianist, and conductor. Considered one of the most distinguished of woman composers.
Amy Beach: One of the first successful American female composers of large-scale music. Her "Gaelic" Symphony was premiered by the Boston Symphony in 1896—the first symphony composed and published by an American woman.
Paganini Caprices: Niccolò Paganini composed his 24 Caprices for Solo Violin between 1802 and 1817. They are written in the form of études and are extremely virtuosic and flashy pieces testing even the most seasoned violinist.
Baklava: is a delicious Greek dessert made up of layers of phyllo dough and filled with honey and nuts.
For more of the best in classical music, sign up for our E-Newsletter