When we look at Dvořák's ninth symphony, From the New World, we often think that it exists in this peculiar Czecho-American bubble. Written when Dvořák was resident in the US as head of the National Conservatory, the work is much more European than what later comes to be recognized as American and is often seen as a product of his homesickness. However, his use of African-American melodies in the work was groundbreaking at the time.
The American composer Florence Price (1887-1953) used Dvořák's work as the inspiration for her first symphony. Born in Little Rock, Arkansas, Price's first music teacher was her mother. In 1903, when she finished high school, she continued her music education at the New England Conservatory in Boston. There she studied all musical disciplines while pursuing a degree in keyboard (organ and piano). Following graduation, she returned to Little Rock, until 1927 when she and her husband moved to Chicago. There, she opened a private piano studio and started her composing career.
Just as New York had its Harlem Renaissance in the 1920s, so Chicago had a similar black Renaissance and with the support of figure such as Estelle Bonds and her classes at the Chicago Musical College and other Chicago schools, including the University of Chicago. She divorced her husband in 1931 and connected with such black figures as Langston Hughes and the contralto Marian Anderson. By the time of her death in 1953, she had composed over 300 works.
Her first symphony, the Symphony in E minor, won first prize in the Wanamaker Foundation Awards in 1932 and the work was given its premiere by the Chicago Symphony Orchestra in 1933, the first work by an African-American woman to be performed by a major orchestra.
Price had originally intended to subtitle the work 'Negro Symphony' but that was dropped. As you listen you hear so much of Dvořák's work in it, and, as one writer noted, '…Price's symphony … occasionally feels like something of a doppelganger of that celebrated work. But considering that Dvořák was borrowing his material, it is perhaps fitting that someone from the community from which it was borrowed should reclaim it for similar symphonic ends.' This is particularly true of the first movement.
Price: Symphony No. 1 in E minor: I. Allegro ma non troppo (Fort Smith Symphony; John Jeter, cond.)
Dvořák's influence lessens in the next three movements. The brass ensemble writing of the second movement is as American as you'd like.
Price: Symphony No. 1 in E minor: II. Largo, maestoso
It's the third movement, Juba Dance, though, that really captures the imagination. The string section becomes a 'folk-fiddle' section, with loose melodies that flow everywhere. The percussion and the slide whistle take it all firmly out of the concert hall and into the streets. The Juba Dance was a dance developed using body percussion (as rhythm instruments were not available to slaves) with a syncopated rhythm; it may have been a predecessor to the modern tap dance.
Price: Symphony No. 1 in E minor: III. Juba Dance
The final movement provides a masterful ending, although it sounds more like the music from some 40 years earlier.
Price: Symphony No. 1 in E minor: IV. Finale
Writing this symphony in 1932, but using music from 1893 as her model, Price gets caught in a musical time warp. Writing like Dvořák takes her back to the nationalistic edge of the Romantic period, yet, she's living and writing music of the jazz age – her contemporaries would have been George Gershwin and Aaron Copland, both of whom provide a much more contemporary sound world.
This performance by the Fort Smith Symphony, Arkansas' oldest orchestra, brings Price's music back to the forefront. The performance is light and crisp and finds the humour in her light sections, and brings a deep reflection to the more serious parts of the symphony.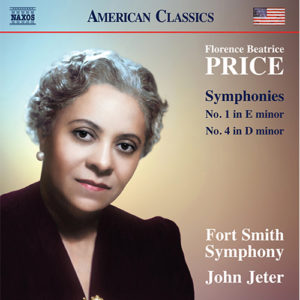 Florence Beatrice Price: Symphonies Nos. 1 and 4

Performed by
Fort Smith Symphony
John Jeter

Official Website