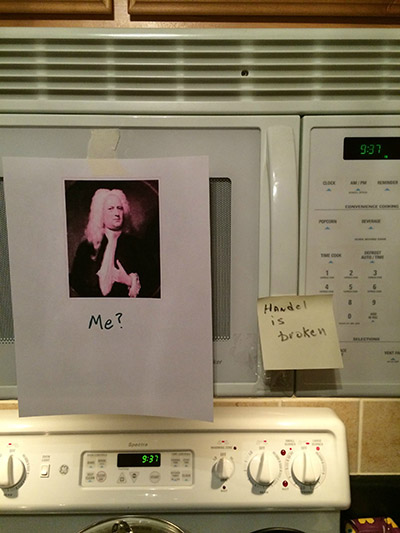 A 2017 post by the radio station Classic FM, sited a conversation by Reddit user r3mus3, full of puns using the names of composers, which began due to a misspelled note from his father, "The Handel is broken." I thought, why not expand on the fun? So, I did and hope you find it amusing!
Handel: Concerto Grosso in G Minor, Op. 6, No. 6, HWV 324 – III. Musette: Larghetto (Seattle Symphony Orchestra; Gerard Schwarz, cond.)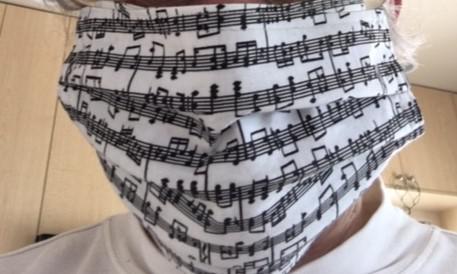 When my friend Georg Frideric told me, "the Händel to the microwave is Baroquen." I asked, "When did you call? Did someone call Bach?" Before he answered I went on to say, "I can send you a Liszt of other products. You can't Satie in a microwave. Why don't you use a Beeth-Oven instead?" His roommate Luigi decided to put in his two bits, "Nono! We can have food Brit-tin."
"Bach-Offen. No need to get Strauss-ed," I told him.
Foote: Piano Trio No. 1 in C Minor, Op. 5 – I. Allegro con brio (Arden Trio)

Arthur's Foote was painful. He sought the advice of Robert Schu-mann, who told him, un-Ravel the laces. "Okay wait a minuet", Arthur replied. "Great," said Schu-mann. "I'll replace them, then it's an Alwyn situation."
Samuel Coleridge-Taylor: Clarinet Quintet in F-Sharp Minor, Op. 10 – I. Allegro energico (Klaus Hampl, clarinet; Quartetto di Roma)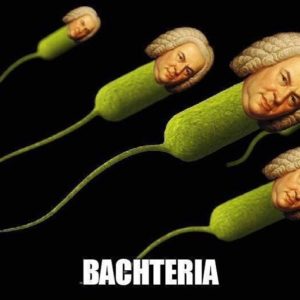 My friend was being a Payne. "Hey Jack you're climbing the Wall." Finally, I said, "You better quit Messiaen around as I'm quite Bizet right now. Let's be Franck. I'ves had enough of all the Bar-tók. Don't be such a Wiseman! Despite the social distancing order, if you persist, we'll need to cross John's Field, get to Howard's Shore, and make a discreet Fauré into town." Jack, relieved, agreed, "Weill you go to the Banks, I might see if a Barber is open or Samuel the Coleridge-Taylor."
Thelonious Monk: Round Midnight (Western Wind Vocal Ensemble)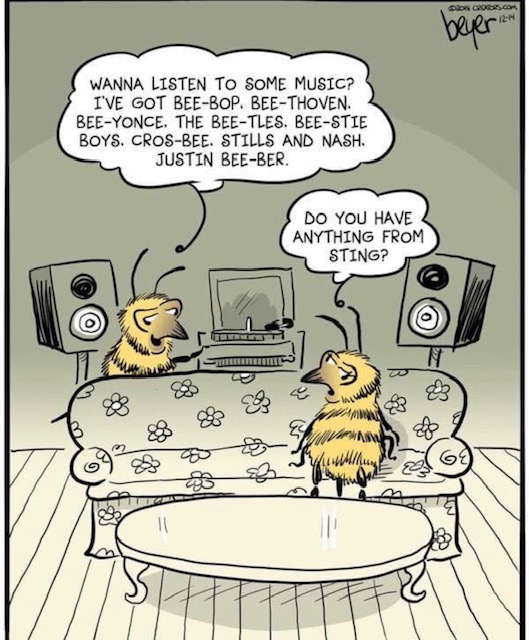 "Orff", I murmured in the Bach-ground, "You can't cut hair behind a plexi-Philip-Glass Cage!" This is not Paradis. The only places open are grocery stores and the David Baker-y. What a Florence Price to pay for all the Bach-ter-ia. I carefully donned my Coates and cloth mask. "Why don't we Pärt company. You give me your Chopin Liszt and Weill meet at the Bridgetower." I left but he stood Grant Still. I wondered if he was Haydn from the truth. Only last week he went to the Beach and I've been living like a Thelonious Monk. The store was bare—nothing but a Crumb in the bread department, but I bought a Holst of things, a Byrd or two, a bag of Clementi-nes and some Tchaikoffee. I was so Tan Dun-in, when I got home I pulled out my David popcorn Popper and made myself a pepperoni Piazzolla and a double Scar-latte. But what I really wanted, though, was a Sam-Martini. Since I'm Stucky-d at home, by myself, I thought, I should play some music, perhaps a Chausson or a Mendelssohn. Jack's a Puts. He's still Walker-ing around. You can't Telemann a thing. He probably went to see his Feyoncé.
Scarlatti: Keyboard Sonata in C Major, K.270/L.459/P.481 (Sergio Monteiro, piano)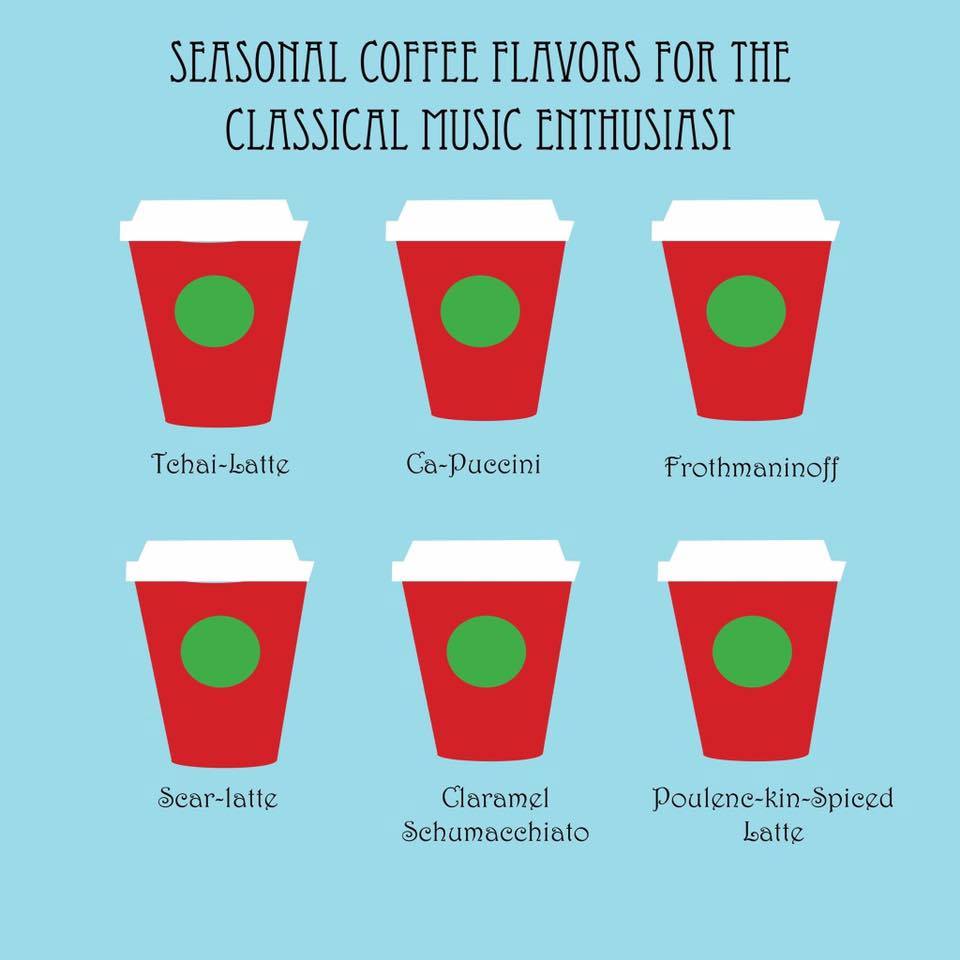 With deepest apologies to the following composers, with a few sections of a few unfamiliar favorites.
William Alwyn
J.S. Bach
David Baker
Ludwig van Beethoven
William Byrd
Donald Oscar Banks
Samuel Barber
Amy Beach
Beyoncê
Georges Bizet
George Bridgetower
Benjamin Britten
John Cage
Elliott Carter
Muzio Clementi
Ernest Chausson
Frédéric Chopin
Eric Coates
George Crumb
Tan Dun
Gabriel Fauré
John Field
Arthur Foote
Philip Glass
George Frideric Händel
Franz Joseph Haydn
Gustav Holst
Charles Ives
Franz Liszt
Felix and Fanny Mendelssohn
Olivier Messiaen
Thelonious Monk
Luigi Nono
Carl Orff
Arvo Pärt
Anthony Payne
Astor Piazzolla
Maria Teresa von Paradis
David Popper
Florence Beatrice Price
Kevin Puts
Maurice Ravel
Giovanni Battista Sammartini
Eric Satie
Domenico Scarlatti
Howard Shore
Robert Schumann
William Grant Still
Richard Strauss
Steven Stucky
Samuel Coleridge-Taylor
Pyotr Tchaikovsky
Georg Philipp Telemann
Jack Wall
George Walker
Kurt Weill
Debbie Wiseman
Chausson: Concerto for Violin, Piano and String Quartet in D Major, Op. 21 – II. Sicilienne – Pas vite (Vladimir Spivakov, violin; Hélène Mercier, piano; Arkadi Fouter, violin; Alexei Lundine, violin; Igor Souliga, viola; Mikhail Milman, cello)

Chausson: Concerto for Violin, Piano and String Quartet in D Major, Op. 21 – IV. Tres anime (Vladimir Spivakov, violin; Hélène Mercier, piano; Arkadi Fouter, violin; Alexei Lundine, violin; Igor Souliga, viola; Mikhail Milman, cello)