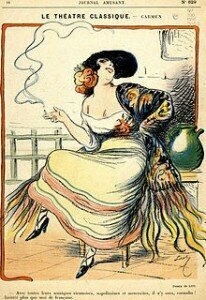 George Bizet (1838-1875) was greatly optimistic about the premiere performance of his opera Carmen on 3 March 1875 at the "Opéra Comique" in Paris. Final rehearsals had gone very well, and on the very same day Bizet was appointed as a Chevalier of the Legion of Honour. A great many leading musical figures of Paris attended the premiere, among them Massenet, Offenbach, Delibes and Gounod. Things got a bit complicated, however, with Gounod bitterly complaining that Bizet had stolen one of his melodies for Micaëla's aria in the 3rd act. Halévy wrote to a friend the next day "the first act was well received, with applause for the main numbers and numerous curtain calls. The first part of act 2 also went well, but after the toreador song there was nothing but coldness… In the final act, Bizet was left only the consolations of a few friends." Things only got worse, as press reviews ranged from disappointment to outrage the next day.


"Mr. Bizet as is known," wrote a critic, "belongs to that new sect that believes in vaporizing musical ideas instead of enclosing them within definite bounds. For this school of composition, of which Wagner is the high priest, motif is old-fashioned, melody is superannuated; the voice is overpowered by the orchestra, leaving only a feeble echo. Such a way of composing must inevitably produce works that are confused. It is melody that is the design of music. If one takes that away, only educated noise is left. Also, the role of Carmen is not a success for it is trivial and brutal, turning this feline girl into a cynical harlot." The opera was on the verge of being withdrawn, and it has been suggested that the theater had to give away free tickets in order to boost attendance. Bizet, unfortunately died a mere three months after the premiere, and it is suspected that the negative reception contributed to his fatal heart attack. In the event, it took three years for
Carmen
to make triumphant appearances in Vienna, Brussels, London, New York, Germany and Russia!