Date: 31 March 1913
Venue: Great Hall of the Vienna Concert Society
Purpose: Concert of Modern Music
Outcome: Riot, Fistfights and Lawsuits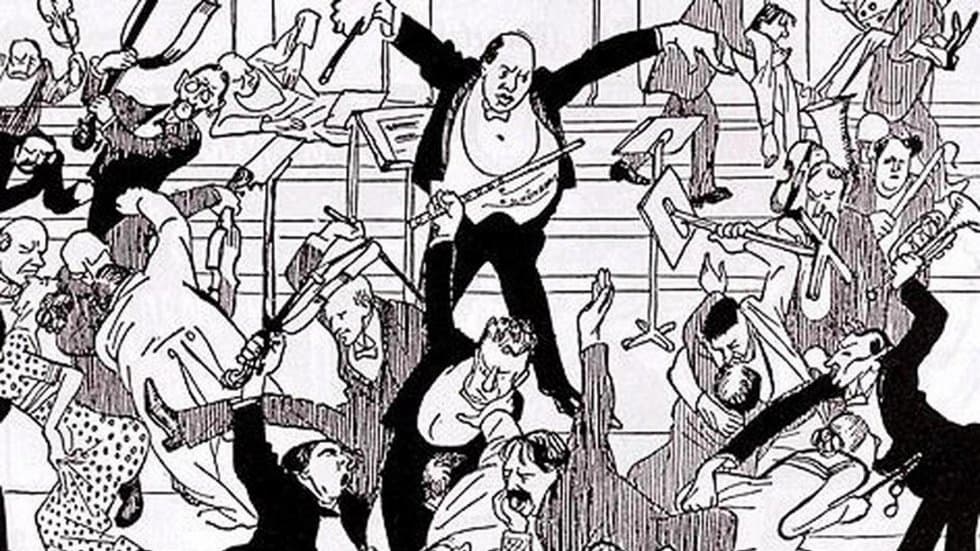 Arnold Schoenberg had put together a concert program that included works by Anton von Webern, Alexander von Zemlinsky, Alban Berg, Gustav Mahler and himself. Isn't it rather symbolic that a riot erupted between the audience and the musicians as a reaction to the dissonances and atonality of modern music?
It all kicked off as Schoenberg conducted two of Berg's Op. 4, "Five Orchestral Songs on Picture-Postcard Texts by Peter Altenberg". The audience demanded that both composer and the poet Peter Altenberg should be sent to the madhouse, astutely aware that Altenberg already was a patient in the State Mental Institution. And then the fighting started, and the police had to be called. Erhard Buschbeck, a close friend of Berg and one of the concert organizers of the concert traded blows with the operetta composer Oscar Straus.
The concert ended prematurely, before the scheduled performance of Mahler's "Kindertotenlieder" could begin. Strauss remarked at the trial, that the thud of the punch had been the most harmonious thing in the whole concert. There had been violent reaction to modern music before, and there was even a report "of a stabbing during performances of Berg's songs." It was not uncommon to find violent disturbances during Schoenberg's Pierrot Lunaire, and in 1906 the author and critic Karl Kraus was knocked senseless by Marc Henry, after Kraus had attacked him in his journal. Predictably, lots of bad press followed the 31 March concert, ominously dubbed "Skandalkonzert." Regardless, the "Skandalkonzert entered public consciousness as a major breakthrough into the era of modernism in classical music." Berg, however, withdrew his song cycle the very next day, and the Altenberg Lieder were not published until 1953.
For more of the best in classical music, sign up to our E-Newsletter
Renée Fleming Sings Alban Berg's Altenberg Lieder