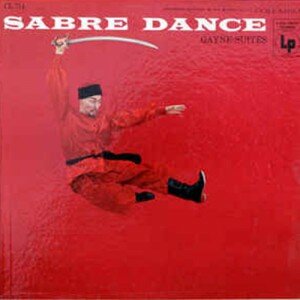 We are exquisitely attuned to sound from our very beginnings. In the womb, a baby eavesdrops on their mother's soft cooing voice. When she starts singing lullabies, sound leads us to language, and when she rhythmically rocks her child it leads to a love of music. Little children naturally mimic the sounds they hear, and they move and dance to them.

My first memories are of lying beside my father as he practiced with the pulsating metronome, the tones resonant. The cello sound, before conscious memory, permeated my very being. Music was ever-present.

Classical music composers have written a great deal of lovely music intended for children, as our recent series has shown. As a performer, a child of a performer, and as a mom, I'd like to add to the offerings—some repertoire that may not have been written specifically for children, but which I have found to be enticing to toddlers and which you may not have discovered on your own.

When my son was a baby we twirled for hours to Khachaturian's Saber Dance. It was his favorite, and we rocked and swayed to the impetuous rhythm of the music. A child's sense of rhythm will be enhanced by dancing to this music.

Khachaturian: Gayane Suite No. 1 – I. Sabre Dance

All music tells a story, and every child loves to "play-act." Imitating and expressing the emotions they feel from the music is a great goal and fun too.
Prokofiev
's
Romeo and Juliet
is one of my all-time favorite pieces. The
Dance of the Knights
introduces the sound of the flute, oboe, saxophone, violins, and the trombones. This is brilliant music to dance to while looking fearsome! This heavy, march-like selection embodies the anguish and the menace underlying the music, as well as the inexorable drive to Shakespeare's tragic ending.
Another work I love is Stravinsky's Pulcinella, from his ballet, which begins with a lighter-on-your-feet stately feel. It is written in neo-classic style with solo strings interspersed with the full orchestra. The serenata has a plaintive oboe solo. What could be more beautiful. Then the tenor enters to sing the song. In the jovial Vivo, Stravinsky features two instruments not typically in the limelight, with solos from both the double bass and the trombones responding and sliding with sarcasm.

Stravinsky: Pulcinella – Ouverture
Serenata: Larghetto – Mentre l'erbetta (Tenor)
Vivo
It's a good time to get out some costumes, as this next energetic dance from Rameau's Une Symphonie Imaginarie— Danse des Sauvages transports us to the Court of a king.

Rameau: Les Indes galantes: Danse des Sauvages
Now for something more intimate. The lovely piece by Frank Bridge, Morning Song for cello and piano offers respite. The whistling notes at the end are called harmonics…pure, sweet and melancholy.

Bridge: Morning Song (cello and piano)
The second movement from Beethoven's Symphony No. 6, the so-called Pastoral Symphony, depicts a day in the country-side. The undulating rhythm played by the lower strings moving quickly, imitates a bubbling brook, perfect for tender and gentle rocking.

Beethoven: Symphony No. 6 in F Major, Op. 68, "Pastoral" – II. Scene by the brook: Andante molto mosso
The heartbreaking song from Dido's Lament by Henry Purcell features original instruments as those which would have been played at that time. I can't think of many other pieces that so successfully depict a feeling of pathos and despair, and yet it is so utterly beautiful.


Shostakovich's Suite for Variety Orchestra, or his Jazz Suite No. 2, is charming with several dance movements. Get ready to march. This infectious movement features the trumpet, and snare drum. The Dance No. 1, is spirited with fast moving notes in the woodwinds, interrupted by the piano. The tongue-in-cheek Little Polka shows off the xylophone at a laid-back tempo…that is until the mocking trumpets enter. Then everyone gets in the act—the strings, and even the trombone with their wild glissandos or slides. I also chose the Waltz No. 2, because it opens with a saxophone, an instrument not often in the orchestral repertory, and it is in the minor key. But go ahead and spin around. It's still in ¾ time. As a surprise, Shostakovich has the melody returns in the trombone.

Shostakovich: Suite for Variety Orchestra, "Jazz Suite No. 2" – I. March
II. Dance No. 1
IV. Little Polka
VII. Waltz No. 2

William Bolcom
's jazzy and virtuoso piano solo piece
The Serpent's Kiss
will have you and your child swaying. But can you keep up? Played by the great virtuoso pianist
Yeol Eum Son
, young piano students will enjoy watching the percussive knocking on the piano, and the audience clapping along. Spoiler alert—watch for a surprise ending!
Tchaikovsky's Symphony No. 4 has an entire movement that is entirely pizzicato—the strings pluck their strings, interrupted by the woodwinds and brass in the middle section. Here the piccolo is the star and has to play a famous and difficult lick before the pizzicato returns in the strings. It's soft but effervescent music.

Tchaikovsky: Romeo and Juliet Fantasy Overture (3rd version, 1880) – III. Scherzo – Pizzicato ostinato – Allegro
Don't play with fire unless it's Manuel de Falla's Ritual Fire Dance from his ballet El Amor Brujo, a very popular orchestra work and also a beloved transcription. I've played it as an encore piece many times. When it accelerates, heating up, it always brings the house down.

Falla: El amor brujo (Love, the Magician): Ritual Fire Dance
If actual dance music is to your taste here are some tangos. Charlie Chaplin, the famous actor, wrote some lovely music including his Tango Natasha here for violin and piano.

Chaplin: Tango Natasha (violin and piano)
One of my favorite composers is Astor Piazzolla. I think the entire family will enjoy Libertango here in a terrific arrangement with the Berlin Philharmonic's 12 cellos.


Arturo Márquez: Danzón No. 2 is highly charged with a beautiful singable violin melody a few minutes in. Also, here's a chance to see a wonderful young woman conducting— Alondra de la Parra with L'Orchestre de Paris.


Borodin's well-loved Polovtsian Dances from his opera Prince Igor is music to act out, or impersonate. The brilliant dances are full of heroic antics.


And if eerie and mysterious, brassy and wild, and tantrums and nightmares, are what draw you listen to the Witches Sabbath from Berlioz's epic Symphonie Fantastique…
Berlioz: Symphonie fantastique, Op. 14 – V. Songe d'une Nuit du Sabbat
There's so much music to add to this list, but I couldn't resist Henry Mancini's famous theme to the Pink Panther, once again with the 12 cellos of the Berlin Philharmonic—just to show how versatile the cello can be, as are all the instruments of the orchestra.


Listening to music is personal. Just as each performer conveys a piece of music differently, every listener is unique and will interpret or feel the music in a distinctive way. This should be encouraged. An environment full of dancing, listening, and singing will enhance your youngster's rhythm, creativity, self-expression, coordination, listening skills, imagination, and language learning skills. Music is also exceptional because it is a collective experience. When it is shared with your children its value cannot be underestimated.