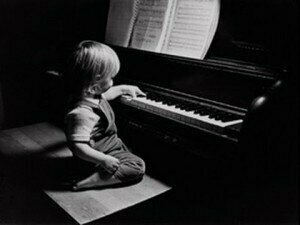 Music for children has inspired composers from J S Bach to the present day. Bach's Twelve Little Preludes were included in Wilhelm Friedemann Bach's Klavierbüchlein, a collection of short pieces for one of Bach's sons, and intended to help the boy with his keyboard practice.

Bach: 5 Little Preludes, BWV 939-943
Highly appealing to children and junior piano students, Robert Schumann's 'Album for the Young' offers 43 characterful pieces, while his Kinderszenen (Scenes from Childhood) were "thirty small, droll things", a suite of pieces inspired by Clara Schumann's comment that Robert sometimes seemed "like a child". Both suites of pieces display all the characteristics of Schumann's "grown up" music – contrasting moods from tenderness and poignancy to exuberance and energy, lyrical melodies and colourful musical textures. This is music to be enjoyed by children and adults alike.

Schumann: Kinderszenen
Fauré's Dolly Suite for piano four-hands was composed with a specific child in mind, Hélène Bardac (1892–1985), the daughter of the composer's mistress Emma Bardac, and known affectionately as "Dolly". These descriptive, whimsical pieces, the most famous of which is the opening Berceuse, display all the refinement, charm, and harmonic transparency that characterises much of Fauré's piano music, while maintaining a childlike naïveté, with appealing melodies and light textures.

Faure: Dolly Suite

Unmarried and childless, Maurice Ravel adored children and revelled in their world of fantasy and fairytales. He wrote music which could be played by children while also evoking "the poetry of childhood", and his
Mother Goose
suite (
Ma Mère l'Oye
) is a delightfully imaginative suite of miniatures inspired by fairytales and scored for piano four-hands. The pieces are fleeting and fanciful, tinged with sadness, and like the music for children by Fauré and Schumann, display all the hallmarks of Ravel's distinctive compositional language – the use of modal melodies, dance forms and rhythmic precision.
Ravel: Ma Mère l'Oye
In Debussy's
Children's Corner
there is a similar sophistication. Claude-Emma Debussy, nicknamed Chouchou, was only three years old when her father wrote a six-part piano suite starring her favourite toys, including a doll and an elephant called Jimbo. Children's Corner isn't exclusively for children to play (indeed some of the pieces in the suite test the advanced-level pianist) nor exclusively about them, though the subjects explored in the music are immediately appealing to children – dancing snowflakes and the haunting sounds of a shepherd boy's flute. The first piece in the suite, Dr Gradus ad Parnassum, pokes fun at Clementi's exercises for student pianists – something pianists of all ages will identify with – the notes growing more and more complex throughout the piece. The final piece in the suite, Golliwogg's Cakewalk, is in ragtime style, with a tongue-in-cheek central section which pokes fun at Wagner's Tristan und Isolde, and demonstrates Debussy's easy-going approach to popular trends in music and other genres, including jazz.
Debussy: Children's Corner
Bartok and Kabalevsky harked back to Bach's music to encourage young piano students in their suites of pieces for children. Vibrant, colourful and increasing in difficulty, Bartok's miniatures offer young pianists the opportunity to hone their keyboard skills in attractive, accessible music based on Hungarian and Slovak folk tunes, some of which is surprisingly haunting and powerful, despite its small scale.