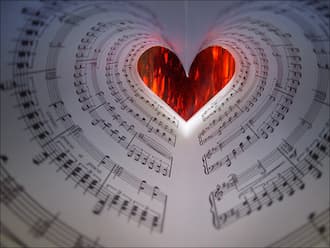 In classical music, composers have used the romance as the perfect vehicle to express tenderness. The romance grew out of narrative ballads of Spain and by the 18thcentury they became distinctive as lovely, lyrical, short works. Composers such as Elgar, Mozart, Haydn, Verdi, Grieg, and others used the title romance within their larger compositions, but many others adopted this delightful form to express more personal and intimate expressions using one instrument with piano or orchestral accompaniment. These ten romances for string instruments are perfect for listening on Valentine's Day or anytime you want to express your love.
Beethoven: Romance No. 1 in G Major
We should start with the man of the year, Ludwig van Beethoven, having just celebrated his 250th birthday. A few years before he wrote his famous Fifth Symphony, Beethoven composed two Romanzen for violin and orchestra—No. 1 in G major, Op. 40 and No. 2 in F Major Op. 50. Beethoven studied the violin as a youth and later he played the viola in the Bonn Opera company. The G major romance, marked Adagio Cantabile, is beautifully written for the violin, in a graceful almost stately rondo form with the theme returning multiple times after some variation.
Ludwig van Beethoven: Romance No. 1 in G Major, Op. 40 (Josef Suk, violin; Prague Symphony Orchestra; Václav Smetáček, cond.)


Clara Schumann: 3 Romanzen, Op. 22
Despite saying, "women are not born to compose," reflecting the sentiments of the time, Clara Schumann wrote lovely works. Each of her Drei Romanzen for violin and piano Op. 22 from 1853 have a slightly different mood. Number one is andante molto, to be played quite slowly, two is an Allegretto and a bit more light-hearted but expressive. Number three, marked Leidenschaftlich schnell, fast and passionate, reminds us how our hearts race when we are in love. Clara dedicated the romances to violinist Joseph Joachim, and she performed these pearls with him for King George V of Hanover (Clara was a stellar pianist.) The reception was euphoric then as now.
Clara Schumann: 3 Romanzen, Op. 22 – No. 3. Leidenschaftlich schnell (Aaron Rosand, violin; Hugh Sung, piano)


Dvořák: Romance in F Minor, Op. 11
Antonín Dvořák's Romance in F minor for violin and orchestra Op. 11 was originally written as the slow movement to a string quartet, and later adapted by Dvořák for violin and orchestra. We're glad he did! It's gorgeous, beginning gently with lilting strings, then a pizzicato accompaniment and lovely contours in the flutes accompany the idyllic violin line. Dvořák, lauded for his melodies, wrote quite an exquisite melody in this piece too—a sparkling sapphire full of longing, and Czech flavors.
Antonín Dvořák: Romance in F Minor, Op. 11, B. 39 (Josef Suk, violin; Czech Philharmonic Orchestra; Václav Neumann, cond.)

Amy Beach: Romance for violin and piano Op. 23
The Romance for violin and piano Op. 23 by Amy Beach, written for the violinist Maud Powell for the 1893 Chicago World's Fair, is lush and lyrical. Beach, born in 1867, was a child prodigy but she was stymied by sexism, even forbidden to learn composition by her husband. Nonetheless she persisted, and after a year of tremendous grief in 1910 during which both her husband and mother passed away, Beach turned once again to performing, touring, and composing. I chose this rendition, beautifully played by the young violinist Rachell Wong. She performs outdoors in a parking lot in 2016, as is necessitated these days.
Bruch: Romanze in F Major, Op. 85
Our list must include this stunning piece for viola and orchestra, Max Bruch's Romanze for Viola and Orchestra in F Major Op. 85. Bruch, perhaps best known for his three violin concertos and Kol Nidrei for solo cello, also wrote a viola concerto and a viola and clarinet concerto. Perhaps Bruch was drawn to the distinctive timbre of the viola due to the playing of eminent French violist Maurice Vieux, who was principal violist of the Paris Opéra at the turn of the 20th century. The Romanze was dedicated to him, and the mellow voice of the viola is ideally suited to this dreamy opening. You'll hear why it's a favorite among violists today. Strangely enough it was not widely performed for decades after its premier in 1911 nor was it recorded until 1973. The music moves through several different moods—tender, ardent, plaintive, impassioned. It's beautiful.
Max Bruch: Romanze in F Major, Op. 85 (Yuri Bashmet, viola; London Symphony Orchestra; Neeme Järvi, cond.)

Vaughan Williams: Romance for Viola and Piano
You may know this composer's famous pieces Lark Ascending and Fantasia on a Theme of Thomas Tallis. Ralph Vaughan Williams was considered one of the great symphonists of the 20th century, having composed nine symphonies. An extremely prolific composer who wrote in all genres, this romance was discovered after the composer's death in 1958. Unusually enough, the pentatonic or 5-note scale is featured, and the melancholy atmosphere is heaven-sent.
Ralph Vaughan Williams: Romance for Viola and Piano (London Soloists Ensemble)


Saint-Saëns: Romances for violin and cello
French composer Camille Saint-Saëns, an extremely prolific composer, is known for his five piano concertos, The Carnival of the Animals with the acclaimed Swan movement, his "Organ" Symphony No. 3, his ghoulish Danse Macabre as well as his much-loved and performed Cello Concerto No. 1. The Romances for violin as well as for cello are ravishing little gems, as is this Romance in F Major Op. 36 for cello—the dance rhythm in the strings a lilting accompaniment. The cello line becomes a bit more impassioned in the middle before the initial melody returns ending in a delicate hush. The Romance Op. 51 is entirely a different mood, enchanting, upbeat, the playful line in the piano adding to the charm.
Camille Saint-Saëns: Romance in F Major, Op. 36 (Johannes Moser, cello; Stuttgart Radio Symphony Orchestra; Fabrice Bollon, cond.)

Camille Saint-Saëns: Romance, Op. 51 (Emmanuelle Bertrand, cello; Pascal Amoyel, piano)


Delius: Romance for Cello and Piano
Frederick Delius wrote alluring music including six operas, choral and orchestral works, and the better known A Mass of Life and A Village Romeo and Juliet. The composer lived in several countries in Europe eventually settling in a village near Paris where he rubbed shoulders with other great artists including painter Paul Gauguin, writer August Strindberg, and composers Edvard Grieg and Percy Grainger. He was heavily influenced by Norwegian folk lore and African American Spirituals as well as by Wagner. His Romance is tender and sensitive and takes advantage of the entire rainbow of colors of the cello—a blissful retreat from daily life.
Frederick Delius: Romance for Cello and Piano (Yo-Yo Ma, cello; Kathryn Stott, piano)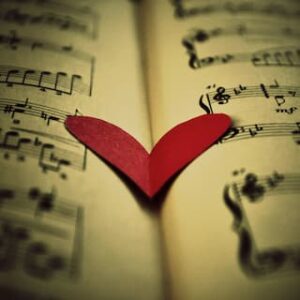 Fauré: Romance, Op. 69
The lowest baritone tones of the cello are brought to the fore in this Romance. Gabriel Fauré, composer, a master organist, pianist, and teacher wrote some exquisite pieces for the cello including gorgeous chamber music, and his often-played Élégie, Op. 24, Aprės un Rêve, Sicilienne Op. 78, other miniatures, and two sonatas. Claude Debussy dubbed Fauré "the master of charms" and certainly the romance is lovely. An earlier version was entitled Andante and written for cello with organ or harmonium. This version with piano is truly romantic music, breathless, demonstrative, and animated.
Gabriel Fauré: Romance, Op. 69 (Boris Pergamenschikow, cello; Pavel Gililov, piano)

When you listen to these beautiful Romances I hope they will spur intimacy and tenderness in your life on Valentine's Day or any day you're wooing your sweetheart!
For more of the best in classical music, sign up to our E-Newsletter