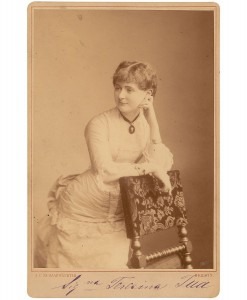 "To all appearances," Edvard Grieg wrote in 1882,"I am living a more peaceful life than ever before, but in reality it is a life full of inward struggle. I am both spiritually and bodily unwell and decide every other day not to compose another note, because I satisfy myself less and less." This lack of confidence, one might almost call it depression, spawned a four-year period of compositional inactivity. Grieg was in desperate need of inspiration! And in the fall of 1886, inspiration did come in the form of the 20-year old violinist Teresina Maria Felicita Tua, who was also known for her angelic face and good looks. Apparently, Tua paid a visit to the composer's home in Bergen, and Grieg, inspired by "the little fiddle-fairy on my troll hill," immediately set to work on his third and last violin sonata in late 1886. The work is generally regarded as one of the pinnacles of the repertory, and Grieg himself annotated the manuscript with the words "Bold and exuberant, the way I like it." We can surely assume that Grieg was not merely talking about the music!

Edvard Grieg: Violin Sonata No. 3 in C minor, Op. 45
Teresina Tua had studied at the Paris Conservatory, taking a first prize in violin at the tender age of thirteen. The early 1880's saw her touring German and England, and everywhere she played, she created a sensation. During her tour of Russia in 1885, her accompanist was none other than Sergei Rachmaninoff. Although he was not impressed with her playing, suggesting that "as an artist, she is not serious, but she has talent," he shared the stage with her for three months. In a word, the Violin Fairy had successfully managed to bewitch European audiences and composers alike! Things were a bit more complicated in the United States. She gave her debut performance in New York on 17 October 1887, and a critic wrote "Senorina Tua revealed herself last evening as a nobly constructed woman, with a face that will be music to the unmusical, and an unfailing knowledge of the value of her delightful smiles, which she rained down on the front rows in a manner calculated to diminish whatever soundness of judgment the young men in that neighborhood possessed when they entered the hall. She has a pair of splendidly developed arms, which she graciously permitted to be viewed undraped, and a pair of handsome brown eyes, which she occasionally raised expressively towards the classic curls of the medallion of Mozart. She was robed in the shimmer of satin and the glitter of orders obtained from the Queen of Spain, the Czar of Russia, and other eminent personages. Applause and bravos were showered upon her, but the most accomplished self-possession in the world never deserted her, and she coquetted with the audiences as no other woman."

If her coquettish personality duly impressed the critics, they were less complimentary about her playing. "Tua's intonation is not always absolutely true, indeed it is often sadly false. Her enunciation of rapid passages is often unfinished, and at times absolutely unintelligible, and her double stopping is frequently distressing to the acute ear. Tua wants to beguile her listeners with her looks rather than with her playing." Upon her return to Europe, Tua married a wealthy member of the nobility, and when Giuseppe Franchi Verney died, she married another aristocrat by the name of Emilio Quadrigo. With financial considerations to keep playing no longer an issue, Tua bid farewell to the concert stage and devoted herself to teaching. After the death of her second husband, she entered the Convent of Perpetual Adorers of the Most Blessed Sacrament in Rome, taking the name of Sister Mary of Jesus. Her two Stradivarius violins ended up in a museum in Turin, and Tua died on 29 October 1956 at age 90.