2020 was to be the main stage for Ludwig van Beethoven. Just about everybody was ready to celebrate the 250th year of his birth with concerts, installations and special exhibitions. And then we got Covid-19, and Beethoven wasn't the main topic of conversation anymore; I am sure he would not be happy. Beethoven was always unhappy to share the limelight, and maybe you know what he had to say about one of his greatest rivals? "Rossini," he once told a friend "would have become a great composer if his teacher had frequently spanked his butt."
Beethoven dominated the musical world for a very long time, until the singer and guitarist Chuck Berry had a simple message for Beethoven in 1956. Berry was calling for a musical revolt, and he told the composer in no uncertain terms that a new style of music was spreading across the world. So he commanded Beethoven to "roll over in his grave," and to "tell Tchaikovsky the news." A good many people weren't amused, but new generations of young musicians and composers eagerly took up the message. Revolution is one thing, but we really can't just make Beethoven go away. So we decided to look for some of the best ways Beethoven found a new and exciting home in the musical expressions of our time. I can hear Beethoven kicking and screaming, but we will nevertheless drag him into the 21st century.
The music of Beethoven is very powerful, indeed. But music of other composers and performers are no less powerful. That's what YouTube sensation Sam Tsui thought when he decided to mashup the music of Beethoven and Beyoncé. "Both artists have something to say, and they mean it. The specific language may differ, but their music shares an urgency and real sense of character from the most intimate and tender to exuberant or raging moments." Sam Tsui teamed up with Ensemble Connect, a fellowship program with Carnegie Hall, The Juilliard School, and Weill Music Institute that prepares young professional classical musicians for their future career. Tsui writes "the idea of mashing up some well known classical music with a contemporary artist started with Beethoven's 250th birthday… As for the contemporary artist, we needed someone with a large, diverse catalog, and the sort of instant song recognition so that we could really lean into creative interplay between the pieces." And it really turned out to be a creative and unique project, by blending the contemporary with the classical. And it's a lot of fun also, as we can instantly recognize the featured tunes.
The idea of mashing up Beethoven isn't really new. The French composer Pierre Henry (1927-2017)—together with his compatriot Pierre Schaeffer—is considered one of the founders of "Musique concrête." That basically means that a musical composition utilizes recorded sound as raw material. These sounds are often modified and eventually assembled into a type of collage. Pierre Henry studied with Nadia Boulanger and Olivier Messiaen at the Paris Conservatoire, and he was fascinated with integrating noise into music. Henry also loved Beethoven, and technology offered him some fascinating perspectives. Beethoven did start a "Tenth Symphony," but Henry's La Dixième Symphonie does not try to finish the Beethoven sketches. Instead, his creation combines notes, groups and motifs from all nine completed Beethoven symphonies and mashes them all up. First he made three electroacoustic versions, but Henry also wrote a symphonic version. That special mashup was premiered in 2019, and involved three orchestras, two choirs and three conductors. It's contemporary, and it's Beethoven at the same time. Wonder what Beethoven might have to say about that?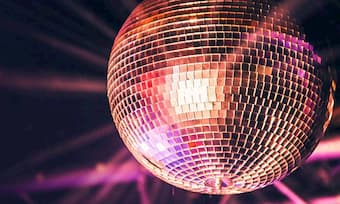 Once upon a time, "Disco" dominated the musical landscape. Movies like "Saturday Night Fever" infected millions of people, and the urban nightlife scene was pounding with syncopated bass lines, electric pianos, synthesizers and electric rhythm guitars. This particular popular music movement was driven by baby boomers wearing expensive, extravagant and sexy fashion while going to the Discothèque. Promiscuity aside, the disco scene was also a thriving drug subculture, "particularly for drugs that would enhance the experience of dancing to the loud music and the flashing lights." I hear that some of these drugs were actually nicknamed "disco biscuits." The music of Disco was always a mixture of various popular styles, and the instrumentalist and songwriter Walter Anthony Murphy, Jr. reached cult status with his hit instrumental "A Fifth of Beethoven." It's a disco adaptation of some passages from the first movement of Beethoven's Fifth, and can't you just see the reflective light disco ball spinning on the ceiling? I can also see Beethoven pulling out his hair.
I have to be honest; I am no great fan of hip-hop music. While I really do like the rhythmic and rhyming speech, some of the texts are really offensive, particularly to women. I know, the artists are trying to draw us into the real life of inner-city projects to highlight the plight of the people, but demeaning, humiliating and degrading people is not my cup of tea. That's why it is such a great thing to hear hip-hop with uplifting and inspirational texts. And since classical music is mostly free of copyright, it is easily sampled. The rapper Nas sampled the very familiar "Für Elise" for his track "I Can." It was recorded on the 2002 album "God's Son," and the text warns of the dangers of drug use and crime. The track is a tribute to his dead mother, who asked him to compose an uplifting anthem. And some comments on social media suggest, "his endorsement of practice would make many piano teachers happy." I am sure Beethoven would agree with that.
The Japanese multimedia artist, singer, songwriter and peace activist Yoko Ono started piano lessons at the age of 4. In time, she became a highly influential figure in the arts through her music performance art, installation work, and through her poetry. Of course, we also know her through her relationship with John Lennon and The Beatles. An interesting anecdote tells the story that one day John Lennon was listening to Yoko Ono practicing Beethoven's "Moonlight Sonata." Lennon was fascinated and asked her to play the piece backwards. He later claimed that his track "Because," which featured on the famed "Abbey Road" record, is built on that reverse chord progression. I am sure you don't have to listen to Beethoven's original to recognize the similarities.
Classical rock, or sometimes-called symphonic rock, developed in the mid- to late 1960s. It was basically a fusion of styles, approaches and genres, something we would definitely call crossover today. Within that particular musical stream, a handful of groups purposely emulated or referenced classical music. And one such band was the Dutch group "Ekseption." They performed together between 1967 and 1989, and they saw some commercial success with "The Fifth" in 1969. The name of the album not only referenced the number of albums released to date, but also alludes to the adaptation of Beethoven's "Fifth Symphony." They don't stop with Beethoven, but also adapt tunes by Bach and Mozart on that particular album. The haircuts are definitely outdated, but the appearance of a symphony orchestra and a rock band on the same stage is still very exciting.
Beethoven only lived until the age of 56. He started to sketch a 10th symphony, and we can only wonder what he might have written if he had lived for another decade or more. The Berlin rapper Marten McFly suggests that Beethoven might actually have invented rap music. How can that work, I hear you ask? Well, Beethoven wrote numerous angry letters and penned literally hundreds of scathing diary or conversation-book entries in order to voice his frustrations. And in time, so Marten McFly, he might have combined these written outbursts with his music. Well, at least that's what the rapper thinks, and he created the album "Raptus Finalis." McFly uses original Beethoven quotations and places them within a hip-hop context. While the sound is definitely 2020, all the background music is based on Beethoven's compositions.
The American singer-songwriter and composer Billy Joel is nicknamed the "Piano Man." I guess, I was surprised to read that he has sold more records than "The Stones," "Bruce Springsteen" and "Madonna." He certainly is a super talented musician, and Joel started playing the piano when he was about four years old. He says that he doesn't remember how to read sheet music anymore, but that hasn't stopped him from plunking out a number of hit tunes. And a very familiar tune is used as the backbone of his track "This Night." I know you will instantly recognize it from the second movement of Beethoven's "Pathétique Sonata." Joel speeds up the tune significantly, and he adds a good bit of instrumentation, but the main harmony and melody remain the dominant features of the chorus. Joel does credit Beethoven on the album as one of the songwriters, and it isn't the only time he used Beethoven's music in his performances.
"Bright Eyes" is the main band of American singer-songwriter Conor Oberst. And on the 2005 album "I'm Wide Awake, It' Morning," the last song is titled "Road to Joy." As you can quickly hear, the song starts with a melody strongly based on Beethoven's "Ode to Joy." It builds into a march with trumpets and horns joining in. Closer to the end, when the final verse is sung, all the instruments enter in a loud frenzy before fading into the distance. Well, that tune has been used for everything, including the organizational anthem of Europe and for the sociopathic violence of Stanly Kubrick's 1971 film "A Clockwork Orange." Oberst version is "an uncharacteristically noisy blast of disillusionment with the state of the world in lyrics that run: The sun came up with no conclusions… Let's f… it up boys, make some noise." I guess that includes smashing up instruments as well.
Younee first invented her own melodies at the age of 3, and she started her classical training as a pianist at the age of 13. From the very beginning, she was interested in blending classical, jazz and rock into her delicious improvisations. Born in Korea and now living in Germany, she plays almost everything. On her first album she tinkered with Mussorgsky's "Pictures at an Exhibition," Debussy, Bizet, and Beethoven's "Fifth." With passionate radiance, "she translates the old boys into blues scales, let them shine again in off-beats or surprisingly dissolves them into fresh and cheeky jazz harmonies." She has a gift for spontaneously and feely improvising on a classical foundation. "Up to the last note everything happens intuitively, spontaneously, unexpectedly, without slipping into kitschy realms or into a virtuosity for the sake of virtuosity." And as you can hear in her "Fate Blues," Younee is definitely dragging Beethoven into the 21st century. My selections are just a small sampling; what are your favorite Roll over Beethoven pieces?
For more of the best in classical music, sign up to our E-Newsletter