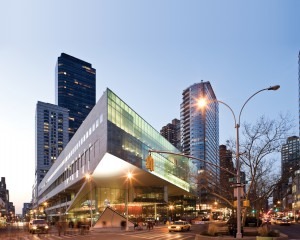 Standing proudly on West 65th Street in the heart of Manhattan, the striking Lincoln Center building plays host to the Juilliard School, a world-renowned centre of study for dance, drama, and music. The activities at the school are as numerous and diverse as the bustling cityscape in which it nestles, as Adam Meyer, Associate Dean and Director of Juilliard's Music Division, explains.

How does your selection process work? Is there a quota to fill, and does this hold even if there are no suitable applicants?

All applicants to Juilliard are required to audition in person for our faculty. However, the majority of our music majors must submit video or recordings as a pre-screening for an invitation to a live audition. Our music auditions are held on our campus once a year, generally around the first week of March. We do indeed have quotas for every instrument, as we have an ideal size for the School based on curricular and performance-based requirements, such as filling orchestras and chamber music ensembles, and providing sufficient performance opportunities for all of our students. However, we are also somewhat flexible within our quotas as the faculty and Admissions Committee will not compromise on the qualifications for admission, whether artistic or academic. So if the faculty members don't hear qualified candidates at the auditions, we may have one or two fewer – or more! – than our ideal number for that year.

What's the most important thing that students should come away from music college with?

The Juilliard experience is informed by the idea that we are developing, as our President Joseph W. Polisi puts it, the "Artist as Citizen". We want our students to come away from Juilliard with an understanding of how their craft can influence and impact society. This is accomplished through real-world performance experience and technical training at the highest level, but also by developing communication, critical thinking, and community engagement skills.

Do you maintain links with your ex-students? Who are your most famous alumni?

We maintain an active alumni community both in New York and beyond. Our alumni presence online is vibrant and expansive! There are many benefits to being a part of the alumni community, and we host events throughout the year at Juilliard, throughout the U.S., as well as with our international communities. The alumni website promotes alumni performances, monthly profiles and a video of the month feature. We prioritise integration with our alumni and current students so that students may forge a professional link beyond Juilliard, and our alumni are able to return to the welcoming community of The Juilliard School. We engage with our alumni with several programming initiatives including a mentoring program, lunch with alumni events, and global events through the season.

Some of our famous music alumni include: Emanuel Ax, Yefim Bronfman, James Conlon, Renée Fleming, Philip Glass, Stephen Hough, James Levine, Yo-Yo Ma, Wynton Marsalis, Audra McDonald, Nico Muhly, Itzhak Perlman, Steve Reich, Gil Shaham, and others.

Among our dance alumni are Pina Bausch, Paul Taylor, Ohad Naharin, Robert Battle, and Lar Lubovitch.


Among our drama alumni are Kevin Spacey, Kevin Kline, Robin Williams, Jessica Chastain, Laura Linney, Viola Davis, Oscar Isaac, and Alex Sharp.
We follow our alumni in the news and celebrate their accomplishments and professional projects with posts on our widely-followed social media outlets, and interact with them and their followers on these platforms using an established hashtag, #JuilliardAlumni.
Is there anything about your teaching method that you believe to be unique about your School? In addition, do you have any courses about stress or stage fright management?
The richness of the artistic experience is what is unique about Juilliard. You'll find our students and alumni doing everything from winning orchestra jobs and solo competitions, to starting their own non-profit to bring the arts to under-served communities. The curriculum and performance experiences Juilliard offers helps prepare them to be leaders in their chosen field.
Juilliard recently received a $5 million gift to create the Alan D. Marks Center for Career Services and Entrepreneurship. The mission of the Center is to provide a comprehensive integration of entrepreneurial strategies and career services programs into the ecosystem of the Juilliard community, preparing graduates from all three Juilliard divisions (music, dance, and drama) to thrive professionally at the intersection of creativity, technology, and business.
We do offer a course called "Performance Enhancement" that is taught by Dr. Noa Kageyama, who is a musician with a doctorate in psychology. The class assists students in achieving optimal performance levels under the pressure of juries, recitals, competitions, and auditions. Students will learn how to deal with fear and doubts, channel nervousness, focus better, and perform at a high level in stressful situation.
How many opportunities do your students have to gain performance experience and/or contact with the profession whilst studying?
Because Juilliard is located in New York City and Lincoln Center for the Performing Arts, our students have continuous access to professional musicians of the highest level. Many of these great artists are on our faculty, and we also frequently bring guests into the school to work with students. There are also countless performance opportunities for our students both within the school and throughout New York City. Juilliard presents 700+ performances a season/academic year.
How different do you believe the varying career paths (solo player, chamber and orchestral musician) are, and how does your teaching reflect this?
Juilliard's philosophy is to develop and train the complete artist. An accomplished musician today must have experience as a soloist, chamber musician, and orchestral player, as well as be able to teach, write, speak, and think critically. The Juilliard education aims to prepare students for a wide variety of career paths. We do this by offering performance experience at the highest levels of course, but also through in depth work in music theory, history, ear training as well as liberal arts and career development and entrepreneurship courses.
Do you encourage your students to participate at international competitions?
Juilliard recognises the importance of international competitions as a learning experience for many of our students. Ultimately, what competitions a student enters is a decision they make with their private studio teacher. We consistently have students who are accepted and do well at competitions of the highest level.
Official Website