No other invention had a greater impact on how music found its way from the composer to the public than the printing of music. After Ottaviano Petrucci published the first edition of the famous Harmonice Musices Odhecaton A in Venice in March 1501, the musical world would never be the same. Multiple and virtually identical copies of music could be produced on the expectations of sales and profit. With music printing and music publishing eventually becoming inextricably interconnected, music-publishing houses could make or break the careers of young aspiring composers. In addition, they responded, and frequently influenced the popularity and development of musical taste and style.
The techniques used for printing music in the Western world have greatly varied throughout, and included music-type, engraving, lithography and more recently music-processing software. Technical aspects of representing music as visual symbols aside, this series will focus on the social and artistic history of the musical repertoire and typography from some of the most important music publishing enterprises. And one of the most famous, and concordantly the first modern music publishing enterprise was the Leipzig firm of Breitkopf & Härtel.
Carl Philipp Emanuel Bach: Sinfonia in F Major, Wq. 122/2 (Miklós Spányi, fortepiano)


Bernhard Christoph Breitkopf of Leipzig founded his firm in 1719, and initially published a number of general books, including bibles. In 1754, however, his son decided to specialize in music printing, introducing movable and dismountable types for his printing process. This improved typesetting produced larger and more practical editions, and the firm published works by Telemann, Leopold Mozart, Haydn, Carl Stamitz, and C.P.E. Bach. In fact Johann Gottlob Immanuel Breitkopf and C.P.E. developed a special friendship lasting nearly four decades. The Breitkopf editions of C.P.E introduced his music to Mozart and Haydn, decidedly influencing the emerging First Viennese School.
By the end of the 18th century, every composer of rank—and countless less established musicians—wanted to be published by Breitkopf. The "Härtel" was added to the name when Gottfried Christoph Härtel took over the company in 1795, as Johann Gottlob's sons thought that they could not handle the firm. And the firm did not waste any time, printing first editions of Beethoven's 5th and 6th symphonies, and Mozart's Magic Flute. And they certainly kept an eye out for emerging talents! On the recommendation of Robert Schumann, Breitkopf issued the first substantial publication by Johannes Brahms.
Johannes Brahms: Scherzo, Op. 4
From the very beginning, Härtel published highly significant works, among them Handel's Messiah, J .S. Bach's "Ein Feste Burg ist Unser Gott," BWV 80, and 25 Beethoven first editions. They were first to publish the operas of Meyerbeer, Cherubini, Donizetti, Bellini, Mehul, Marschner, and Auber.
Famously, Wagner's Lohengrin and Tristan and Isolde first emerged from the Breitkopf press as well. In addition, the influential music journal Allegmeine musikalische Zeitung was founded and printed by Härtel. When Härtel's sons Raymund and Hermann took over by 1835, they set into motion their greatest achievement by publishing the Gesamtausgaben (Complete Works Editions). It all kicked off in 1850 with Johann Sebastian Bach, and continues to this day. And let's not forget that Hermann Härtel was a close friend of Schumann and Mendelssohn, and Breitkopf & Härtel first issued a substantial number of their works.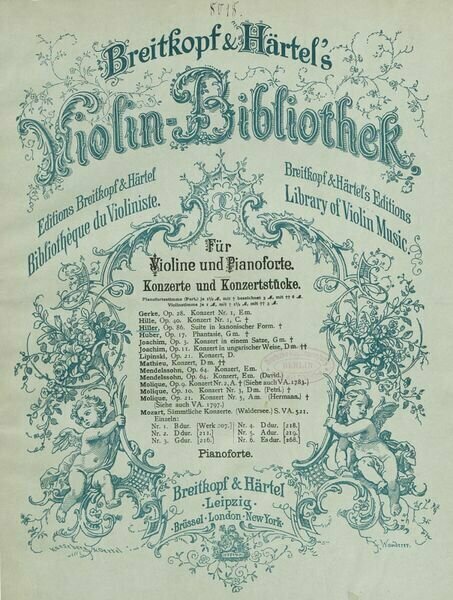 The adjoining book publishing division produced some of the most important standard 19th century musicological works, and on Hermann Härtel's death, the firm's catalogue comprised 15,000 items. Oskar van Hase and Wilhelm Volkmann, Härtel's nephews, took over the company in 1870. Volkmann initiated the "Denkmäler Deutscher Tonkunst" (Monuments of German Musical Art) series, and von Hase systematically expanded the collection of concert materials. The firm eagerly promoted contemporary composers d'Albert, Busoni and above all Sibelius, and collaborated with leading contemporary music scholars. The economic crises following WWI accelerated the publication of works from the mainstream and from the contemporary international music scene, with the music textbook division produced standard reference works. The publishing premises, including valuable autographs and archival materials, were destroyed in a bombing raid during December 1943. Part of what was saved went to Darmstadt, another part was given to the Leipzig State Archives, and yet another chunk went to Berlin. Following 1945, the firm was divided into two independent sections, one housed in East Germany and one in the West. VEB Breitkopf & Härtel Leipzig promoted works of contemporary East German composers. The Wiesbaden branch initiated the series "Collegium Musicae Novae, and also published works by contemporary composers. In 1991, the separate companies negotiated a reunification and the combined current catalogue contains over 1,000 composers!
For more of the best in classical music, sign up to our E-Newsletter
Jean Sibelius: Romance D-flat major, Op. 24/9