Paris Conservatoire
and was a classmate of
César Franck
and Camille Saint-Saëns. After graduation, he held organist positions at Saint-Ambroise, at St. Geneviève, St. Roch and St. Vincent de Paul. During the years of the Second French Empire—the reign of Napoleon III from 1852 to 1870—French music had essentially been dormant. Auguste Durand set out to change all that, and together with Louis Schoenewerk and additional sponsors established a music publishing business on 30 December 1869. It was a shrewd and calculated undertaking as Durand-Schoenewerk & Cie. bought the catalogue of the Paris music publisher Gustave Flaxland on the very same day. Flaxland had roughly 1,400 titles in his library, and his success was built on the copyrights to the French editions of Schumann's piano works and of Wagner's earlier operas. In the aftermath of the Franco-Prussian War of 1870, Durand began to publish a richly varied catalogue focused on representative French composers of the time. Saint-Saëns, for example entrusted Durand with nearly all his compositions.
Camille Saint-Saëns: La danse macabre
The catalogue of Durand-Schoenewerk & Cie. soon became the repository of the most important French composers of the day. Even the highly self-critical Paul Dukas allowed his L'Apprenti sorcier, the opera Ariane et Barbe-Bleue and the danced poem La Péri to be published by Durand. The company also continued to publish French editions of Wagner's early operas, and it began a series of complete critical editions of old masters, including the works of Rameau initially edited by Saint-Saëns.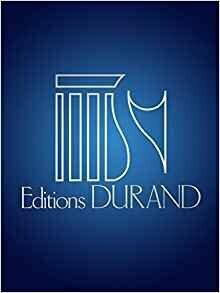 Some legal disputes amongst investors forced the disbandment of the company in 1885, but it was quickly sold in its entirety at auction back to Auguste Durand and Louis Schoenewerk. Schoenewerk retired from the business in November 1891, and Durand's son Jacques Durand replaced him, with the company taking on the name A. Durand & fils. Changes in personnel none withstanding, the company continued to flourish, and the catalogue also included music by such greats as Vincent D'Indy. Besides issuing the symphonic variations Istar and the Second Symphony, Durand also published D'Indy's important theoretical work, Cours de composition musicale.

Vincent d'Indy: Istar Variations Symphoniques Op. 42
The turn of the century brought new opportunities for Durand. The firm secured publishing rights for a substantial number of highly significant works. Among them Pelléas et Mélisande, La Mer, and Jeux by Claude Debussy, and the Rapsodie espagnole, the ballet Daphnis et Chloé, and after the war, La Valse, Boléro and the two Piano Concertos by Maurice Ravel.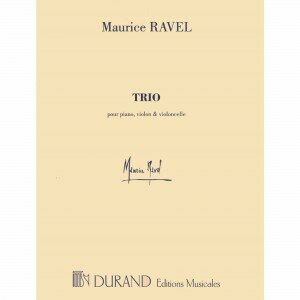 Auguste Durand died in November 1909, and Jacques brought in his cousin Gaston Choisnel as a partner. Keenly attuned to new trends in French music, the company took on the works of Albert Roussel, Florent Schmitt, the last songs and chamber works of the aging Fauré, and the provocative music of Darius Milhaud. The company also started to publish important piano works of the 19th century in 1914. Under the title "Édition classique Durand & fils," Durand issued music of Chopin edited by Debussy, of Mendelssohn edited by Ravel, and Schumann edited by Gabriel Fauré, among numerous others.

Albert Roussel: Bacchus et Ariane Suite No. 2, Op. 43

When Olivier Messiaen appeared on the music scene in the 1930's, Durand became the composer's first publisher. That important relationship continued with the issuance of the Quatuor pour la fin du temps, Visions de l'Amen, and the Turangalîla-Symphonie. Reorganized as a "Société à Responsabilité Limitée" in 1947, Durand continued to probe new French musical paths, and acquired the publishers Amphion and Max Eschig in 1987. It added the composers Claude Ballif and François-Bernard Mâche, as well as Nicolas Bacri, Renaud Gagneux, Philippe Hersant, and Philippe Manoury to the Durand catalogue. In the early 1990s, Durand acquired the music catalogue of Rideau Rouge, and was itself bought by BMG. Merged with Éditions Salabert, a cultural treasure founded over 100 years ago and holding roughly 80,000 titles in its music catalogue, Durand is now part of the Universal Music Publishing Group and known as Durand-Salabert-Eschig.

Olivier Messiaen: Préludes pour piano

Music publishing in France is intricately and unbreakably linked with the name Durand! It all started with Marie-Auguste Massacrié-Durand (1830-1909), a capable composer and organist. In fact, he studied at the