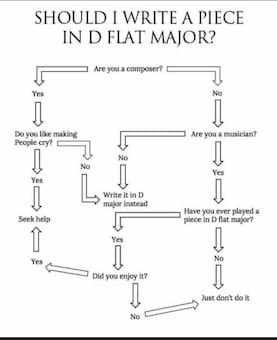 "What? D-Flat Major?" Most string players wail, "that's a key signature with FIVE FLATS!"
I don't blame them. It's so much more difficult to play in tune on string instruments without the resonance of the open strings.
Pianists, though, will be elated. They get to play on all of the black keys. Numerous composers have used D-flat major to depict lush, dreamy sounds, and to explore the richness and depth of expression imaginable in this key.
Perhaps you know that many composers associated specific emotions with certain keys. The key of E-flat major is a case in point, a key that is considered heroic. Think Beethoven's Symphony No. 3 The Eroica, Strauss' Ein Heldenleben, a Hero's Life, and dozens of string quartets and symphonies by Haydn, Sibelius, Elgar, Dvořák, Mozart, Bruckner, Shostakovich, Mahler.
One of the most famous piece for piano in D-flat is the Chopin Prelude Op. 28 No. 15 "Raindrop." Chopin did not ascribe the name to this prelude. It begins hushed and pensive, and the affecting melody leaves us in a subdued mood. It turns suspenseful, becoming more chordal and powerful. The right hand continues the inexorable rhythm and generates the feeling of inevitability with its repeated and steady A-flats that seem to imitate raindrops. But the opening melodic line returns reassuring us, and the piece resolves peacefully. Whatever you imagine when you hear it, there is no denying the emotions generated.
Chopin: Prelude Op. 28 No. 15 "Raindrop" (Eric Lu)
Romance in D-flat is an exquisite piece by Sibelius. Upon first hearing, you might think it's a work of Chopin and I wouldn't blame you. It's amorous with flourishes and emotions you would associate with Chopin. Sibelius is not necessarily known as a solo piano composer. Ten pieces make up Sibelius' Opus 24, composed between 1895 and 1903, and they are stunning. Diverging from his huge symphonic works puzzled Sibelius' children too who asked him why he wrote these solo piano works, he responded, "In order for you to have bread and butter."
Sibelius: Romance in D-flat Op.24 No.9
Written in 1901 as a birthday gift, the D-flat major Romance has been published and performed separately. The Andantino opens with a two-bar chordal introduction in the right hand with a lyrical cello-like melody entering in the left hand. It's gorgeous. The middle section becomes vibrant and agitated with octaves and chords marked with accents on each note, and the instruction, "forte crescendo possible." A cadenza with rapid notes, is breathtakingly dramatic. The magnificent resonance achieved in this piece is due in part to the pianist flying all over the black keys.
Prokofiev Piano Concerto No. 1, Op. 10 was composed in 1911, and is dedicated to the Russian composer, pianist, and conductor, the "dreaded Tcherepnin" with whom Prokofiev worked at the St. Petersburg Conservatory. Although the piano concerto is only fifteen minutes long, in one movement, Prokofiev marked eleven distinct sections of varying tempos and disposition. From charm to the grotesque, every mood is depicted. The piece begins as it ends with an expansive, yearning, and deliberate theme in D-flat major with heart-thumping punctuation in the timpani. Electrifying octaves in the piano bring the piece to a finish.
Sergei Prokofiev: Piano Concerto No. 1 in D-Flat Major, Op. 10 (Sviatoslav Richter, piano; Prague Symphony Orchestra; Karel Ančerl, cond.)


Gabriel Fauré Cantique de Jean Racine, Op. 11 is a work for mixed chorus and piano or organ, with lyrics by the 17th-century poet Racine. A version for strings and harp is breathtaking. The text "Verbe égal au Très-Haut" or Word One with the Highest, is from a Latin hymn "O Light of Light" attributed to the fourth century bishop of Milan, St. Ambrose. The refined and sublime piece hints at the music of the Requiem Fauré composed later in life. Only 20 years old when he composed this piece, we are assured of his position as one of the greatest composers of French choral music when we hear the Cantique. A dazzling lilting melody opens the piece. The chorus enters with the lowest voices first and gradually expands to include the higher voices. After another interlude of the instruments alone, Fauré continues this technique and we experience a ravishing series of colors, dynamics, and textures, enhanced by the resounding key of D-flat.
Gabriel Fauré: Cantique de Jean Racine, Op. 11 (Accentus Chamber Choir; Christophe Henry, organ; French National Orchestra; Laurence Equilbey, cond.)


Dvořák Scherzo Capriccioso Op.66 B.131, is an orchestral work composed in 1883. The D-flat major key allows the composer to explore not only the Czech folk music we usually expect but a more dark, opaque, and restless mood. Featuring a full complement of instruments such as the harp, triangle, English horn, and bass clarinet, Dvořák achieves a brilliant variety of tone colors and wondrous melodies, his forte. The English horn solo is especially poignant.
Antonín Dvořák: Scherzo capriccioso, Op. 66, B. 131 (Berlin Radio Symphony Orchestra; Hans Zimmer, cond.)


Some composers actually see colors when he or she hears certain keys or pitches, a condition called synesthesia, in other words the perception of one sense through another. Amy Beach was one of these composers and D-flat major, for Beach, represented the color violet, traditionally associated with wealth, royalty, and the divine. The first section of her 1925 work Canticle of the Sun a cantata for chorus, soloists, and orchestra Op. 123, sets a thirteenth century text by St. Francis of Assisi. The piece begins Lento con Maesta, with the feelings of searching, of hesitancy, and then bursts into the key of D-flat major—the strong D-flat major chord used on the word "God" imbuing the word with wonder and veneration. The use of the key here is powerful as well as opulent.
I'm convinced and I hope you are too. D-flat major should be considered one of our favorite keys!
For more of the best in classical music, sign up to our E-Newsletter
Amy Beach: The Canticle of the Sun, Op. 123 (Susan Bender, soprano; Elizabeth McLean, mezzo-soprano; Richard Turner, tenor; James Shaffran, bass; Capitol Hill Choral Society; Betty Buchanan, cond.)