"The King of the Violin"


Eugène Ysaÿe (1858-1931) was, without doubt, one of the most important and towering violinists of his time. Born in Liège on 16 July 1858, he received his initial violin instructions from his father at the age of 4. By age 7 he had started his studies with Désiré Heynberg at the Liège Conservatory, but irregular attendance caused his temporary dismissal. Ysaÿe was readmitted in 1872 and joined the class of Rodolphe Massart. He progressed rapidly, and after winning a couple of prizes at the Conservatory, he was granted a scholarship to study with Henryk Wieniawski in Brussels and subsequently with Henry Vieuxtemps in Paris. During his four years in the French capital he made important professional connections, and he was appointed leader of the Benjamin Bilse beer-hall orchestra—later to develop into the Berlin Philharmonic—in Berlin in 1879. He appeared as soloist in concerts in Cologne and Aachen, and under the patronage of Anton Rubinstein, Ysaÿe toured Russia and eventually Scandinavia and Hungary.
Eugène Ysaÿe: Poeme élégiaque, Op. 12 (Tatiana Samouil, violin; Liège Philharmonic Orchestra; Jean-Jacques Kantorow, cond.)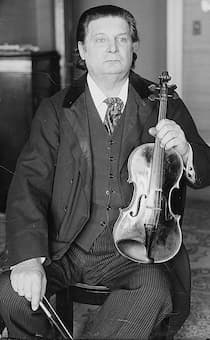 Ysaÿe met Franz Liszt at a conference in Zurich in 1883, and at the spur of the moment he decided to try his luck in Paris as a virtuoso. As he wrote to his father, "Do you want me to go back to Bilse? You wish me to hire myself out at six hundred marks a month to an ideal public? Come on! I'll leave that to others! I feel I was born to have a name, a great name. I will have one, I desire it, and it would be cruel of you to prevent me from following the momentum of my thoughts and my nature." Ysaÿe's instincts were certainly correct as he took Paris by storm. His first appearances at the Concerts Colonne were triumphantly successful, and he rubbed shoulders with the leading composers in Paris. Fully immersed in the intellectual and musical stimulation in the heart of Symbolist Paris, Ysaÿe became part of la pléiade des inconnus, artists linked by a common admiration of César Franck. In time, Ysaÿe performed the premiere performances of a substantial number of works specifically dedicated to him by Franck, Chausson, d'Indy, Debussy and Lekeu, and his performances exerted a most decisive influence on French violin music of the time. In 1886 Ysaÿe made his triumphant return to Brussels, taking over Jenő Hubay's position at the Conservatory. Continuing his international career as a performer, he also conducted concerts at home and established his own orchestra and the "Ysaÿe Quartet" in 1888.
Eugène Ysaÿe: Caprice d'apres l'Etude en forme de valse de Saint-Saens (Miki Kobayashi, violin; Hibiki Tamura, piano)


Ysaÿe commanded the most famous concert halls, and his incredible talent was universally acknowledged. He embarked on his first American tour in 1894, and his partnership with Raoul Pugno was of exceptional renown. With the outbreak of World War I in 1914 he fled to London, and he made his American debut as a conductor with the Cincinnati Symphony Orchestra in 1918. Ysaÿe increasingly turned towards orchestral conducting. His health had been failing for some time, with neuritis and diabetes taking a heavy toll. Although he had one of "the most immaculate techniques of his time," his unorthodox grip eventually resulted in the loss of bow control. He took on the conductorship of the Cincinnati SO, and returned to Belgium in 1922. Although he continued to perform sporadically, Ysaÿe turned his attention to teaching and to composition. He last performed publically in November 1930, and he finished writing an opera on a popular Belgian subject in the Walloon language. The ravages of diabetes necessitated the amputation of his right foot, and he died in his house in Brussels on 12 May 1931.
Eugène Ysaÿe: Amitié, Op. 26 (Emilie Belaud, violin; Olivier Giot, violin; Liège Philharmonic Orchestra; Jean-Jacques Kantorow, cond.)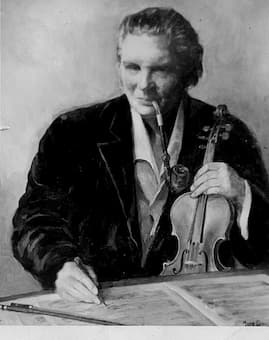 At the turn of the century, Ysaÿe was regarded as "The King of the Violin." He had "abandoned the old style of Joachim, Wieniawski, Sarasate and Auer for one of combined rigorous technique and forceful sound with creative freedom on the part of the interpreter." His playing style was described as heroic, but he was equally convincing in the expression of moods of exquisite delicacy and tenderness. Most notable was a "ravishingly beautiful," captivating and flexible sound known for its elasticity that never distorted the melodic line. Pablo Casals claimed, "I have never heard a violinist play in tune before Ysaÿe." Presenting a synthesis of the qualities of Franco-Belgian violin playing, Ysaÿe decisively influenced several generations of violinists, and his recording "reveal an exceptionally refined interpretative art.
Ysaÿe never received formal instruction in composition, but he nevertheless wrote a number of works for violin and orchestra, orchestral compositions and chamber music. Influenced by Saint-Saëns, Fauré and the school of surrounding Franck, Ysaÿe "abandoned decorative virtuosity for an improvisatory, passionate character; his scoring sometimes lacks subtlety, but the works are full of harmonic originality." His best-known compositions, at least for violinists, are the Six Sonatas for Solo Violin, Op. 27. They are dedicated to distinguished contemporary players and reflect their unique performance style. In his mature compositions Ysaÿe pushed harmony to the furthest reaches of tonality, "without however taking leave of lyricism, the primordial element of all his works."
For more of the best in classical music, sign up to our E-Newsletter
Eugène Ysaÿe: Sonata No. 3 in D minor, Ballade Op. 27