Anton Rubinstein
called
Henryk Wieniawski
(1835-1880) "the greatest violinist of his time." A combination of French schooling and Slavonic temperament, Wieniawski had impeccable technique and produced a wonderfully warm and rich tone. As such, he made light work of technical difficulty, but could simultaneously move his listeners to tears.
Fritz Kreisler
wrote, "The emotional quality of his tone was heightened by an intensified vibrato which he brought to heights never before achieved."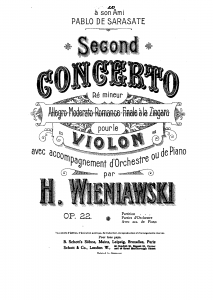 Already in his teenage years Wieniawski had embarked on a career as a travelling virtuoso. Between 1851 and 1853, he played some 200 concerts throughout Russia, and he also proved his merit as a composer. He toured Germany with his Violin Concerto No 1, and the initial performance at the Leipzig Gewandhaus in 1853 propelled him to international fame. Eventually, he settled in St. Petersburg and became professor of the violin at the newly established conservatory. He also was solo violinist to the tsar, and the leader of the orchestra and the string quartet of the Russian Musical Society.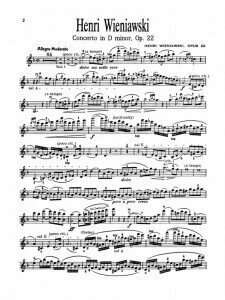 Written during the relatively stable period of Wieniawski's residence in St. Petersburg, the second violin concerto in D minor, Op. 22 is generally considered his finest work. Richly melodic and highly idiomatic the work balances the elements of style dispassionately and serenely. Wieniawski first played the work in St. Petersburg on 27 November 1862 under the baton of
Nikolai Rubinstein
. Two days later, the composer and critic
César Cui
sarcastically wrote to his friend
Balakirev
, "I still haven't recovered from the impact of that first Allegro." Cui was clearly reacting to Wieniawski's attempt to redefine virtuosity by not only relying on mere technical display, but by adopting the most updated characteristics of the genre. The work shows the evolution of handling sections of the tutti and solo, the modification of traditional formal plan, a more romantic style towards the individual, subjective, and a deeply emotional musical language. Critics and performers have suggested, "Wieniawski's music has stood the test of time, as has his legacy as violinist and composer, and will continue to influence future violinists and prodigies all over the world."
Henryk Wieniawski: Violin Concerto No. 2