When I took my first couple years of piano lessons, it seemed that every sonatina or beginner's etude was written in the key of G major. Maybe that's the reason I have never really paid special attention to that key, and I never really liked it that much. Supposedly, G major represents "everything rustic, idyllic and lyrical, every calm and satisfied passion, every tender gratitude for true friendship and faithful love." And a 19th century music critic even added, "Every gentle and peaceful emotion of the heart is correctly expressed by this key." I am not really 100% convinced, but I have still managed to find the best songs in G major, and to my surprise, there are many beautiful songs in that key.
Haydn: Symphony in G major, "Oxford"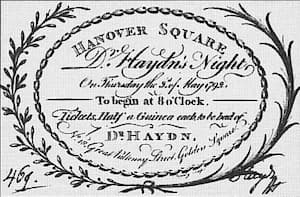 In his day, Haydn was the most famous composer in all of Europe. Although he worked deep in the Hungarian and Austrian countryside, his music was known throughout the continent, and he was invited to visit England in 1791. Once Haydn had arrived, it was suggested that he should receive an honorary doctorate degree from Oxford University. At the degree ceremony, Haydn conducted one of his symphonies in G major at the Sheldonian Theatre in Oxford. Haydn said later, "I felt very silly in my gown, and I had to drag it around the streets for three whole days. But I have much to thank this doctor's degree in England; indeed, I might say everything; as a result of it, I gained acquaintance of the first men in the land and had entrance into the greatest houses." His "Oxford Symphony" in G major is a marvelous piece, and it does musically express Haydn's tender gratitude and thankfulness for receiving such high honours.
Debussy: Piano Trio in G Major
Claude Debussy: Piano Trio in G Major (Trio di Milano)


Debussy was a musical genius. He never attended ordinary school, but because he was a wizard on the piano, he was allowed to study at the world-famous Paris Conservatoire at the age of 10! Since his career as a piano virtuoso did not really work out, Debussy decided to take lessons in harmony and compositions. When he was only 18, he composed one of my favorite songs in G major, a Piano Trio. It is certainly a lyrical and idyllic piece, with many attractive melodies woven into the first movement. The second movement is also charming, and it already sounds a bit more like the later Debussy. Many critics don't really like this piece, calling it "sweet, sentimental, and sugared," but it is still a song of great beauty and lightness, and it is one of my favorite and best songs in G major.
Brahms: String Quintet No. 2 in G Major
Johannes Brahms: String Quintet No. 2 in G Major, Op. 111 (Vladimir Mendelssohn, viola; Quartetto Energie Nove)


Johannes Brahms is a slippery and complex fellow. Hiding behind that famous beard, he seemed to have so much passion just bursting to come out. He was patriotic, pessimistic, aggressive and seriously ambivalent towards women. Since he didn't have a university degree and he wasn't a particularly articulate writer, he expressed and communicated the complexities of his personality in his music. It's not always easy, but the music is just glorious. My favorite Brahms song in G major is the string quintet Op. 111. When he composed the work Brahms was 57, the same age when Beethoven died. He seriously thought that the G major quintet was going to be his last work. As we now know, luckily he lived a bit longer and he changed his mind about giving up composition. To be sure, this string quintet in G major is somewhat abstract, and sounds a lot of complicated and dense music. But it is also very intimate, tranquil and wonderfully rhapsodic. When Brahms selected G major for this song, he knew exactly what he was doing.
Chopin: Nocturne No. 12 in G Major
Frédéric Chopin: Nocturne No. 12 in G Major, Op. 37, No. 2 (Elza Kolodin, piano)


For me, Chopin was the ultimate composer when it comes to musical journeys of infinite discovery. And for him there was only one instrument that could perfectly serve this cult of self-expression, and that was the piano. He composed a total of 21 compositions under the specific title "Nocturne." The Irish composer and pianist John Field had invented that particular kind of song, but it was Chopin who made it famous. There are no stories or specific narratives in Chopin's Nocturnes, and the G major Op. 37/2 is a sunny kind of etude, that is one of my favorites.
Mozart: Eine kleine Nachtmusik
Mozart wrote many songs in G major, so it's not really easy to find the favorite one. For me, Mozart is probably one of the most reassuring composers. When I listen to his music, I kind of know that things will work out in the end. And so I decided on his Kleine Nachtmusik, written in G major. It's not sleeping music but was to be played during garden parties, weddings, birthdays or concerts in private home. It is one of my all-time favorite songs in G major, because it is lyrical and idyllic, and it does seem to express true serenity and love.
For more of the best in classical music, sign up to our E-Newsletter