What do you get when three superstars join forces? A spectacular evening of piano trios that brings the house down, of course! This was the case on October 17th. Cellist Capuçon says it best: "When you have the possibility to play incredible music with great friends onstage, this is just pure luxury. There is nothing better than that." I would contend the next best thing is being lucky enough to be in the audience. The wonderful programme included works by Haydn, Ravel, and Mendelssohn, presented by the venerable concert presenters, the Schubert Club, on their International Artist Series in Saint Paul, Minnesota. The three world-renowned instrumentalists have toured before in prestigious locations in Europe, and this programme was performed in Los Angeles in early October and repeated in New York's Carnegie Hall on October 24th.
Pianist Jean-Yves Thibaudet is no stranger to the most prestigious stages of the world and to Minnesota. I recall amazing performances with us, especially a dazzling rendition of Rachmaninoff's Rhapsody on a Theme of Paganini. Also, Thibaudet was the soloist in a piano concerto commissioned by Osmo Vänskä and the Minnesota Orchestra—James MacMillan's Piano Concerto No. 3 premiered in 2011. He has also appeared as a soloist on film soundtracks, collaborated with visual artists and fashion aficionados, and was the first Artist-in-Residence at the Colburn School of Music in Los Angeles. A versatile artist, his more than 50 recordings include transcription of operas, performances of jazz, and he performed on the soundtrack that won the Oscar for Best Original Score for the film Atonement in 2007.
Jean-Yves Thibaudet Plays Satie
Lisa Batiashvili, the Georgian-born German violinist is praised for her virtuosity and wonderful sensitivity. She has recorded widely and appears with the most prestigious conductors and orchestras in the world. Her album Secret Love Letters with Yannick Nézet-Séguin, conductor, and the Philadelphia Orchestra was released in 2022. Her Visions of Prokofiev, also with Nézet-Séguin and the Chamber Orchestra of Europe, showcasing both Violin Concertos as well as arrangements of other popular orchestral selections by the composer, was named concert recording of the year 2018 Opus Klassik's Konzerteinspielung des Jahres.
During the 2023/24 season, Batiashvili takes up residency with the Berlin Philharmonic and will be performing at home and on tour with Kirill Petrenko and Daniel Barenboim.
Lisa Batiashvili Plays Debussy
The French cellist Gautier Capuçon, Artist-in-Residence at both the Paris Philharmonie and the Vienna Konzerthaus, performs internationally, appearing with the greatest artists and conductors. We heard him last at the fabulous Schubert Club recital in 2019 with pianist Yuja Wang. He's a mesmerizing performer who has appeared all over the globe, and his many recordings, including the concertos of Haydn, Dvořák, Shostakovich, and the Brahms Double Concerto with his brother violinist Renaud Capuçon, chamber music such as the Brahms Sextets, and piano trios by Beethoven and Schubert, and more recently released themed recordings entitled Intuition, featuring gems of the cello repertoire, and Emotions showcasing famous melodies arranged for the cello voice. An album of repertoire from popular film melodies to French chansons and to classical pieces – including "La Foule" by Édith Piaf, the main theme from Summer of '42 by Michel Legrand, "Beau soir" by Debussy, Sicilienne by Fauré, and "Chi Mai" by Ennio Morricone will be released in November of 2023.
Gautier Capuçon Plays Piaf
The Piano Trio No. 44 in E Major by Haydn was a perfect opening. Composed when the pianoforte was just emerging, the piece is imaginative and charming as well as virtuosic. Chamber music at that time was still being written primarily for "the chamber", the home parlors of aristocrats or aficionados. What would Haydn have thought of this work being featured in the large Ordway Hall with its three balconies and side boxes? And yet, we could hear every note clearly. The three-movement work is full of inventiveness (It begins and ends with pizzicato in the strings), and the artists' fluent technique and lovely sound shimmered.
Franz Joseph Haydn: Keyboard Trio No. 28 in E Major, Hob. XV:28 – I. Allegro moderato (Beaux Arts Trio)

The Ravel Trio in A Minor, one of my favorite pieces of chamber music, is a tour de force for all three performers. What struck me most was the quality of the sounds they produced. They captured what I believe is the ideal French sound of Ravel—pure, subtle while minimizing vibrato. Despite fistfuls of notes in the piano part, Thibaudet never covered the string players. The delicate, softer dynamics and introspective phrases grew seamlessly into full, rich fortes with amazing control over an astonishing dynamic range.
Maurice Ravel: Piano Trio in A Minor (Julie Rosenfeld, violin; Gary Hoffman, cello; André Previn, piano)

Dating from 1914, on the eve of the First World War, Ravel was spurred to complete the work so he could enlist. Ravel wrote to Igor Stravinsky, "The idea that I should be leaving at once made me get through five months' work in five weeks! My trio is finished." The four-movement work, Modéré, Pantoum: Assez vif, Passacaille: Très large, and Final: Animé displays a gamut of emotions and employs a variety of techniques such as pizzicato, tremolo, trills, harmonics, and glissandos. Ravel begins with a somber opening, a Basque dance, then an incredibly quick second movement, a heartbreaking slow movement that begins in the piano alone, morose and tender in its low registers, followed by the cello, then the violin, and builds to a breathtaking climax, and a nimble and dramatic finale in irregular meter. A definitive interpretation.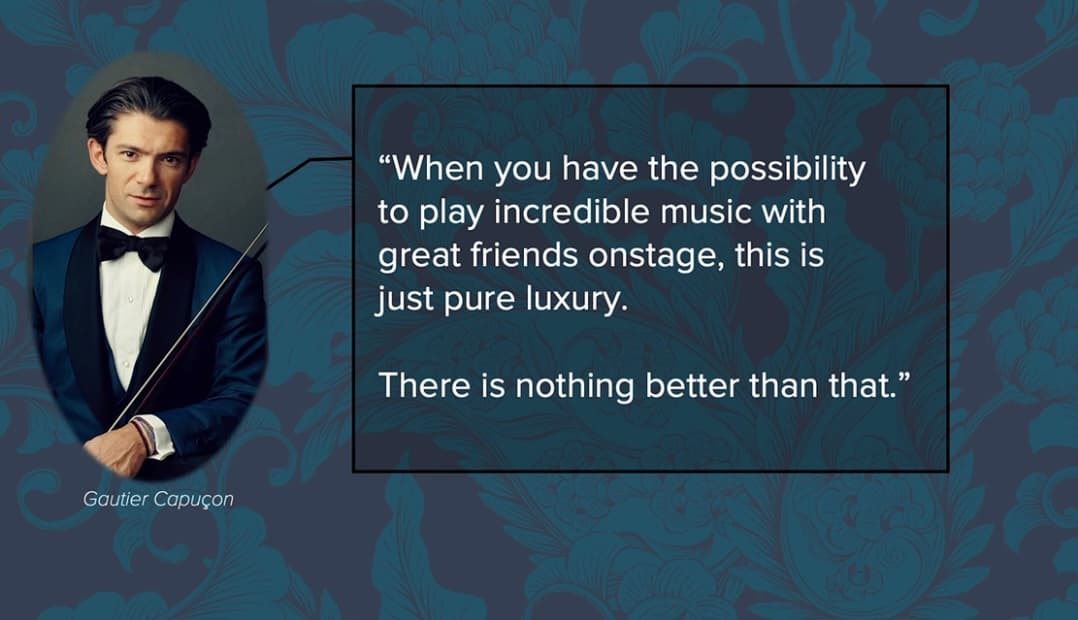 The last piece on the programme, from 1845, Felix Mendelssohn Piano Trio No. 2 in C Minor Op. 66, another four-movement work, is exuberant, impassioned, outgoing, and indicative of the composer's affinity for the music of J. S. Bach with its contrapuntal touches. The musicians played more romantically, with slower bow speeds, intense bows, and with a warm, lush vibrato. The first and last movements labeled "Allegro con fuoco" and "Allegro appassionato" (with fire and passion), bookend the tender Andante espressivo and the Scherzo "quasi presto" movements. Remarkably fast, Mendelssohn covers an incredible number of notes in just three minutes, and every note was nimble, crisp, and audible in this performance of the scherzo.
Felix Mendelssohn: Piano Trio No. 2 in C Minor, Op. 66, MWV Q33 (The Kalichstein-Laredo-Robinson Trio)

The evening was nothing short of miraculous. And our unbridled applause was rewarded with an encore.
For more of the best in classical music, sign up for our E-Newsletter