François-Xavier Roth is one of today's most versatile and imaginative conductors. Comfortably at home in Baroque and Classical music, he is also an expert in the Romantic core repertoire and a champion of contemporary music. A born communicator, Roth is a charismatic advocate for classical music and the founder of his own orchestra, "Les Siècles."
François-Xavier Roth/ Les Siècles perform "Mahler: Symphony No. 4, "Himmlische Leben"
The Roth Family
Born on 6 November 1971 in Paris, the Roth family has music written into their genes. François-Xavier's father Daniel Roth succeeded Charles-Marie Widor, Marcel Dupré and Jean-Jacques Grunenwald as titular organist of the great Cavaillé-Coll organ, in Saint-Sulpice, in Paris in 1985. His brother Vincent is an accomplished violist teaching at the Metz
Métropole conservatory, and François-Xavier's son Daniel is a horn player active in various orchestras around Paris.
Always surrounded by music, François-Xavier vividly remembers listening to and helping his father play the organ, and his first orchestra concert was magic because the strings sounded like heavenly voices. His father never forced him to get started with music but gently guided his son during his studies. François-Xavier always wanted to be part of an orchestra and initially studied the flute. Eventually, he studied flute under Alain Marion at the Conservatoire National Supérieur de Musique, but his secret dream had always been conducting.
François-Xavier Roth Conducts Stravinsky: Petrushka (excerpt)
Donatella Flick Competition
Roth became a professional flautist, and he also taught at the Montpellier regional conservatoire. He had studied conducting with János Fürst at the Conservatoire, and at the age of 26, he decided to follow his dream. He entered and won the Donatella Flick Competition, a conducting competition named after the philanthropist who wanted to help young conductors establish an international career, in 2000. Conducting the Beethoven Egmont Overture and Stravinsky's Firebird Suite in the finals, he impressed jury members Yuri Temirkanov, Yan Pascal Tortelier, and Moray Welsh.
Winning the competition led to a 2-year appointment as Assistant Conductor of the London Symphony Orchestra. Roth also served as Eliot Gardiner's assistant for several years, and he credits him, alongside Pierre Boulez, as "shaping his identity as a conductor." As he explained in an interview, "They taught me a lot, not just about conducting. They were two conductors who knew how to found musical institutions that didn't exist in order to develop their own projects."
François-Xavier Roth/ Les Siècles Perform Saint-Saëns: Bacchanale
Les Siècles
In fact, Gardiner and Boulez provided support and inspiration for Roth to create his own orchestra. Les Siècles was founded on the premise that the orchestra would perform on instruments appropriate to the period of composition of each piece. As Roth explained, "the orchestra was founded by a bunch of friends, and at first, we were called a garage band." For Roth, it was a very invigorating and interesting mirror, and he hopes to keep up the same pioneering spirit for the next 20 years because "we have done a lot of things that nobody has done before."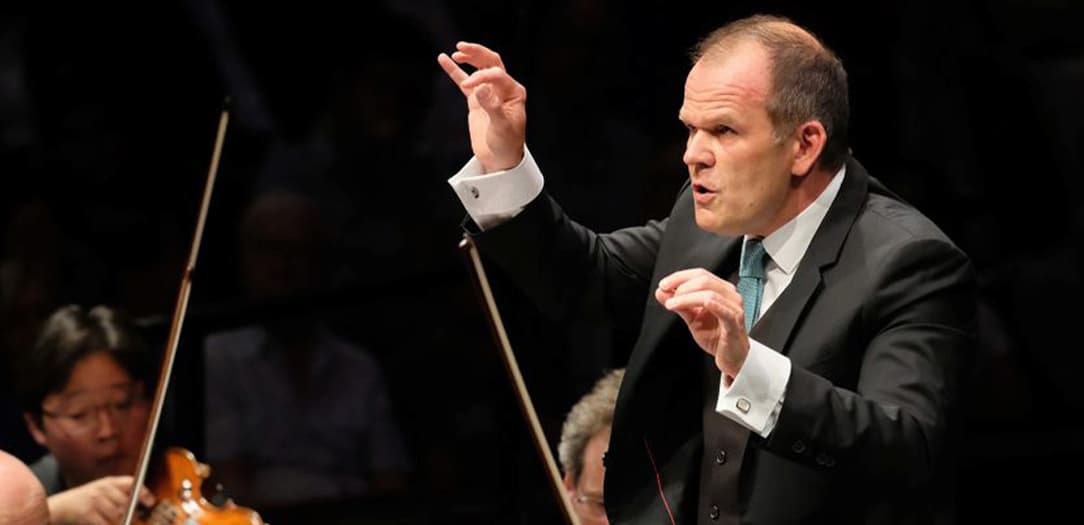 Roth and Les Siècles quickly made a name by engaging in specialty projects, like when they rediscovered the instruments that created The Rite of Spring. Other projects focused on Berlioz, Ravel, Mahler, and Bruckner. Roth is adamant that Les Siècles is not a specialist ensemble. "Or to look at it another way: We are specialists for every kind of music… It is truly enriching to have the whole horizon in front of you instead of always just looking out of one small window."
François-Xavier Roth Conducts Bach's St Matthew Passion, "Erbarme dich"
Music has to Provoke
Central to Roth's philosophy is the notion that music should never be a decoration. It should be a way of moving people to the core and, "in the process, changing how people perceive." Roth strongly believes that music can change lives, and this idea has drawn him to use period instruments and the general period style of playing. "Period instruments are shocking because they challenge traditions; I do not play in traditional ways where people can think, that's nice, I think music can change us – it has to provoke."
Roth confronts audiences with well-designed programmes that feature a fair share of contemporary works. "My ideal programme is one," he explains, "where the audience has new experiences – regardless of whether they are listening to Mozart or present-day works." Les Siècles is often referred to as a "chameleon ensemble," as they sometimes play on as many as three different sets of instruments in one concert. This creates, according to Roth, "authentic period sound on demand."
For more of the best in classical music, sign up for our E-Newsletter
François-Xavier Roth/ Les Siècles Perform Ravel: Bolero