Daniel Barenboim's early pianistic career produced performances distinguished by flexibility, spontaneity, and quick sensitivity. As a conductor, in both the operatic and orchestral repertories, he places the emphasis on freedom of expression, allowing for frequent changes in tempo and careful disclosure of detail. His emphasis on freedom of expression also informs his personal aesthetic.
Simultaneously a citizen of Argentina, Israel, Palestine, and Spain, Barenboim established the West-Eastern Divan Orchestra in 1999. Founded to promote understanding between Israelis and Palestinians, it brings together young classical musicians from Israel, the Palestinian territories, and Arab countries to study and perform. Barenboim explained, "The Divan is not a love story, and it is not a peace story. It has very flatteringly been described as a project for peace. It isn't. It's not going to bring peace, whether you play well or not so well. The Divan was conceived as a project against ignorance… I am not trying to convert members of the Divan to a certain point of view, but create a platform where the two sides can disagree and not resort to knives."
West-Eastern Divan Orchestra – D.Barenboim – Elgar – Nimrod / Wagner – Meistersinger Overture
Daniel Barenboim was born on 15 November 1942 in Buenos Aires, Argentine. His maternal grandparents met on the boat escaping Russia for Argentina. They had six children, and Daniel's parents Enrique Barenboim and Aida (née Schuster) were both professional pianists. His father had studied the piano with the Italian pedagogue Vincente Scaramuzza, who also taught Martha Argerich. Barenboim remembers that his "father did give concerts locally, but that his real passion was teaching. In fact, both my parents were piano teachers. My mother taught children and beginners, my father taught more advanced students." Barenboim remembers that at the age of four, his father was rehearsing with a violinist at their flat. Fascinated, he immediately wanted to learn the violin. However, as his parents couldn't find an appropriately sized instrument, he decided to take his first piano lessons at the age of five. He remembers, "My mother taught me to read music and gave me my first lessons. I then started to learn with my father who remained my only piano teacher. I never studied with anybody else in these early days and the fundamental basis of my father's teaching has remained with me ever since."
Daniel Barenboim Plays Beethoven's Piano Sonata No. 8, Op. 13 (Pathetique)
Barenboim played his first formal concert at the age of seven, on 19 August 1950, performing a variety of pieces, including one by Prokofiev.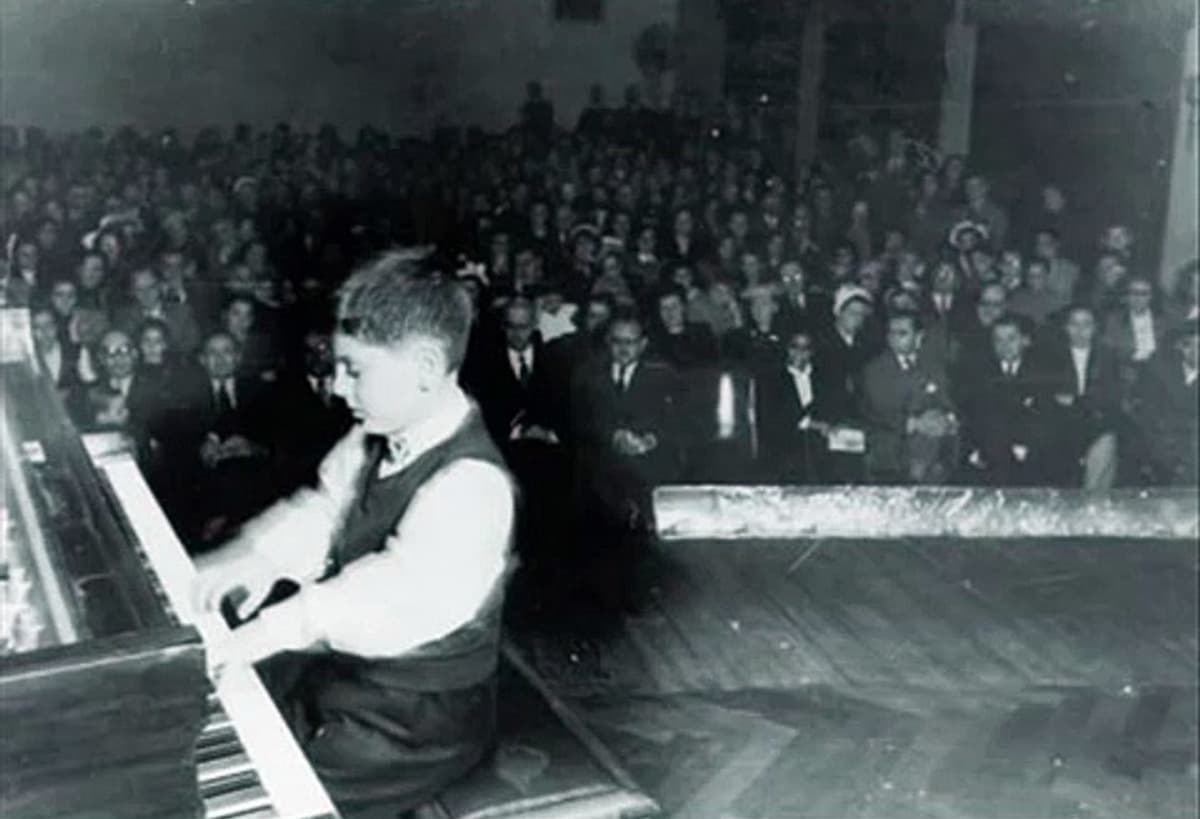 Barenboim confesses that he is "not a disciplined person," and that combining his schooling with his musical activities presented some difficulties. "I used to practice for one and a half to two hours a day" he writes, "but once a week I was allowed to play whatever I liked, for as long as I wanted. This enabled me to develop my sight-reading, and become acquainted with a vast amount of repertoire." Barenboim believes that he was fortunate that his father taught him until he was seventeen. "My father had an obsession about wanting things to be natural. I was brought up on the fundamental principle that there is no division between musical and technical problems. I was never made to practice scales or arpeggios, but developed my abilities as a pianist by playing the pieces themselves. He also laid great emphasis on polyphony, the independence of voices. The piano should not be played with two units, with two hands. I should either be played with one unit made up of two hands, or it should be played with ten units, namely the independent fingers."
Wolfgang Amadeus Mozart: Piano Concerto No. 23 in A Major, K. 488 (Daniel Barenboim, piano; English Chamber Orchestra; Daniel Barenboim, cond.)

Barenboim played his first concert with orchestra in Buenos Aires at the age of eight, performing the Mozart A-major concerto K. 488. In July 1952, the Barenboim family decided to immigrate to Israel. "My parents' main desire was that they wanted their son to grow up as a member of a majority population, and not in a Jewish minority somewhere in the Diaspora." They left for Europe on their way to Israel and initially traveled to Salzburg.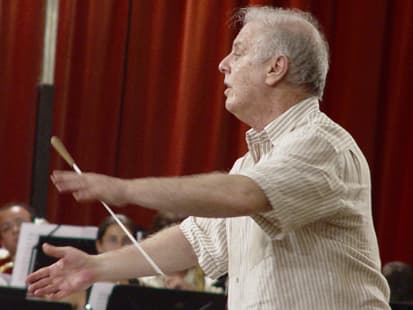 Barenboim was terribly excited to see a performance of the Magic Flute conducted by Karl Böhm. Barenboim hid among the crowd and snuck into the Festspielhaus without a ticket, and immediately fell asleep because of the long trip. Many years later Barenboim played at the Salzburg Festival with the Vienna Philharmonic Orchestra conducted by Karl Böhm. He recalls, "I was stupid enough to tell him this story, thinking that he would find it amusing that his was the first opera performance I had attended, and that I fell asleep. I think he was rather offended by my lack of musical taste and I realized then that his sense of humor was to be found more in music than in such situations."
For more of the best in classical music, sign up to our E-Newsletter
Barenboim and Argerich Play Schubert's Rondo in A major, D 951