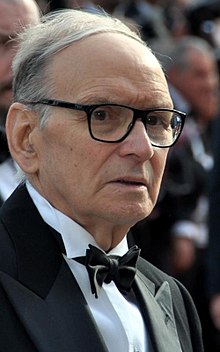 Interlude is sad to announce the passing of probably the most famous film composer of the 20th century. Ennio Morricone (1928-2020) scored more than 500 films over several decades in almost every imaginable musical style and for almost every imaginable kind of movie. The work that made him world famous and best known to moviegoers was his blend of music and sound effect for Sergio Leone's spaghetti Western of the 1960s. Leone's vision of the Old West provided blooding and slow action and "clichéd close-ups of gunfighters." A critic wrote, "Morricone's music is anything but a backdrop. It's sometimes a conspirator, sometimes a lampoon, with tunes that are as vividly in the foreground as any of the actors' faces."
Morricone amplified the film's plots and drama through ingenious use of diverse arrangements and instrumentation. A ticking pocket watch, a sign creaking in the wind, dissonant harmonicas, a twanging Jew's harp, dancing piccolos, ghostly vocal choruses and mysteriously sung gunfighter ballades became trademarks of the Morricone-Leone "Dollars Trilogy." Morricone never upstaged actors with music, but infused "it all with wry sonic weirdness and melodramatic strains that many fans embraced with cult-like devotion." And let's not forget the ingenuity of his silences, as he was wary of too much music and overloading an audience with emotions.
Morricone was born in Rome on 10 November 1928, with his father a professional trumpet player performing in light-music orchestras. Ennio's musical talents became quickly apparent, and his father taught him to read music and to play several instruments. Ennio wrote his first composition when he was six years old, and he began his studies at the Rome Conservatory at the age of 12. He became a favorite student of the distinguished Italian composer Goffredo Petrassi, who urged him to concentrate on composition. In order to improve his finances, Ennio discreetly substituted for his father in the light-music orchestra after graduation, thereby allowing himself to develop two distinct sides to his musical personality. Petrassi had fostered his interest in serialism, which resulted in dozen's of experimental works with the improvisation group "Nuova Consonanza." On the other hand, working with the light-music orchestra he gained experience in arranging all types of popular music, including songs for radio, radio and television plays, and the first successful television variety shows.
Ennio Morricone: Serenata passacaglia (Ensemble Mereuer)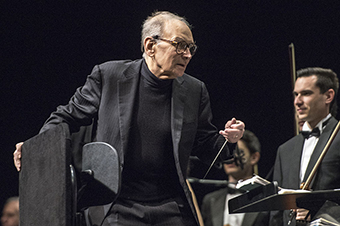 In the early 1960s, Morricone started to arrange music as a ghostwriter for films credited to already well-known composers. In 1961, so to speak, he made his real film debut in Luciano Salce's "Il Federale" (The Fascist). Morricone remembered that his "first films were light comedies or costume movies that required simple musical scores that were easily created, a genre that I never completely abandoned even when I went on to much more important films with major directors." A number of additional film scores soon followed, but he began to attract international notice in his collaborations with director Sergio Leone. "The Dollars Trilogy"—"A Fistful of Dollars" (1964), "For a Few Dollars More" (1965) and "The Good, the Bad and the Ugly" (1966), were all released in the United States in 1967. Starring Clint Eastwood as "The Man With No Name" these movies were enormous hits. Clint Eastwood, reflecting on the impact of the films, explained, "The Leone films changed the style, the approach to Westerns in Hollywood. They made the violence and the shooting aspect a little more larger than life, and they had great music and completely new types of scores." Asked by The Guardian in 2006 why "A Fistful of Dollars" had made such an impact, Morricone sheepishly said: "I don't know. It's the worst film Leone made and the worst score I wrote."
Ennio Morricone: Sergio Leone Suite (Yo-Yo Ma, cello; Roma Sinfonietta; Ennio Morricone, cond.)


While the "Spaghetti Westerns" became his musical calling cards, Morricone continued to score a great many popular films over the 40 years of his career. He sometimes scored 20 or more films a year, often working only from a script before actually viewing any of the screening. He heard the music in his mind, he said, and wrote it in pencil on score paper for all orchestra parts. Among numerous others, this includes Édouard Molinaro's "La Cage aux Folles" (1978), John Carpenter's "The Thing" (1982), Brian De Palma's "The Untouchables" (1987), Roman Polanski's "Frantic" (1988), Giuseppe Tornatore's "Cinema Paradiso" (1988), Wolfgang Petersen's "In the Line of Fire" (1993), and Quentin Tarantino's "The Hateful Eight" (2015). Morricone received countless commendations and international awards, yet he never learned to speak English and he never left Rome to compose. For years he refused to take an airplane, although eventually he flew all over the world to conduct orchestras performing his own compositions. Morricone's music draws on an extraordinary diverse array of style, with some critics suggesting, "Morricone is not just the finest soundtrack composer, but the most important contemporary composer of any sort." Morricone remained modest about his achievements. "The notion that I am a composer who writes a lot of things is true on one hand and not true on the other hand," he said. "Maybe my time is better organized than many other people's. But compared to classical composers like Bach, Frescobaldi, Palestrina or Mozart, I would define myself as unemployed."