She's stood in for Martha Argerich, Evgeny Kissin, Radu Lupu and Murray Perahia, and performs with some of the greatest orchestras and conductors, who praise her playfulness and unpretentiousness, coupled with artistic maturity, commitment, excellent preparation and professionalism.
Ravel: Piano Concert in G major – II. Adagio assai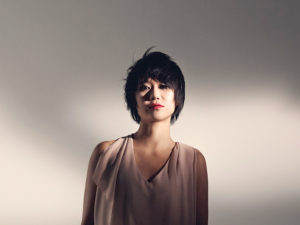 Elfin in statue, her technical and artistic prowess and pianistic power belie her petite frame, often clad in dazzling, eye-catching attire and spiky stiletto shoes (which have most of us who play the piano seriously wondering how on earth she manages to pedal!). Critics have commented on the slinky dresses and short skirts perhaps more than her playing, which is unfair and misguided (and occasionally sexist). By her own admission, she's a young woman who loves fashion and clothes, and the way she dresses reflects and influences how she plays because she sees performing as a complete work of art which combines the aural and the visual. Individuality and personal style are the hallmarks of this tiny piano powerhouse who wows audiences the world over, a fearless, confident artist who plays the most challenging repertoire with consummate bravura and élan.
Stravinsky: 3 Movements from Petrushka – No. 1. Danse russe (Russian Dance)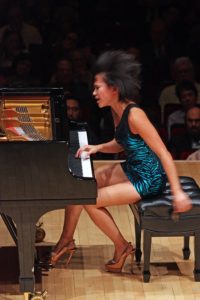 Born in Beijing in 1987 to a family of musicians, she began her formal musical studies at the Beijing Conservatory at the age of nine, moving to Canada in her teens and thence to the US and the Curtis Institute of Music in Philadelphia, where she studied with acclaimed teacher Gary Graffman (who also taught Lang Lang). "She didn't play like a prodigy. She played like a finished artist" says Graffman of the then 14-year-old Yuja. And her own affection and respect for her teacher and mentor is clear: "He has made me a better human, not just a better musician."
Scarlatti: Keyboard Sonata in F Minor, K.466/L.118/P.501
Hailed as a prodigy, it was her performance in Boston in 2007 that brought her to the attention of the international music scene. The 20-year-old Wang stood in at the last minute for the legendary but "tired" Martha Argerich, and played a sensational Tchaikovsky First Piano Concerto which had the crowd on its feet, roaring with appreciation. She became an overnight sensation and a recording with DG followed. Since then her star has continued to rise and glitter. She's something of a rarity in the classical music world – an artist whose recordings actually sell and whose concerts sell out.
In some ways she's Argerich's natural successor, with her fondness for the more challenging corners of the repertoire whose thunderous rapid double octaves or vertiginous leaps hold no fear for her. She can certainly play big repertoire in a big way! She also shares Argerich's daring virtuosity and charisma. But unlike Argerich, who has largely been playing the same repertoire for half a century, Wang has a curiosity and an appetite for everything, undoubtedly supported by her remarkable memory and speed of learning. Nor is she afraid of programming the titans of the repertoire – the two Brahms Concertos, the Bartók 2, Prokofiev 2 and Rachmaninoff 3, as well as the solo piano version of Ravel's La Valse and both books of Brahms' Paganini Variations.
"…ever since I was a child…I always preferred to start with the biggest, most difficult work" – Yuja Wang
And what of her playing? She is drawn to the "hot blooded" composers – Tchaikovsky, Rachmaninoff and Prokofiev – but she also plays Mozart, and in addition to the impressive virtuosity, the speed and strength, she plays with a brilliance, depth, and expressive lightness, highlighting inner voices, intricate details and harmonic shadings. She has grace, naturalness and good taste, which, coupled with her superb technical facility and musical maturity, create concerts and recordings which are memorable and moving, thrilling and enthralling.