A group of classical musicians performing together is called an ensemble. Some ensembles consist entirely of instrumentalists, while others consist of singers. Of course, there are also ensembles where instrumentalists and singers perform together. A variety of ensembles appear in both popular and classical music, and these types of groups have distinct names. So, let us explore different groups of classical musicians in Western classical music.
Symphony Orchestra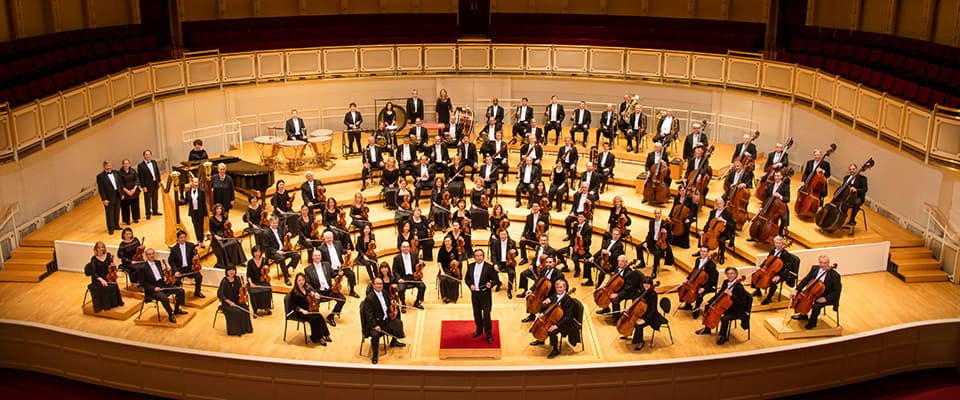 The most easily recognized group of classical musicians in Western classical music is the symphony orchestra. It is a large instrumental ensemble that combines instruments from different instrumental families, including strings, woodwinds, brass instruments, and percussion. On occasion, instruments such as the piano, harpsichord, or others feature as soloists. The number of total players in a symphony orchestra varies, but it can range anywhere from fifty to well over one hundred musicians.
Symphony orchestras are led by a conductor, and the leader of the first violin section is commonly called the concertmaster. A very good example of this kind of ensemble can be heard in Beethoven's famous "Pastoral" Symphony.
Ludwig van Beethoven: Symphony No. 6 in F major, Op. 68 "Pastoral"
Chamber Music Ensembles
Smaller groups of classical musicians in Western classical music are called chamber music ensembles. Music composed for smaller groups of instruments traditionally could fit in a palace chamber or a large room, hence the name chamber music. The number of performing musicians generally describes these ensembles, so let us explore some popular groups of classical musicians.
String Quartet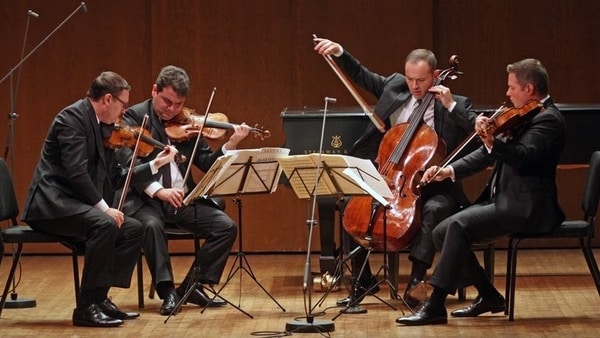 One of the most important chamber music ensembles in Western classical music is the string quartet. This type of ensemble developed in the 18th century and music is still written for this particular combination today. This group of classical musicians consists of two violinists, a violist, and a cellist. It is interesting that a string quartet essentially not only defines the number of players but also the number and styles of the individual four movements. The string quartet is the most democratic and intimate of all musical genres, as it is often described as a musical conversation among friends. And Joseph Haydn is called the father of the string quartet.
Joseph Haydn: String Quartet in D Major, Op. 71, No. 2
Wind Quartet
A group of classical musicians consisting of four members is highly popular in Western classical music. And when the four string instruments are exchanged for brass instruments, the resulting ensemble is called a brass quartet and features trumpet, trombone, tuba, and horn. In addition, there are wind ensembles consisting of soprano saxophone, alto saxophone, tenor saxophone, and baritone saxophone, aptly named a saxophone quartet. However, the most popular wind grouping is undoubtedly the woodwind quartet, an ensemble featuring a flute, an oboe, a clarinet, and a bassoon. Please have a listen to the delightful woodwind quartet by the French composer Jean Françaix.
Jean Françaix: Woodwind Quartet (1933)
Quintet
A quintet of classical musicians, as the name implies, consists of five instrumentalists. A very popular grouping is the string quintet, which is essentially an extension of the string quartet. As the string quartet features two violins, a viola, and a cello, string quintet adds a fifth string instrument, usually a second viola, or a second cello, and occasionally a double bass. However, the most popular quintet arrangements feature a piano and four other instruments. The composer Robert Schumann came up with this grouping by pairing the piano with a string quartet. Franz Schubert wrote one of the most famous piano quintets of the 19th century, a work nicknamed after a fish. The work prominently features the piano, but Schubert substitutes a double bass for the cello in the string quartet ensemble.
Franz Schubert: Piano Quintet in A Major, D. 667 "Trout"
Clarinet Quintet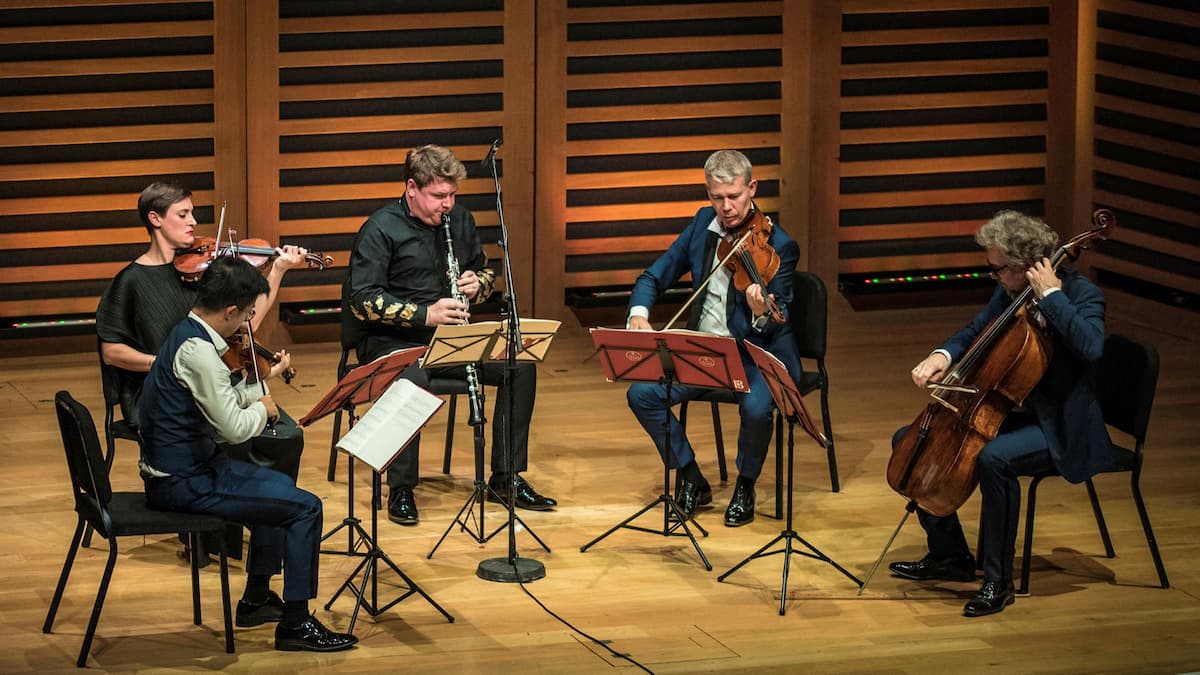 When the clarinet is added to a string quartet, the resulting chamber music ensemble is called a clarinet quintet. Wolfgang Amadeus Mozart undoubtedly composed the most famous clarinet quintet. The clarinet had only recently been invented and represented a revolutionary development in instrumental design. Mozart was drawn to the lush and luxurious sounds of the clarinet by listening to performances by the clarinet virtuoso Anton Stadler. The clarinet became Mozart's favorite instrument because it "could imitate the human voice so deceptively.
Wolfgang Amadeus Mozart: Clarinet Quintet in A Major, K. 581
Piano Trio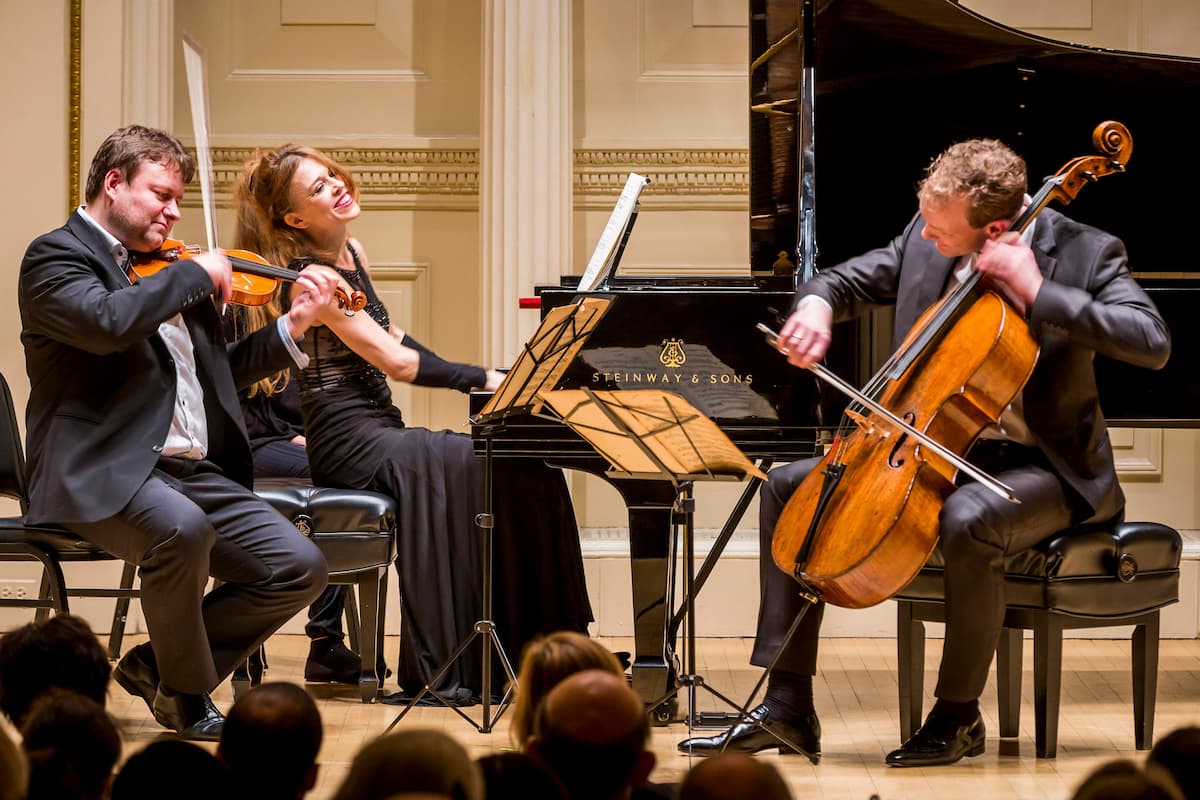 Usually, the piano trio consists of a group of three instruments, including the piano, the violin, and the cello. To be sure, the piano trio is probably the most widely cultivated form of chamber music, second only to the string quartet. That particular grouping developed very slowly because the piano was also slow in development. Once the piano had become an equal partner to the strings, composers started to experiment with blending and balancing the ensemble. For me personally, the piano trio is one of the crowning achievements of chamber music, and I representatively selected the piano trio Op. 8 by Johannes Brahms.
Johannes Brahms: Piano Trio No. 1 in B Major, Op. 8
Piano Duo/Piano Duet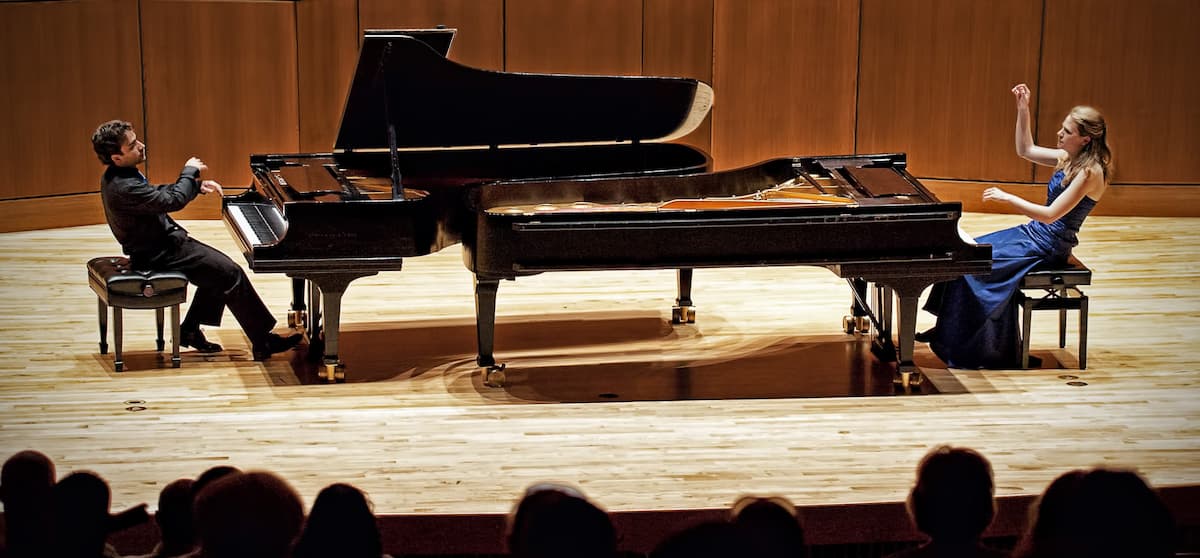 The smallest group of classical musicians is called a duo or sometimes duet. It involves two performers who share equal importance throughout the piece. Frequently, this ensemble involves two singers or two pianists. When two pianists perform together on the same piano, it is called a "piano duet," or "music for piano four hands." However, when two pianists on two separate pianos perform a piece of music, it is called a "piano duo." The term duo can loosely be applied to countless compositions featuring two performers, although they frequently carry different titles. A violin sonata by Debussy can be called a duo, as can Rachmaninoff's Suite Op. 17.
Sergei Rachmaninoff: Suite No. 2, Op. 17
String Sextet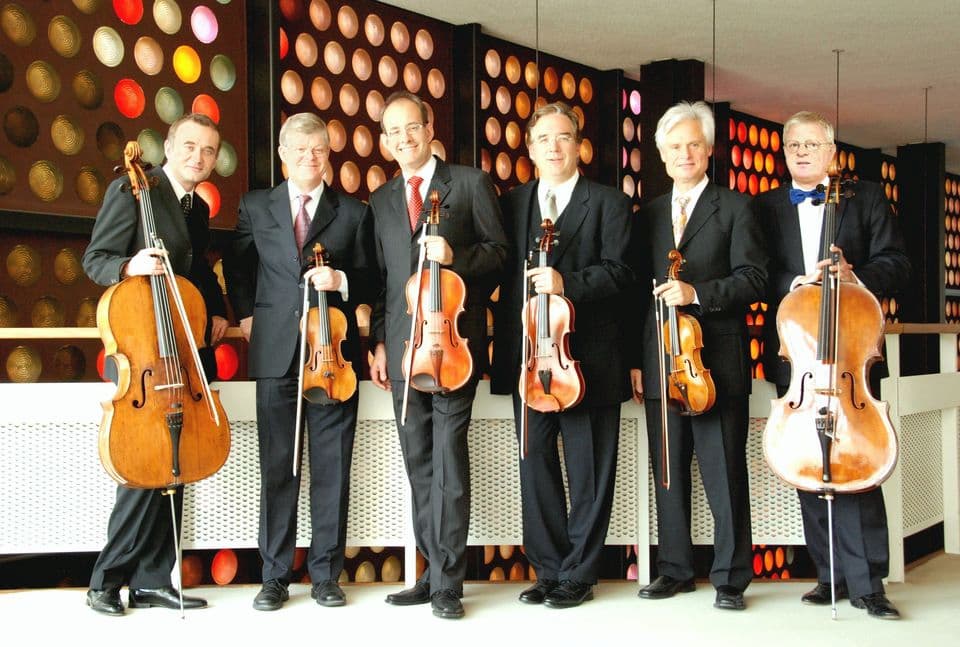 A string sextet is a composition written for six string instruments. The most common ensemble consists of two violins, two violas, and two cellos. And that is precisely the instrumentation that Pyotr Ilyich Tchaikovsky used for his string sextet in D minor, Op. 70. The work is dedicated to the St Petersburg Chamber Music Society and scored in the traditional four-movement form. However, this composition is better known under its nickname "Souvenir de Florence," as the composer drafted one of the work's principal themes during a visit to Florence, Italy. The work was revised between December 1891 and January 1892, before being premiered in 1892. It is the only string sextet by the composer.
Pyotr Ilyich Tchaikovsky: String Sextet in D minor, Op. 70 "Souvenir de Florence"
Septet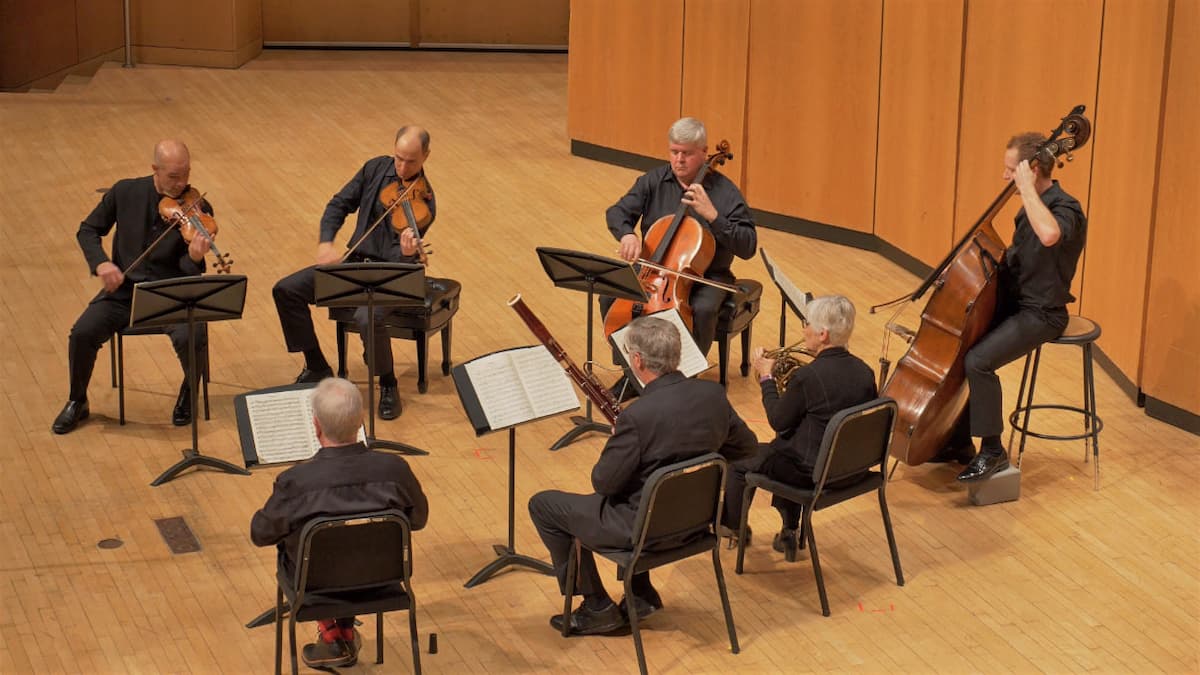 When it comes to seven musicians performing together, we are talking about a grouping called a septet. It is a fairly common ensemble in Jazz, but in classical Western music, it was Beethoven leading the way. He composed a very popular septet for clarinet, bassoon, horn, violin, cello, and double bass in 1799, and this particular grouping inspired many imitators and followers. Fast-forward to the 20th century and composers came up with very imaginative instrumental combinations. Maurice Ravel, for example, composed his Introduction and Allegro for harp, flute, clarinet and string quartet. That as you can easily hear, is a very delicious combination.
Maurice Ravel: Introduction and Allegro, (Septet)
Octet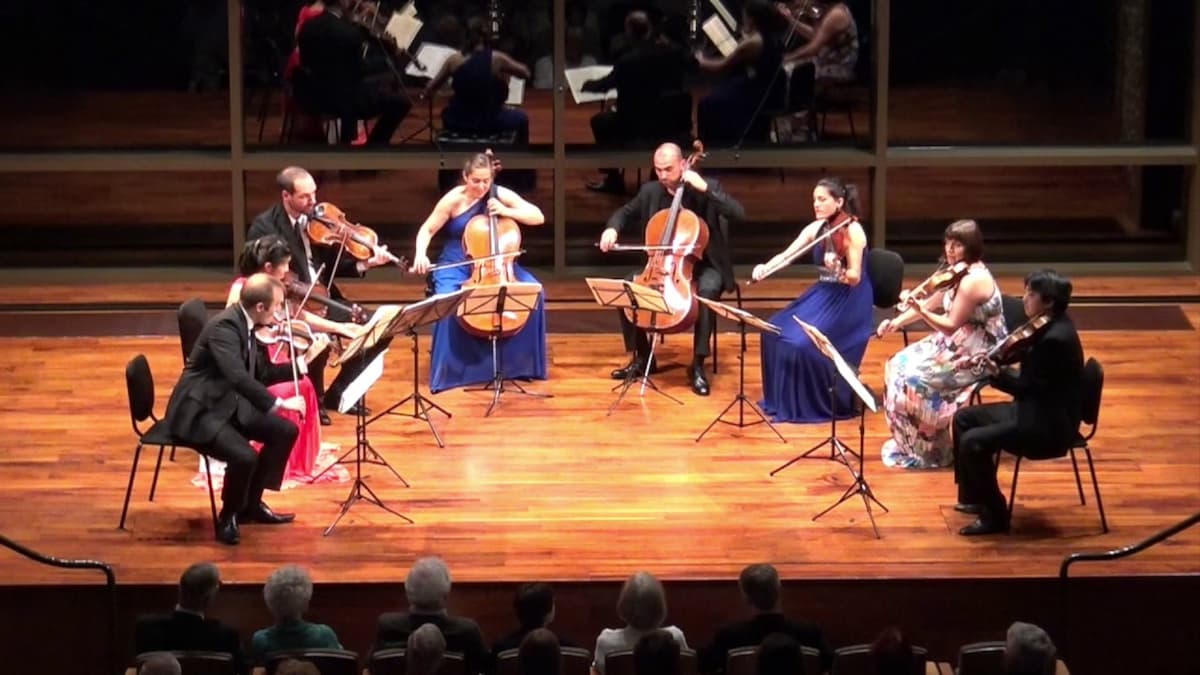 I want to conclude this blog on what a group of classical musicians is called by looking at one of the largest groupings in chamber music. The octet, as the name implies, is a musical ensemble consisting of eight instruments or voices. Once again, the featured instruments can vary widely, from wind octets, cello octets, a combination of wind and string octets, and the always-popular string octet. Felix Mendelssohn wrote one of the most famous octets in Western classical music at the age of 16. It is a typical string octet featuring four violins, two violas, and two cellos. With this work, Mendelssohn created a new chamber music genre, and a scholar wrote, "Its brilliance and perfection make it one of the miracles of 19th century music." I hope you enjoyed our little survey of various ensembles and the beautiful music. Did I at least start to answer your question as to what a group of classical musicians is called?
For more of the best in classical music, sign up for our E-Newsletter
Felix Mendelssohn: Octet in E-flat Major, Op. 20