It sits on the right bank of the Seine in Paris' 1st arrondissement and was built on the orders of Napoleon III's chief architect, Baron Haussmann. The Théâtre du Châtelet towers above the busy Place du Châtelet, directly opposite its twin, Théâtre de la Ville. Its construction was part of the great transformation of the French capital during the Second Empire, and Haussmann destroyed a small theater and ordered that the Théâtre du Châtelet, then called the "Cirque Impérial," be constructed as a replacement. Designed by Gabriel Davioud, the interior was designed by Eugène Carrières and Armand Cambon, with the curtain created by Charles Cambon. Actually, the theatre was built for an equestrian company and originally seated about 2, 200 people. It opened in 1862 with programs centered on military works and fairy plays, and it famously featured an extended production of Jules Verne's "Around the World in 80 Days," which ran for 2,195 performances over 64 years.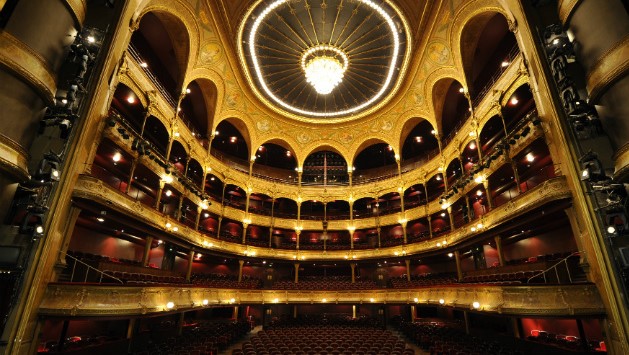 The house briefly closed during the Franco-Prussian War in 1870/71, but upon reopening it staged dramas and vaudeville productions, including operettas, variety and ballet performances and popular music concerts. At one point, it was even used as a cinema. But then it attracted the attention of Sergei Diaghilev and his "Ballets Russes." As early as 1906 Diaghilev had organized the groundbreaking Exhibition of Russian Art in Paris, and during the 1907/08 seasons he produced Russian music at the Paris Opéra. The Ballets Russes completely reimaged the world of performing dance, and in 1909 Diaghilev presented his first Paris "Saison Russe" exclusively devoted to ballet at the Théâtre du Châtelet. The vast majority of the productions that year were choreographed by Mikhail Fokine, and included the Polovtsian Dances from Prince Igor, Les Sylphides, and Cléopâtre with music by Arensky, Taneyev, Rimsky-Korsakov, Glinka, Glazunov, Mussorgsky, and Tcherepnin.
Ballet Russes/Mikhail Fokine: Cléopâtre
That initial season proved highly successful, and over the next 20 years the "Ballets Russes" became a sensation not only in Paris and Europe, but in North and South America as well. And Diaghilev and his troupe kept returning to the Théâtre du Châtelet. Diaghilev had started to commission works from a long list of eminent composers, and that included his compatriot Igor Stravinsky. And one of the most stunning collaborations produced Petrushka, with music by Stravinsky, and a libretto by Alexandre Benois, who also designed the sets and costumes. Mikhail Fokine choreographed the ballet and it received its premiere performance by the Ballets Russes at the Théâtre du Châtelet on 13 June 1911. Over time, the venue played host to the dancers Vaslav Nijinsky and Anna Pavlova, and it welcomed the composers Debussy, Ravel, Tchaikovsky, Mahler and Richard Strauss. The most spectacular premiere, however, surely belong to Jean Cocteau's Parade, which was first given at the Théâtre du Châtelet on 18 May 1917. It brought together the talents of Picasso, Satie, Cocteau and Massine under the direction of Serge Diaghilev for a 20-minute ballet in which three circus troupes are trying to convince the audience to favor their show.
Erik Satie: Parade
In time, the theatre underwent a couple of major renovations, and in 1980 it reopened under the name Théâtre Musical de Paris. It also signaled a shift in focus, as the venue moved away from classical music and opera to focus on musical theatre. In fact, it eventually became colloquially known as Broadway-sur-Seine for its staging of classic Broadway musicals, including "Kiss me, Kate," "Singin' in the Rain," "An American in Paris," and "42nd Street." The theatre reverted to the Théâtre du Châtelet name in 1989, and after a major facelift in 2019—the theatre had been deemed a fire and safety risk—the venue once more opened to the public. Current artistic management is interested in "inventing new popular forms with pop stars or classical composers or choreographers, whether on stage or on the Internet." This shift to a more activist theatre is designed to bring more visitors to the venue; time will tell if this scheme will have its desired effect.
For more of the best in classical music, sign up to our E-Newsletter
Made in Châtelet: 42nd Street