Anton Stepanovich Arensky (1861-1906), born in Novgorod 160 years ago, never considered himself a musical rebel. He was not particularly interested in musical folklore or Russian musical identity, but rather combined his native musical influences with a much more cosmopolitan compositional style. Accused of lacking a distinctive personal style, Rimsky-Korsakov famously said, "in his youth Arensky did not escape some influence from me; later the influence came from Tchaikovsky. He will quickly be forgotten." Undeniably, Arensky had an easy gift for melody, and some of his subtle musical nuances have been damningly described as being "too pretty." Arensky grew up in a highly musical family, with his father a keen cellist, and his mother an excellent pianist who gave him first music lessons. By the age of nine he had already composed some songs and piano pieces, and when the family moved to St Petersburg, he entered the Conservatory studying composition with Rimsky-Korsakov.
Anton Arensky: Piano Concerto on F minor, Op. 2 (Konstantin Scherbakov, piano; Russian Philharmonic Orchestra; Dmitry Yablonsky, cond.)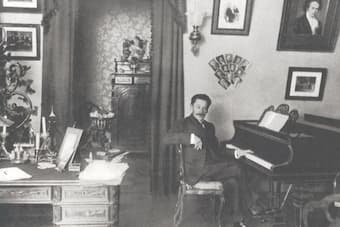 He quickly became part of the famous Rimsky-Korsakov circle, which also included Glazunov, Ippolitov-Ivanov, Lyadov and Felix Blumenfeld. Arensky's talent was noticed immediately, and he produced a substantial number of early compositions. He graduated with a Gold Medal in piano and composition in 1882. Arensky was only twenty-one when he was hired at the Moscow Conservatory to teach courses in composition, harmony, and instrumentation. He became colleagues with the famed Tchaikovsky in the fields of harmony and composition, and Tchaikovsky became an important mentor. On occasion, Tchaikovsky would sharply criticize Arensky's music, but he nevertheless tried to have his works programmed. According to Tchaikovsky, "Arensky needed motivation as he was in a state of depression and dismay." He later added, "where there is a space for all Russian composers, there shall be one for Arensky." Initially, Rimsky-Korsakov joined the cause in promoting Arensky and even called him "our well-known talented composer."
Anton Arensky: Variations on a Theme of Tchaikovsky, Op. 35a (Camerata Tchaikovsky; Yuri Zhislin, cond.)


During his tenure at the Moscow Conservatory, Arensky was highly respected as a teacher and counted among his students the likes of Nikolai Medtner, Alexander Gretchaninov, Sergei Rachmaninoff and Alexander Scriabin. Arensky is also remembered because of his strong antipathy towards Scriabin, refusing to award him a Gold Medal at graduation time. No doubt, his negative attitude towards Scriabin contributed to Arensky's posthumous reputation. As a composer, Arensky produced a number of operas, symphonic and concertante works as well as music for chamber groups and piano solo. The Russian novelist, writer and social critic Leo Tolstoy suggested, "among the new composers, he is the best; he is simple and melodious." Arensky also was a member of the Council of the Synod of Church Music in Moscow, and he conducted the Russian Choral Society.
Anton Arensky: Cantata on the 10th Anniversary of the Coronation, Op. 26 (Tatyana Sharova, soprano; Andrei Baturkin, baritone; Russian State Symphonic Cappella; Russian State Symphony Orchestra; Valéry Polyansky, cond.)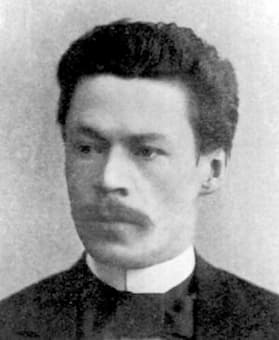 He resigned from the Conservatory in 1895 and was asked to replace Balakirev as director of the imperial chapel in St Petersburg. Arensky returned to his home city and increasingly focused on conducting. He undertook occasional national and international tours, but succumbed to tuberculosis prematurely in 1905 as the result of decades of hard living and overindulgence. Arensky was described by Mikhail Bukinik, a fellow student together with Rachmaninoff, as "mobile, nervous, with a wry smile on his clever, half Tartar face, always joking or snarling; all feared his laughter and adored his talent." In his later years, he was "a strange man, drunken, debauched, flighty and unpredictably irascible, unreliable in meeting commitments or commissions… his life had run a dissipated course between wine and card-playing." Today, Arensky is frequently considered "a minor representative of the Russian cosmopolitan school," and only a small sample of his compositions has maintained a place on contemporary concert programs. To be fair, Arensky did not develop a strong musical personality, but his incorporation of various stylistic traits and influences ranging from Chopin, Rimsky-Korsakov to Tchaikovsky, have produced some finely wrought and delightful compositions.
For more of the best in classical music, sign up to our E-Newsletter
Anton Arensky: Piano Trio No. 1 in D minor (Beaux Arts Trio)