For his admirers, Ivo Pogorelich "has broadened the horizons of piano literature with his evocative interpretations and refined musical taste." Others suggest that he is capable of producing a vast tonal palette, although his interpretations can sometimes be marred by eccentricities of tempo and rubato. Pogorelich in turn, considers himself "no more than a servant of the composer, getting a lot of information from Beethoven or Chopin. Even if they do not live anymore, they send it to me, and I am able to reflect it."
Pogorelich does not receive this kind of information from the score, which he considers a dead part of a library, and not from the instrument. Instead, "I have to receive the information from myself." As he explained in an interview, "I think I am capable of finding something in it if it is Beethoven, for I am privileged to stand by its tradition. Pupils become teachers, have students, and if you look back, I'm number 7 in the line to Beethoven, in the direct line! Number 5 even in the direct line of Franz Liszt! Like a certificate, I carry this pedigree in front of me. Mine even goes back to Bach! At least I am number 12 in that line."
Ivo Pogorelich Plays Bach and Schumann
Ivo Pogorelich was born on 20 October 1958 in Belgrade, Yugoslavia, to a Croatian father and a Serbian mother. He started his musical education at the age of seven and gave his solo debut at the age of ten. He studied at the Vojislav Vučković Music School in Belgrade until the age of 12 and was then invited to further his piano studies at the Moscow Central Special Music School with Evgeny Tiamkin. Subsequently, he studied with Vera Gornostayeva and Yevgeny Malinin at the Moscow Conservatory.
In 1976, Pogorelich met the prominent Georgian pianist and pedagogue, Alisa Kezeradze. Kezeradze taught him the basics of the Western tradition passed on by the Russian pianist school, essentially anointing him in the tradition of the Liszt-Siloti school. According to Pogorelich, Kezeradze taught him "Technical perfection as something natural. Second, an insight into the development of the piano sound, as perfected by the pianist-composers of the late 19th and early 20th centuries, composers who understood the piano both as a human voice… and as an orchestra with which they could produce a variety of colors. Third, I learned how to use every aspect of our new instruments, which are much richer in sound. Fourth, the importance of differentiation."
Ivo Pogorelich Plays Prokofiev's Piano Concerto No. 3, Op. 26
Pogorelich and Kezeradze were married in 1980, and Pogorelich achieved a series of professional successes in the mid-seventies when he won a state competition in Zagreb. He quickly followed up with a recording of the works of Debussy, Prokofiev, and Kelemen, and he toured the US with the Dubrovnik Festival Orchestra in 1978. In the same year, he won the Casagrande Competition in Terni, Italy, and added first prize at the 14th International Piano Competition in Montreal in 1980.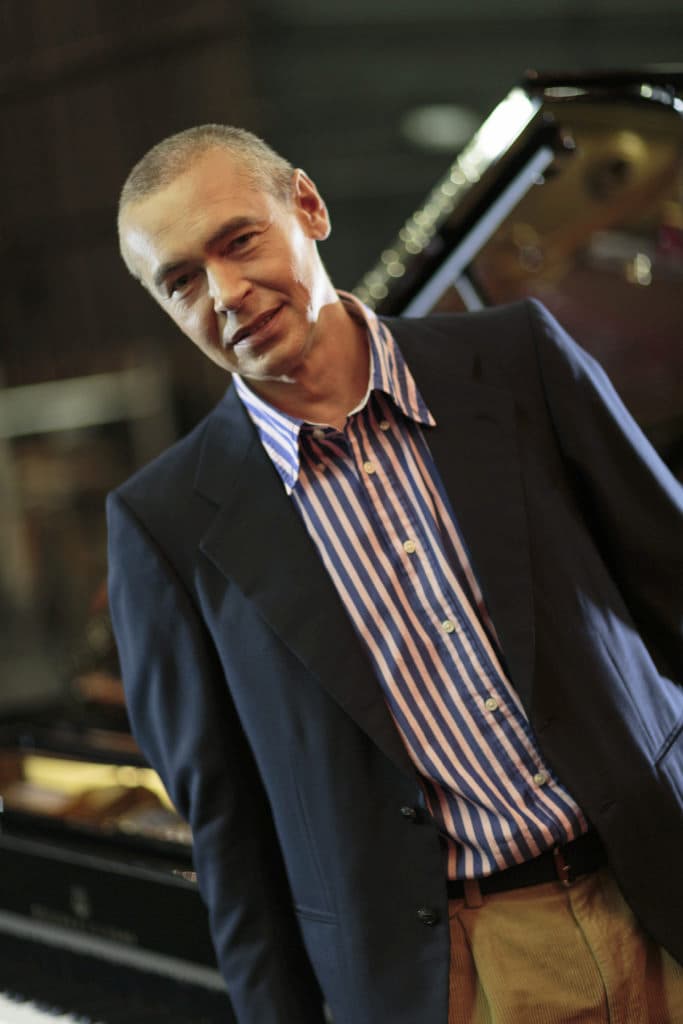 However, he really came to international attention when he participated in the 10th anniversary edition of the Chopin competition in Warsaw. He entered as a young pianist, and was quickly labeled arrogant "for his unusual attire, chewing gum in public and during interviews, and for his demonic playing." Louis Kentner, a laureate from the 1932 Chopin Competition, resigned after the first round, explaining to the chair of the jury "if people like Pogorelich make it to the second stage, I cannot participate in the work of the jury." In the event, Pogorelich was eliminated from the competition before the final stage. And when Martha Argerich proclaimed Pogorelich a genius and quit the jury in an unprecedented act of protest, the controversy got properly started.
Ivo Pogorelich Plays Chopin's Piano Sonata No. 2 in B-flat minor, Op. 35
There can be no doubt that the Chopin competition was fixed, as "the Soviet Bloc authorities had decided months before the competition that it was politically necessary to have a North Vietnamese winner. Pogorelich explains, "My decision to participate was not at all welcome. I was told I should wait a year, for the Tchaikovsky competition, when I would have the first prize guaranteed." The competition scandal was the beginning of a distinguished career, and Pogorelich quickly gained recognition as a pianist of exceptional capacities and "contemporary spirit."
For Pogorelich, interpretation is a question of reading the score. "We can all go to a library and check out the same book," he explains. "You will read from this book what is important to you, and I will read something completely different, which in turn is important to me. How one reads and interprets the music has to do with previous education, also with instrumental power, but above all with the preparation at school. Some of us were lucky enough to have been influenced by other musicians in our childhood and to have been given knowledge. The question of reading a page of music is a question of interpretation that applies to today and not in the past."
For more of the best in classical music, sign up to our E-Newsletter
Ivo Pogorelich Plays Ravel's Gaspard de la Nuit