Armed with consummate technical skills, boundless imagination and near-mystical eloquence, American pianist Murray Perahia's "artistry connects with their freedom of expression and nobility of sound." Widely considered one of the greatest living pianists, "his interpretations project above all a compelling blend of deep thought, expressive spontaneity and lyrical concentration." He explains, "Music to me is always singing, whatever it is. Whether it's Bach or Beethoven, all the voices are singing. It's not only one voice. Of course, one voice is prominent, but all the voices help sing, the middle voice, the bottom voice, all of them are joining in, hopefully, singing. That way you avoid these kind of percussive performances that I think destroy the life of the music."
Murray Perahia Plays Beethoven's Piano Concerto No. 4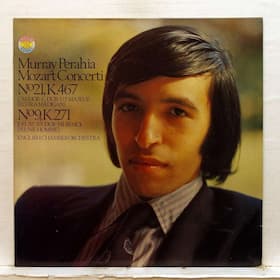 Perahia's pianism, recognised as exceptional since his student days, has matured over more than four decades to deliver unique insights into music's spiritual qualities, its power to communicate where words end. "I love to play the piano," he says. "I love the instrument. I think it has a series of secrets that we have to find out from it." Perahia was born on 19 April 1947 in the Bronx borough of New York City to a family of Sephardi Jewish origin. His family originally hailed from Thessaloniki, Greece, with his father moving to the United States in 1935. His first introduction to music was opera, and he started playing the piano at the age of four and received formative lessons from the pianist and author Jeannette Haien. According to Perahia, however, "I didn't start practicing seriously until the age of 15." Perahia was admitted to Mannes College at the age of 17, where he studied keyboard, conducting, and composition with his teacher and mentor Mieczysław Horszowski.
J.S. Bach: French Suite No. 1 in D Minor, BWV 812 (Murray Perahia, piano)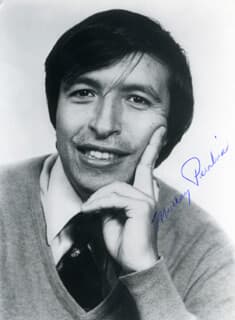 During the summer, he attended the Marlboro Music School and Festival, where he studied with Rudolf Serkin, Alexander Schneider, and Pablo Casals. In fact, Serkin immediately made Perahia his assistant at the Curtis Institute in Philadelphia. He won the Young Concert Artists International Auditions in 1965, and he made his debut with the New York Philharmonic Orchestra in March 1972. In the same year he achieved his career breakthrough by being the first North American to win first prize at the Leeds Piano Competition. An anecdote relates that Horszowski phoned the chairperson of the competition and announced that he would enter the winner. Apparently, "other American contestants had withdrawn their applications upon hearing that Perahia would be competing." He worked closely with Benjamin Britten and Peter Pears at the Aldeburgh Festival, and became co-artistic director in 1981. Perahia's artistic development gained from the advice and guidance he received during the 1980s from Vladimir Horowitz. The legendary pianist, who played for Perahia on the night before his death, has remained an inspiration ever since.
Wolfgang Amadeus Mozart: Piano Concerto No. 21 in C Major, K. 467 (Murray Perahia, piano; English Chamber Orchestra; Murray Perahia, cond.)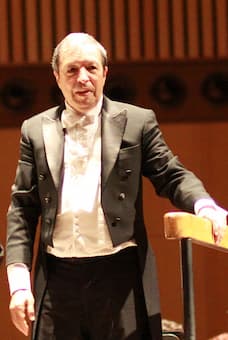 Perahia's first major recording project saw him record the complete piano concertos by Wolfgang Amadeus Mozart with the English Chamber Orchestra, followed by a complete recording of the Beethoven piano concertos with Bernard Haitink and the Concertgebouw. Perahia freely admits that he has not yet discovered the secret to playing Mozart. "Knowing his operas helps a lot because it's very dramatic music. Every note counts… But they are also entertainment. In every Mozart piano concerto there is a virtuoso element. There are virtuoso passages; there is a thrill. It's very hard to separate it because the surface has to be entertaining. I would say the surface has to be sensual, to a certain extent… The music has to appeal to many different levels. It's not just the spiritual, and it's not just the intellectual, and it's not just the emotional."
Franz Schubert: Piano Sonata No. 20 in A Major, D. 959 (Murray Perahia, piano)

In 1990, Perahia suffered a cut to his right thumb, which became septic. He took antibiotics for this condition, but they affected his health. And in 1992, his career was threatened by a bone abnormality in his hand causing inflammation, requiring several years away from the keyboard, and a series of operations. During these difficult times he turned to the music of Johann Sebastian Bach and produced a series of award-winning recordings. Talking about awards, Perahia has received countless commendations including three Grammy Awards from a total of 18 nominations, and 9 Gramophone Awards in addition to is first and only "Piano Award."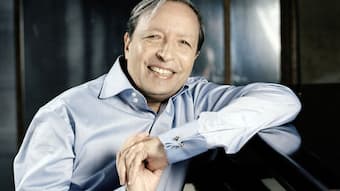 Perahia's performances offer timeless lessons in sensibility, sophistication and expressive intensity, with a performance of Beethoven's "Hammerklavier" elicited the following accolade. "Perahia threw himself into everything with a ferocious concentration… The twisted harmonies and endless melodic lines keep shifting, trying to go one way and then the next, never finding resolution or solace. For Perahia this was inescapable pain, but not to be dwelt upon. His ability to find the life in each note proved intensely moving." Perahia's extensive discography continues to grow, as "the recording process provides the chance to return to compositions, to uncover fresh ways of thinking and feeling about them, and to explore the masterworks of the keyboard repertoire at every stage in one's development," he writes. "There is something very special for me about revisiting music by composers such as Bach, Beethoven, Mozart, Schumann, Chopin and Brahms. Their inexhaustible art remains a constant source of inspiration to me."
For more of the best in classical music, sign up to our E-Newsletter
Murray Perahia Plays Schumann's Piano Concerto in A minor