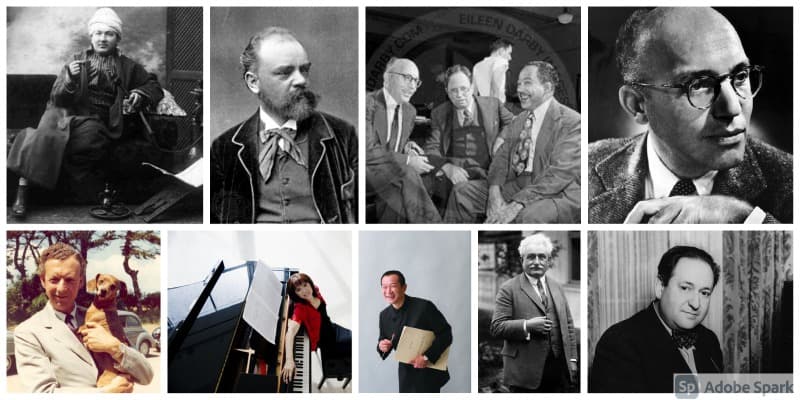 Moon festival is coming! Moon-theme music has been popular among composers and audience for centuries. This is the first of two articles introducing some 20th and 21st -century works related to the moon. Perhaps you might want to add them to your moon festival playlist!
Antonín Dvořák (1841-1904): Song to the Moon (1901) from opera Rusalka
The most performed among Dvořák's nine operas, Rusalka was his second to the last opera written in 1900. Song to the Moon (Act I) remains the most famous aria of the whole opera. It is about Rusalka, who asks the moon to reveal her love to the prince.
Leopold Godowsky (1870-1938): Borobudur in Moonlight (1922)
Borobudur in Moonlight (1922) belongs to the twelve-movement Java Suite, which was published in 1925. A world traveler, Leopold Godowsky spent four weeks in Java, where he was inspired to write the suite. Among the twelve movements, eight pieces were associated with places on Java Island, including this piece. Not only was Godowsky fascinated with the scenery there, but he was also inspired by their dances and gamelan music which he illustrated into this suite.
Kurt Weill (1900-1950): What Good Would The Moon Be from Street Scene (1946)
Kurt Weill, born in Germany and later became a U.S. citizen, was a leading opera composer in the early 20th century. While he was still in Germany, he was famous for his collaboration with Bertolt Brecht and their Threepenny Opera; Street Scene marked his success in the United States. A collaboration with Elmer Rice and Langston Hughes, Street Scene was based on the Pulitzer Prize-winning play with the same title by Rice. The story focuses on Rose, her romance with her neighbor, and the extramarital affair of her mom. What Good Would The Moon Be is sung by Rose in the first act.
Benjamin Britten (1913-1976): Four Sea Interludes: No. 3 Moonlight from Peter Grimes (1945)
Benjamin Britten: Peter Grimes – 4 Sea Interludes, Op. 33a – No. 3 Moonlight (Royal Liverpool Philharmonic Orchestra; Libor Pešek, cond.)

Peter Grimes perhaps is the most successful English opera after Purcell's Dido and Arenas. Written by English composer Benjamin Britten, he selected four interludes from the opera as an orchestral suite, Four Sea Interludes, Op.33. Moonlight belongs to the prologue from Act III of the opera. The music is unsettling in order to illustrate the mysterious discovery of the body of Grimes' second apprentice.
Leoš Janáček (1854-1928): Moon Waltz from the orchestral suite of The Excursions of Mr. Broucek to the Moon (1920)
Leoš Janáček: The Excursions of Mr. Broucek Suite, JW I/7 (arr. J. Smolka) – II. Moon Waltz (Prague Symphony Orchestra; Jiří Bělohlávek, cond.)

The Excursions of Mr. Brouček to the Moon and to the 15th Century belongs to Czech composer Leoš Janáček's fifth opera. It is a satirical opera based on Svatopluk Čech's two popular novels about Mr. Brouček and his adventures to the moon. Janáček spent nine years to complete this opera, and finally, the work was premiered in 1920 in Prague.
Tan Dun (1957-): Missing Moon from Eight Memories In Watercolor (1978)
Tan Dun: 8 Memories in Watercolor, Op. 1 – No. 1 Missing Moon (Lang Lang, piano)


Eight Memories In Watercolor was perhaps one of Tan Dun's earliest compositions. He began writing this work in 1978, a year after the Cultural Revolution was ended. That year, Tan left Hunan and started his study at the Central Conservatory of Music in Beijing. While the work was revised in 2002, it still reflects the life and the society that Tan experienced before he became a well-known worldwide composer. Originally titled Eight Sketches in Hunan Accent, this work, according to Tan, is his "diary of longing." He applies Hunan folksong to express his homesickness when he was studying in Beijing. Lang Lang premiered the entire work after the revision in 2002. Missing Moon is the first piece of the whole set.
Alexina Diane Louie (1949-): Moon from Love songs for a small planet (1994)
Alexina Louie: Love Songs for a Small Planet – II. Moon (Vancouver Chamber Choir; Erica Goodman, harp; Salvador Ferreras, percussion; Jon Washburn, cond.)


One of the most recognized Canadian composers, Alexina Diane Louie has a unique compositional style influenced by her Asian heritage and Western upbringing. Her music spans almost all genres, and it displays Louie's exploration and fascination with Chinese, Japanese, Korean, and Indonesian music and their philosophies. She has been awarded two Juno Awards, and she is the recipient of the Order of Canada (2005).
Love Songs for a Small Planet was commissioned by Vancouver Chamber Choir for the International Choral Festival in Toronto. Louie was inspired by the poetry of indigenous people, and the text of this work is the translation from Hawaiian, Fang, Bushman, and Sioux. This work is divided into three main sections with a brief opening (titled Night). Moon belongs to the second section between Sun and Earth.
Erich Korngold (1897-1957): Mond so gehst du wieder auf (Moon, You Rise Again) from Lieder des Abschieds (Songs of Farewell), Op.14
Erich Wolfgang Korngold: 4 Songs of Farewell, Op. 14 (version for voice and orchestra) – No. 3 Moon, You Rise Again (Linda Finnie, contralto; Edward Downes, cond.; BBC Philharmonic Orchestra)


An Austrian-American composer Erich Korngold was famously known as a pioneer of writing music for Hollywood movies. A child prodigy, Korngold gained success and public attention as a composer at a very early age. His Second Piano Sonata, written when he was only 13, was performed throughout Europe by Artur Schnabel. His first opera was written when he was 17, and in the 1920s, Korngold became the most performed operatic composer in German-speaking countries after Richard Strauss.
Four Lieder des Abschieds (Songs of Farewell) was written during the same period as one of his greatest operas, Die tote Stadt. Korngold portrayed the feelings of longing and sadness of the experience of the First World War. Mond so gehst du wieder auf (Moon once again you rise) is textured with rich and expressive melody. The beautiful piece later became the basis of variations in his Piano Quintet in E major (1922).
Moon inspired music is so popular that you can enjoy it any time, not just during the Moon Festival! The works introduced in this article are just a sample of moon-inspired music written after 1900, but the varieties in styles, instruments, textures and sounds certainly would not bore your ears. In my next article, I will continue to explore moon music in the 21st century.
For more of the best in classical music, sign up to our E-Newsletter