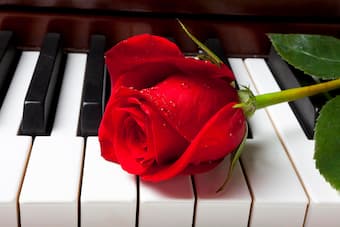 Love has long provided inspiration to writers, poets and, of course, composers. The following pieces portray love in its infinite variety – from tender intimacy to heart-stopping passion and burning desire.
Schumann: Fantasy in C, Op 17
This "love letter in music" was written by Robert Schumann for Clara Wieck, and is a piece imbued with passionate and unresolved longing, and the heart-fluttering panoply of emotions from ecstasy to agony which being in love provokes. It was written during a particularly long separation from his beloved, at a time when their future together was far from certain, and its third movement is a beautiful lyrical love song.
Robert Schumann: Fantasy in C, Op. 17 (Dénes Várjon, piano)

Liszt: Three Petrarch Sonnets
Originally conceived as songs for tenor, the piano versions of these pieces, which Liszt included in his Italian year of his Années de Pélérinage, all retain a strong sense of the sung melodic line. All three are based on Sonnets, or Canzone, by the Italian Renaissance poet Francesco Petrarca (1304-1374). They are meditations on love, specifically the poet's passionate love for Laura de Noves. In the first, Benedetto sia 'l giorno (Blessed be the day), he prays for divine blessing on the joys and sufferings of love. The second, Pace non trovo (I find no peace…) is more agitated as the poet ponders the confused state love has put him in. The third, I' vidi in terra angelici costumi (I Beheld on Earth Angelic Grace), is an ardent love poem in which the poet describes the perfect beauty and purity of his love and its effect on all of Heaven and Nature.
Franz Liszt: Années de pèlerinage, 2nd year, Italy, S161/R10b – No. 4. Sonetto 47 del Petrarca (Sonnet 47 of Petrarch) (Francesco Piemontesi, piano)

Franz Liszt: Années de pèlerinage, 2nd year, Italy, S161/R10b – No. 5. Sonetto 104 del Petrarca (Sonnet 104 of Petrarch) (Francesco Piemontesi, piano)

Franz Liszt: Années de pèlerinage, 2nd year, Italy, S161/R10b – No. 6. Sonetto 123 del Petrarca (Sonnet 123 of Petrarch) (Francesco Piemontesi, piano)

Schubert, arr. Liszt: Standchen ('Serenade')
Composed by Schubert as a lied for voice and piano in which the protagonist exhorts his lover to make him happy, Liszt's transcription retains the sung qualities of the piece with its beautiful cantabile melody, motifs from which are echoed higher in the treble.
Franz Schubert (arr. Liszt): Schwanengesang, S560/R245 – No. 7. Standchen, "Leise flehen meine lieder"

R. Strauss, arr. Reger: Morgen ('Tomorrow')
The last in a set of four songs composed in 1894, Strauss sets the text of the German love poem Morgen (Tomorrow) by the romantic poet John Henry Mackay in which the writer looks forward to the coming day spent in the company of his love. Max Reger arranged Strauss' original orchestration for solo piano in a version which is tender and intimate.
Richard Strauss: 4 Lieder, Op. 27, TrV 170: No. 4. Morgen (arr. M. Reger for piano) (Keiko Takata, piano)

Granados: Quejas ó la Maja y el Ruiseñor (Laments, or The Maiden and the Nightingale) from Goyescas
Inspired by the paintings of Goya, Quejas ó la Maja y el Ruiseñor is a fanciful conversation between a lovesick girl and nightingale, whose song is portrayed in beautiful figurations. This forlorn reverie has a hypnotic, nocturne-like quality, created through the repetition of the song line, with a changing background accompaniment.
Enrique Granados: Goyescas, Book 1 – No. 4. Quejas, o La maja y el ruisenor (Jose Menor, piano)


Mahler: Adagietto from Symphony No. 5, transcribed by Alexandre Tharaud
This movement from Mahler's fifth symphony (used in the soundtrack to the film 'Death in Venice') was written as a declaration of love to Alma, whom Mahler would soon marry. Instead of a love letter, he sent her a copy of the score. The French pianist Alexandre Tharaud has transcribed the original orchestral score for solo piano, retaining the sweeping passion and tenderness of Mahler's original declaration.
Gustav Mahler: Symphony No. 5 in C-Sharp Minor: IV. Adagietto (arr. A. Tharaud for piano)


Brahms: Intermezzo, Op. 118 No. 2
Clara Schumann inspired passion in both her husband and Johannes Brahms, who remained devoted to her throughout his life, though whether it was actually requited remains unclear. These late piano works (the Opp 117, 118 and 119) were written towards the end of Brahms' life and are highly personal, often intimate pieces. The Intermezzo in A was dedicated to Clara and is one of Brahms' best loved and most beautiful piano works.
For more of the best in classical music, sign up to our E-Newsletter
Johannes Brahms: 6 Piano Pieces, Op. 118: No. 2. Intermezzo in A Major (Ivo Pogorelich, piano)