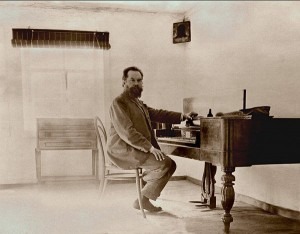 His teacher Pyotr Ilyich Tchaikovsky called Sergei Ivanovich Taneyev "the greatest master of counterpoint in Russia; I am not even sure there is his equal in the West." And his student Sergei Rachmaninov, described Taneyev as "a master composer, the most erudite musician of his time, a person of rare individuality, originality and character—a pinnacle of musical Moscow." Affectionately called the "Russian Bach," Taneyev carefully studied the music of the old master to make counterpoint his area of expertise. He would eventually publish a two-volume treaty on Imitative Counterpoint in Strict Style. Although it is numbered No. 7, the String Quartet in E-flat major is Taneyey's earliest complete and published work, composed in 1880. The composer wrote, "I am attracted by the gracefulness and completeness of Mozart's musical form, freedom and purposefulness of Bach's voice leading, and I am trying to discover the secrets of their music."

Sergei Ivanovich Taneyev: String Quartet No. 7 in E-flat Major
Taneyev composed his only piano concerto in 1876 at age 19. He had just graduated from the Conservatory, and he quickly completed the first two movements. Taneyev showed the work to Tchaikovsky, Nikolai and Anton Rubinstein, César Cui and Rimsky-Korsakov and was devastated to receive unfavorable criticism. As a result, he left the concerto unfinished, and not even sincere encouragement from Tchaikovsky was enough to urge him to completion. In spite of the harsh criticism he received—Taneyev's contemporaries thought that the "Allegro" was too long and monotonous—the "Andante" funeral march speaks with passion and expression, and clearly announced that the young composer was finding his own musical voice.

Sergei Ivanovich Taneyev: Piano Concerto in E-flat Major
Taneyev first attracted compositional attention with his musical setting of the cantata Ioann Damaskin. The work is based on an epic poem by Leo Tolstoy, who detailed the life of the 7th-century writer and poet John of Damascus. Both the Catholic and Greek Churches held his most important and best-known work, the Fountain of Wisdom in the highest esteem. Taneyev uses excerpts from the eighth chapter of Tolstoy's poem for his musical setting. Similar to Beethoven's compositional process, he developed proposed themes and contrapuntal and thematic combinations in a number of sketchbooks. He explained to Tchaikovsky, "the contrapuntal method of composition does not make music dry and boring, but contrapuntal focuses and harmonic intricacies can fully serve artistic aims."

Sergei Ivanovich Taneyev: Ioann Damaskin
The Sonata for Violin and Piano dates from 1911 and is subtitled "of medium difficulty." Influenced by Schumann, Brahms and the early Beethoven violin sonatas, the work is symptomatic of Taneyev's mature compositional style. Exuding a sense of restraint, it dispatches with all unnecessary impassioned outbursts and excessive displays of virtuosity. Rather, it transports the listener into a world of detached contemplation and emotional restriction. Three out of four movements end in pianissimo, "as if the composer's internal thoughts vanished into thin air after a peaceful meditation." It is a highly lyrical composition that has the confidence to end quietly.

Sergei Ivanovich Taneyev: Violin Sonata in A minor
Please join us next time, when we take a closer listen to Taneyev's chamber music, vocal scores and his finest achievement in the symphonic genre.