"Paganini of the Organ"


Marcel Dupré (1886-1971), who passed away 50 years ago, was one of the greatest organists of all time. He had complete technical command over his instrument, and his brilliant technique accentuated his extraordinary talents as an improviser. But what is more, Dupré was blessed with a prodigious memory, which allowed him to play the complete works of Bach in 10 concerts entirely from memory. Marcel Dupré was born into a highly musical family. His father was organist in Rouen and his mother a pianist. Marcel was a child prodigy, and he first received instructions from his father. He played his first public concert at the age of 10, and at 12 he became organist at St. Vivien in Rouen. Since his father was good friends with the great organ builder Aristide Cavaillé-Coll, a dedicated organ was installed in the family house. By 1902, Dupré had entered the Paris Conservatoire to study piano with Louis Diémer, organ with Alexandre Guilmant and Louis Vierne, and fugue with Charles-Marie Widor. He won first prizes in all three disciplines, and added the Prix de Rome for his cantata Psyché in 1914.
Marcel Dupré: Prelude and Fugue G minor, Op. 7, No. 3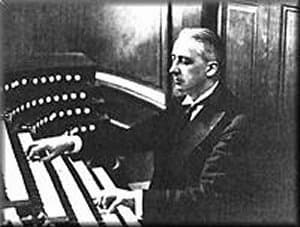 Dupré became assistant to Widor at St. Sulpice, and he substituted for Vierne at Notre-Dame. Sponsored by the John Wanamaker Department Store in Philadelphia, Dupré embarked on his first American tour in 1921. He reports, "North America presents the organist with a treasure trove of experiences and opportunity. There is much to be learned there about different kinds of organ installation, the instrument's evolution, and trends in its construction… The visitor is immediately struck by the number of churches scattered about the land. In New York City alone, I count some 1,030 parishes… But what is perhaps most striking is what we find in university and colleges; concert halls everywhere… This gives young organists a platform."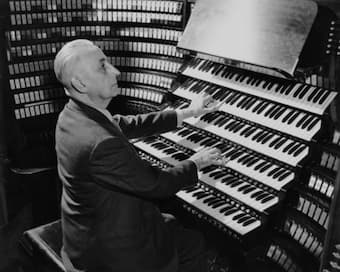 In turn, Dupré was enthusiastically received, and his improvisations became legendary, as he was able "to take given themes and spontaneously weave whole symphonies around them, often with elaborate contrapuntal devices." He was certainly inspired by the sound qualities of the giant organs he encountered in America, "as the massed effect and depth of the sound produced by these instruments is astonishing… Every rank does have its own characteristic effect… think of a great box of pastels, where each color contributes its own shade and hue to the whole spectrum." In all, Dupré performed more than 2,000 organ recitals throughout the United States, Canada, Europe and Australia.
Marcel Dupré: Le Chemin de la Croix (The Stations of the Cross), Op. 29 (Friedhelm Flamme, organ; Gregorian Schola of Marienmunster; Hans Hermann Jansen, cond.)


In 1926, Dupré was appointed professor of organ at the Paris Conservatoire, a post he held until 1954 when he became director of the Conservatoire for two years. He also succeeded Widor as titular organist at St. Sulpice in Paris in 1934, and he retained that position for the rest of his life. We should also mention that from 1947 to 1954, he was director of the American Conservatory at Fontainebleau near Paris. As a performer, Dupré was a virtuoso of the highest order, decisively contributing to the development of organ technique in his pedagogical treatise Méthode d'orgue of 1927. He made every aspect of performance the object of meticulous study, "including use of the pedal, double-pedalling, legato and staccato playing, and choices of fingering." Dupré also wrote two treatises on organ improvisation, and books on harmonic analysis, counterpoint, fugue, and accompaniment of Gregorian chant. We can add to this countless essays on organ building, acoustics, and the philosophy of music. Among countless others, his most prominent students included André Fleury, Olivier Messiaen, Jean Langlais, Jehan Alain and Jean Guillou.
Marcel Dupré: 3 Esquisses, Op. 41 (Gunther Rost, organ)


Dupré's compositions represent some of the last great examples of the virtuoso symphonic tradition in French organ music. Steeped in a post-romantic musical language, his works display a dazzling virtuosic style, high-chromatic language and elaborate counterpoint. Although his works are grounded in strict compositional rigour and harmonic refinements, they are highly expressive and inspired by a variety of stimuli, including literature, theology, and painting. The stained-glass windows of St. Ouen in Rouen, for example, inspired his last work Vitrail, op. 65. He also made transcriptions of works by Handel, Mozart, and Liszt. Although his emphasis as composer was the organ, Dupré's catalog of musical compositions also includes works for piano, orchestra and choir, as well as chamber music. In 1971 Dupré was asked in an interview whether he ever had days when the inspiration simply didn't come. Dupré conceded that he had an occasional day like that, "but that the beauty of the instrument has a powerful effect on musicians," and that the joy of playing "a beautiful organ in a vast building is a form of intoxication." Marcel Dupré died quietly at his home in Meudon, near Paris, on 30 May 1971.
For more of the best in classical music, sign up to our E-Newsletter
Marcel Dupré: Symphony in G Minor, Op. 25 (Michael Dudman, organ; Sydney Symphony Orchestra; Patrick Thomas, cond.)

Dupré plays Dupré