Winning the prestigious International Chopin Piano Competition in 2005 immediately thrust Rafał Blechacz into the international limelight. He had became the first Polish musician to win the competition in 30 years, and in addition to winning first prize, he was awarded all the special prizes of the competition as well. That included the best performance of mazurkas, polonaise, concerto, sonata—a category founded by Krystian Zimerman—and the audience award as well. Blechacz was instantaneously recognized as his generation's greatest performer of the works of Chopin. Judges lauded his "intelligent and expressive interpretations, his abundant virtuosity and his profound musicianship." According to one of the judges, "Blechacz so outclassed the remaining finalists that no second prize could actually be awarded." And a critic wrote, "profound thought and feeling merge in his music-making to create interpretations of irresistible energy and penetrating insight." For many commentators, Blechacz is "a musician in service to the music, exploring its meaning and probing its possibilities, which arises from his total command of the keyboard and ability to unlock his instrument's full expressive range."
Rafał Blechacz Plays Chopin's Etudes, Op. 28, No. 7-8
Rafał Blechacz was born on 30 June 1985 in the small town of Nakło nad Notecią in northern Poland. He displayed great musical talent at an early age and started piano lessons at the age of five. Three years later, he enrolled at the Arthur Rubinstein State Music School in Bydgoszcz under the supervision of Jacek Polański. He completed his studies at the Feliks Nowowiejski Academy of Music in the class of Katarzyna Popowa-Zydroń in 2007, and already received various awards and honors. These included 1st Prize and Grand Prix at the 13th Johann Sebastian Bach National Competition in Gorzów Wielkopolski (1996), the 2nd Prize in the 5th Artur Rubinstein International Competition for Young Pianists in Bydgoszcz (2002), 2nd Prize in the 5th International Piano Competition in Hamamatsu, Japan (2003), and 1st Prize at the International Piano Competition in Morocco in 2004. Following his stunning victory at the Chopin competition, he signed an exclusive contract with Deutsche Grammophon in May 2006. That relationship was launched in October 2007 with Blechacz's debut solo album, a coupling of Chopin's complete Preludes and two Nocturnes op.62.
Frédéric Chopin: Preludes, Op. 28 (Rafał Blechacz, piano)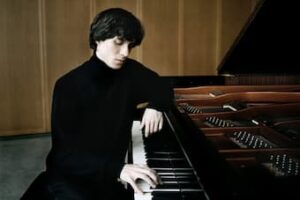 Following his debut release, critics described Blechacz as a "superlative pianist but an even finer musician," and the recording went on to win Echo Klassik and Diapason d'Or Awards. While the music of Chopin continued to be a focal point, Blechacz continuously expanded his repertoire and his second album with DG featured sonatas by Haydn, Mozart and Beethoven. Additional recordings of the works of Bach, Liszt, Brahms, Debussy and Szymanowski followed. Blechacz enforced his position among the great interpreters of Chopin by recording critically acclaimed albums devoted to the composer's piano concertos and polonaises. In addition, he presented his mastery in the most prestigious concert venues around the globe.
Gabriel Fauré: Violin Sonata No. 1 in A Major, Op. 13 (Rafał Blechacz, piano; Bomsori Kim, violin)


The American Gilmore Artist Award, sometimes called "the Piano Nobel," bestowed on Rafal Blechacz in January 2014, is a strong and meaningful acknowledgment that summarizes well the last decade of his artistic activity. The Gilmore Artist Award is given to a concert pianist every four years. In contrast with other music awards, nominees are not aware that they are under consideration, but assessed discreetly over a period of time through live performances and recordings. Blechacz joined an illustrious group of elite pianists, including Kirill Gerstein, Igor Levit, Leif Ove Andsnes, Ingrid Fliter, Ralf David Owen Norris, Ralf Gothóni, and his fellow compatriot Piotr Anderszewski. Blechacz has recently joined forces with Korean violinist Bomsori Kim in a recording of works by Fauré, Debussy, Szymanowski and Chopin. Critics suggest that the "programme perfectly showcases the strengths of both players, who command brilliant virtuosity, impeccable musicianship and a compelling vision." Blechacz took a sabbatical from performing to complete a doctorate in philosophy at the University in Toruń, Poland. His thesis explored aspects of the metaphysics and aesthetics of music and, as he reflects, his studies have helped him "understand both the freedoms and limitations of musical interpretations."
For more of the best in classical music, sign up to our E-Newsletter
Rafał Blechacz Plays Chopin's Piano Concerto No. 2 in F minor, Op. 21